Fantasy Football Jesus – Week 9 Recap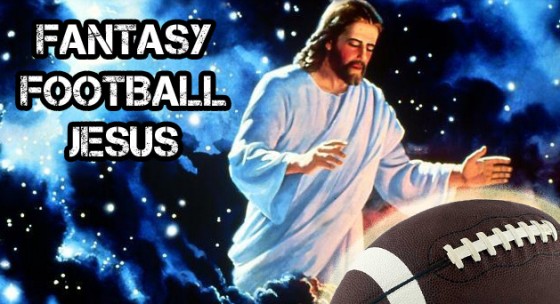 On the eighth day God created fantasy football… and with the first overall pick selected a tall, wiry signal caller from Nazareth by the name of Jesus.
Welcome to Fantasy Football Jesus. The only fantasy football column that's 100% Jesus approved. Here at FFJ, we wrap the week that was in fantasy football through the eyes of our Lord and Savior. Who was awe-inspiring? Who was awful? Who came through in the clutch? Who fell flat on their face? We will leave no stone unturned and pull no punches. Jesus shall forgive, but Jesus never forgets.
Now that we've dispensed with the pleasantries, let's get this party started right — with a musical interlude. Many a fantasy team owner is rejoicing the 41 points scored by the New York Giants. Praise Eli Manning, Ahmad Bradshaw, Hakeem Nicks, Steve Smith, Lawrence Tynes and the defense/special teams. Hallelujah!
In lieu of a choir of angels, here is They Might Be Giants singing "I'm Impressed."
Bless the Giants for their bountiful point production. Now is the time when we exalt those who were glorious…
Week 9 Apostles
Philip Rivers (17/23, 295 yards, 4 TD, 1 INT) – Like Nehemiah rebuilding the walls of Jerusalem, so is Phil Rivers rebuilding the Chargers playoff hopes. It matters little who lines up at wide receiver or tight end because Rivers will deliver them the ball in a timely fashion. FFJ has three letters for #17: MVP.
Peyton Hillis (29 carries 184 yards, 2 TD, 3 catches 36 yards) – FFJ is convinced that over the next few years whenever a bruising white running back does anything of note, the football pundits will anoint said player as being a "Peyton Hillis type" runner.
Terrell Owens (10 catches 141 yards, 2 TD) – The 2010 T.O. Revival Tour had another successful stop on Monday night against the mighty Steelers. Mr. Me has snagged seven scores in his last five games. The Bungals still stink, but Owens doesn't care about wins and losses. He cares about Terrell Owens.
DeSean Jackson (7 catches 109 yards, 1 TD, 3 carries 20 yards) – FFJ has coined a new moniker for the diminutive and oft concussed Eagles playmaker. From this point forward he will be known as "DeSeansational." So it is written, so shall it be done.
Now is the time when we abase those who were garbage…
Week 9 Heathens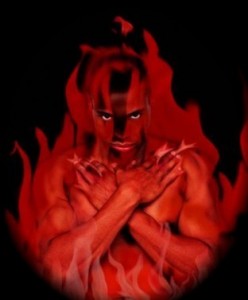 Matt Schaub (21/32, 266 yards, 0 TD, 1 INT) – What in Hades has happened to the once vaunted Texans pass attack? Andre Johnson is gimpy. Kevin Walter is invisible. Jacoby Jones is, well, Jacoby Jones — not very good. The die has been cast. The 2010 Texans are Arian Foster's team.
Jamaal Charles and Tom Jones (29 carries 85 yards, 0TD) – So much for Kansas City's Batman and Robin. They looked more like Cagney and Lacey. Denver, Arizona and Seattle loom, so there's no reason to commit hari-kari just yet.
Miles Austin (2 catches 16 yards, 0 TD) – Like most of the Cowboys so-called talented players, Austin put forth minimal effort in being destroyed by the Packers 45-7. With Tony Romeo sidelined and Jon Shitna prone to ghastly interceptions, it might be time for Austin owners to ship him to a new address.
Now is the time when we hand out random acknowledgments…
The Wycheck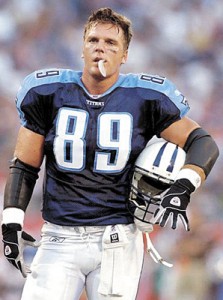 Given to the tight end who best exemplifies toughness and grace under pressure.
Aaron Hernandez (5 catches 48 yards, 2 TD) – Don't blame Hernandez for the Pats face-plant in Cleveland. He made a spectacular snag for his first career score and added another trip six for good measure. He's silky smooth, and with Randy Moss gone and Wes Welker MIA, Hernandez might be golden boy Brady's best red zone option. That's Wycheck material.
The Matt Leinart Award for QB Ineptitude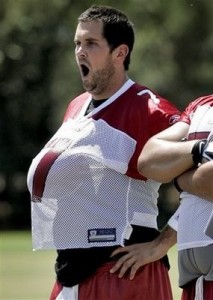 Matt Moore, Jimmy Clausen and Tony Pike (17/36, 107 yards, 0 TD, 1 INT) – The Panthers took quarterback futility to new heights on Sunday by marching out a trio of bozos to take snaps under center. Moore wore floppy shoes, Clausen donned a red nose and Pike honked a bicycle horn. They got more laughs than a Adam Sandler flick.
Lazarus of the Week
Brett Favre (36/47, 446 yards, 2 TD, 2 INT) – Who the #[email protected]% resurrected this stiff? A career high 446 yards? Only two horrendous interceptions? A Bernard Berrian sighting? The old man just won't die. Lazarus himself was impressed. In fact, he stood up and tipped his trucker hat moments after Favre hit Shiancoe for the game-tying score. Yes, Lazarus wears a trucker hat.
Wonder of the Week
Seyi Ajirotutu (4 catches 111 yards, 2 TD) – FFJ speaks many tongues, but even he has no idea how to pronounce this dude's name. Rumor has it the Chargers plan to start a ten-year-old Swedish girl at wide receiver in two weeks. Vegas odds say the blonde haired darling catches 5 balls for 95 yards and a touchdown.
Sign of the Apocalypse
Pop culture trends that signal the end is nigh.
FFJ is patiently awaiting for Pestilence and the rest of his pals to be unleashed upon the Earth. The signs are abundant: endless wars, catastrophic natural disasters, needless poverty, and music videos of cat bands:
Yeah, humanity is doomed.
Keeping Tabs on FFJ's Teams
FFJ is the proud owner of two fake teams. Let's see how they're doing.
Big Ben's House of Sin (5-4) – Chris Johnson and the Titans D on a bye? No matter. Not with Vickdemption and DeSeansational back in the lineup. The dynamic duo combined for 44 points as the Sin cruised to another blowout victory.
Pagan Idolatry (7-2) – Despite foolishly sitting Peyton Hillis for Matt Forte, the Pagans still managed to eek out a W. Barring a major collapse, they are postseason bound. Michael Turner is in beast mode and Eli Manning has been uncharacteristically razor sharp.
Week 10 Lineup Advice From the Burning Bush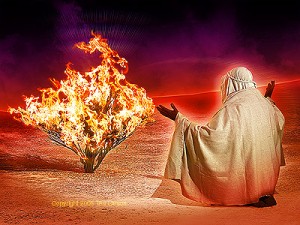 Start QB David Garrard vs. HOU – Under normal circumstances, the bush would never advise anyone to start Dave Garrard. However, when facing the league's worst pass defense he must be strongly considered, especially with super-stud signal callers Rodgers, Brees and Rivers on a bye.
Sit RB LaDainian Tomlinson @ CLE – The Browns defense has allowed one rushing touchdown in 2010. LT looks a bit slower than he did a month ago. The bush defers to common sense on this one. Steer clear of Tomlinson.
Start WR Randy Moss @ MIA – For those not keeping score, Randy now plays for the Titans. In his last outing versus Miami he posted a goose egg. However, in his six previous games against the Phins he caught 29 balls for 539 yards and nine touchdowns. The bush is going with its gut and rolling with the tall toddler.
That does it for week nine of the 2010 fantasy football campaign. FFJ will leave you with these parting words:
It is easier for a camel to pass through the eye of a needle than for the Cowboys to play smart, winning football.
---
As you know, this season Gunaxin is representing Old Spice in the Blogger Fantasy League. Each week, we'll try to post a small update, so you can follow our progress. Our team is finally starting to get healthy, and this week Mike Vick returned from injury to lead us to victory. We were able to overcome Calvin Johnson getting stranded on Revis Island, and take down Will Brinson's Fuzzy Gullets by 18 points. A key move this past week was picking up the Cardinals defense, which scored 21 pts against the confused Minnesota Vikings.
To read more about how much Brinson's Fantasy Team stinks, and how you can learn from his mistakes, check out his article, Figuring Out Why Your Fantasy Team Stinks and Applying the Odor Shield. This week we face Stephanie Stradley from Fan House, who luckily has Aaron Rodgers on a bye week.
The P&G Blogger Fantasy League (BFL) is a group of 12 digital sports influencers competing on the NFL.com fantasy platform for the chance to win P&G product, a donation to a local charity, and a trip to Super Bowl XLV, all furnished by P&G. The NFL Entities have not offered or sponsored the sweepstakes in any way.