Five Fantasy Football 2014 Resolutions
The end of 2013 means the end of the NFL regular season, which in turn signifies the conclusion of another fantasy football campaign. Whether you trounced your way to a championship riding the legs of Jamaal Charles, or endured soul-crushing heartache after Matt Ryan's pick-six on the final Monday nighter, or suffered the agony of drafting Ray Rice, David Wilson, and Danny Amendola, one thing remains certain: There's always next year.
Lessons can be learned from every success or failure. The NFL is in a constant state of flux. Players move to other teams, coaches get hired and fired, new offensive and defensive schemes are implemented. And of course assumptions are made about each and every fantasy relevant player long before a meaningful ball is kicked or thrown. Looking back at some of these commonly held assumptions from last summer, it's easier to distinguish which ones were accurate and which ones proved false.
With this in mind, here are five fantasy football resolutions that should be adhered to in 2014.
Do not spend an early pick on Quarterback
I won leagues with Nick Foles and Kirk Cousins under center. Were either drafted? Nope. Even in leagues that reward 6 points for TDs and offer insane bonuses for long scores, grabbing Pey-Pey or Brees in the first- or second-round can be costly. I'm sure a whole lot of fantasy owners will claim Manning was the reason they achieved fake glory, but I would hazard to guess the rest of their rosters were stacked with studs.
Barring retirement, Manning will be a surefire Top 5 pick in most 2014 drafts. But I'd much rather have a volume running back like Eddie Lacy, or even a rising wideout like Josh Gordon. Matt Ryan will undoubtedly be downgraded due to his poor season, making him an excellent bargain in middle rounds to pair with Lacy/Gordon. Philip Rivers and Ben Roethlisberger finished as Top 10 quarterbacks this season and both were largely ignored in drafts. Besides, odds and metrics suggest that Manning's future numbers won't come close to matching his historic output in 2013.
Pay close attention to coaching changes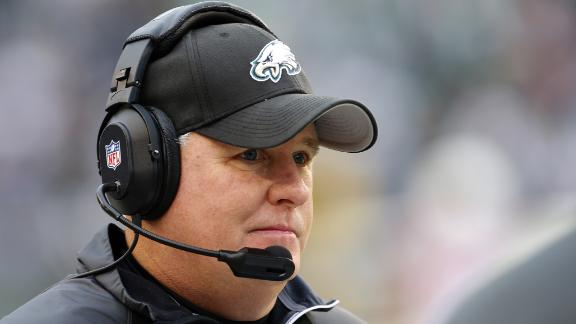 Chip Kelly was the most polarizing coaching hire in years. His supporters expressed confidence in his abilities to employ a fast-paced run heavy scheme that would take the league by storm. His detractors called his offense gimmicky and expressed confidence his "college" ways would flop miserably. Phil Simms even went so far as to say in late October that Kelly's offense was a "bottom five" unit. For the record, the Eagles finished second in scoring and total yards, eighth in passing, and first in rushing. Only the Broncos were more potent.
For fantasy purposes, Kelly extracted career seasons from LeSean McCoy, DeSean Jackson, and Riley Cooper while morphing Nick Foles into the game's top-rated passer. Marc Trestman and his "CFL playbook" had a similar impact on the Bears by turning Alshon Jeffery into a budding star, salvaging Jay Cutler's career, and resurrecting journeyman quarterback Josh McCown. Opposing defenses will study ways to combat these varied and explosive systems during the offseason. However, what separates Kelly, Trestman, and others like them from old guard retreads in their willingness to adapt, change, and spring hellatious counter-punches.
Teams like Washington, Houston, Tennessee, Minnesota, and Detroit all have talented pieces that could be vastly improved if the correct coaches are brought aboard. Especially if said coaches have a reputation for offensive creativity. Those who studied up on Kelly's Oregon offense reaped the rewards in 2013, because they would've known that McCoy and Jackson were ideal fits for a coach who understood how to properly utilize their skill-sets.
Avoid reaching
I was puzzled by the fantasy expert love for Trent Richardson in August. Why was a plodding back who averaged a whopping 3.6 yards per carry as a rookie being ranked ahead of established stars like LeSean McCoy and Jamaal Charles? Okay, he scored 11 touchdowns, but most were from close range. Evidently my concerns echoed those of Browns' management, because they traded Richardson to the Colts for a first-round pick after two uninspired games.
Rather than take this as a harbinger of doom, those same fantasy experts heaped even more love upon Richardson, postulating that he would thrive with wunderkind Andrew Luck handing him the ball. Yeah, didn't happen. Richardson got progressively worse as the season ticked away. At this point, his future with the team is cloudy at best.
Bottom line: Richardson's track record wasn't impressive enough to warrant his fantasy draft status. Same goes for C.J. Spiller, who prior to 2012 was a part-time runner with a history of nagging injuries. Every player is essentially drafted on potential, but those who simply don't pass the eyeball test should always be avoided. Spiller is an inviting temptation, but so was Reggie Bush when he was a Saint.
Know when to fold
I realize blaspheming Adrian Peterson in any way, shape or form is grounds for exile, but the shelf life of running backs must be closely monitored. Even those with superhuman powers. Peterson will be 29 in March. His per carry average (4.5) in 2013 was the lowest since 2009. He's amassed over 3700 touches in seven seasons. The Vikings have no idea who their quarterback will be in 2014. A new coaching staff is likely to be installed. Is he still a Top 10 pick? Yes. Is he still a sure thing to dominate? Maybe. Ask anyone who drafted Ray Rice how they feel about Peterson's prospects, or Marshawn Lynch's if he reaches the Super Bowl. When backs hit the proverbial wall, they don't merely dent it. They collapse it like a wrecking ball.
Beware of impostors
Just because "genius" Bill Belichick believes one smallish white slot receiver can replace another doesn't make it so. Danny Amendola's body of work prior to his arrival in New England didn't warrant the fat contract he received, or the declaration that he would seamlessly take over for the jettisoned Wes Welker. Sorry, but Tom Brady can't sprinkle magic pixie dust on all injury-prone journeyman receivers and turn them into Pro Bowlers.
Staying on the receiver topic, T.Y. Hilton isn't the next Reggie Wayne. He might end up being a serviceable starter down the road, but expecting him to assume the role of one of the greatest wideouts of all time is unfair and foolish. I liked Hilton a lot this year, but that was before Wayne tore his ACL in Week 7.
And how did David Wilson pan out with the Giants? Even before his Week 5 injury, Wilson was horrendous, losing two fumbles and netting a paltry 3.3 yards per carry average. Like Richardson and Amendola, Wilson's resume entering the season wasn't a thing of beauty. Needless to say, not everyone is so easily replaced.