Father's Day Spirits Guide from Diageo
Diageo offers a ton of great brands of spirits, and while any of them would make a fabulous Father's Day Gift, this year we're recommending three in particular. Two of these are brand new offerings, which are sure to delight your dad, who may not have even seen them yet. In addition, we have a bottle of each to give away to our loyal fans, to help you just in time for June 17th. See how you can enter at the bottom of the article.
Captain Morgan Black Spiced Rum : $21.99
Captain Morgan Black Spiced Rum is inspired by the true story of Captain Henry Morgan's burial on the shores of Port Royal Harbour,
Jamaica in 1688. Shortly after his burial, an earthquake rocked the shores of Jamaica, washing the Captain's casket out to sea, never to be seen again. Legend has it that his restless spirit lives on to this day, sailing the Caribbean seas in search of his mortal remains.

Captain Morgan Black Spiced Rum is crafted from only the finest Caribbean Blackstrap rum and select ingredients, including rich clove spice and premium cassia bark, and is finished with double charred blackened oak for a taste as legendary as the Captain himself. The bold, dark spiced rum is best enjoyed on the rocks.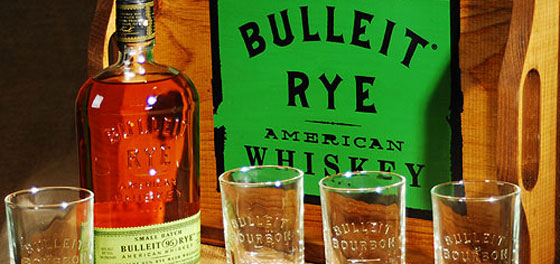 Bulleit Rye American Whiskey – $27.99
Bulleit Rye is a straight rye whiskey, offering a 95% rye mash whiskey (5% malted barley) which makes it among the highest American rye whiskeys on the market

Bulleit Rye is created with the utmost precision and care throughout every step. The highest quality grains are selected from a particular growing year, which currently includes Germany, Sweden and Canada. The water source is an ancient glacier acquifer, where the water is naturally filtered through limestone and sand, while maintaining an ideal temperature of 56 degrees. The liquid is then fully aged and matured in oak charred barrels for a minimum of 4 years
Crown Royal XR Canadian Whiskey – $129.99
Crown Royal XR, handcrafted to include select LaSalle Distillery whiskies, is full bodied, incredibly smooth and part of a personal legacy for Master Blender Andrew MacKay. LaSalle is where he began as an apprentice and refined his craft of blending the world's finest whisky.

Crown Royal XR offers consumers an extremely sophisticated tasting experience and preserves the smooth undertones for which Crown Royal has become legendary. The aroma of this Crown Royal XR conjures hints of pear with complimentary floral bouquet notes. The honeyed pear maintains upon first taste and is joined by tones of dried apricot and raisins midpalate. The finish is exquisite with an elegant touch of cocoa and brown sugar.
---
Entering to win one of the bottles above is simple. Just respond in the comments below (and check that box to post to Facebook) and tell us which of these three you'd like to win, and who you would like to win it for this Father's Day. Obviously you must be 21 to enter. Winners will be randomly selected from eligible entrants on June 11th.