Totally Awesome Fictional Thrones
All good leaders need two things: A wacky sidekick, and a throne. Okay, maybe they also need good henchmen, a cool crown and a great deal of wealth and power. But today, we'll only focus on the thrones.
Webster's Dictionary describes a throne as "the chair of state of a sovereign or high dignitary." Now that we've established that, let's look at some of the coolest pop culture fictional thrones. Even better – most of these are for sale, unfortunately in a much smaller scale than what we'd prefer.
1
Iron Throne
Game of Thrones
Since HBO's Game of Thrones brought the Iron Throne to the forefront of throne-themed pop culture, it's now the Throne of Thrones, ruling over all thrones on this list.
2
Skeletor's Throne
He-Man
Castle Grayskull may have been cooler than Snake Mountain, but Skeletor's throne is better than He-Man's.
3
Jabba the Hutt's Throne
Star Wars: Return of the Jedi
Star Wars Jabba the Hutt Throne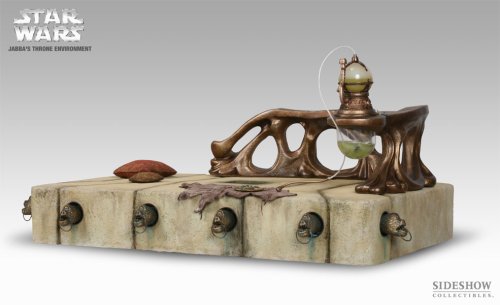 Most of the other versions of Jabba the Hutt's throne that you can purchase actually come with Jabba, as if anyone would want him. There are many other Jabba thrones for sale but the one above is the best, and if anyone wants to buy it for me, I'll be forever grateful.
4
The Emperor's Throne
Star Wars: Return of the Jedi
Star Wars – Emperor's Imperial Throne
The Emperor's throne from Return of the Jedi isn't one of the best but it's certainly one of the more famous ones on this list. And, of course, it's got a Lego.
LEGO Star Wars: Darth Vader & Emperor

5
Cobra Commander's Throne
GI Joe
Totally wicked. I'd pick Cobra's throne over G.I. Joe's any day.
6
Buffy's Throne
Buffy the Vampire Slayer
Throne of the Slayer – Buffy Summers
A hot chick sitting on a throne is definitely good enough for this list.
7
Ghost Rider Throne
Ghost Rider
Ghost Rider on Throne
8
Conan as King Throne
King Conan
King Conan
9
Doctor Doom's Throne
Doctor Doom
Doctor Doom
11
The Crimson Throne
Curse of the Crimson Throne
via paizon.com
They have everything but an actual throne for sale on Amazon.com for Curse of the Crimson Throne.
12
Ice Queen's Throne
The Chronicles of Narnia
Ice sculptures are wicked cool no matter what it is, but this bee-atch actually sits on this.
13
King's Throne
Hellboy 2
This is actually a diorama made by user Sillof at deviantART.
14
King's Theoden's Throne
Lord of the Rings: The Two Towers
This isn't the coolest throne in the world but it ain't bad for a wooden one. Above is obviously the Sideshow Collectibles diorama.
15
Kingdom of the Crystal Skull Throne
Indiana Jones and the Kingdom of the Crystal Skull
Skeleton Action Figure With Throne
Okay, we know that Indiana Jones and the Kingdom of the Crystal Skull sucked, but these bones had a cool looking throne.