The Fifteen Best NBA Playoff Performances Ever
Everyone knows that Michael Jordan is one of the greatest postseason players in NBA history. He made the NBA Finals six times and he w4on them all, with help from Scottie Pippen of course. But what about other big game performers?
Players like John Stockton, Isiah Thomas, Lebron James, Kobe, Larry Bird, Magic Johnson, Julius Erving, and about one hundred more players all had a chance to perform and play at a level well above the norm. At which time, some of them just outperformed the others.
Since 1950, the NBA has had a playoff for the coveted Larry O'Brien NBA Championship award. Only the best teams in the league made the cut and as the years grew, so did the NBA's list of teams. This opened up the door for more teams to play in the playoffs and eventually it became sixteen total, eight on each side.
Of all those games since, several of them were amazing but only 15 of them featured the best performances of the modern era of sports. From Charles Barkley to Kobe Bryant, this list covers the NBA playoffs best of the best.
15) Lebron James
2007 Eastern Conference Finals, Game 5
Before Lebron James moved to South Beach, and then back to Cleveland, he was fighting for his life to win an NBA title with the Cavs.
During the 2007 Eastern Conference Finals against Detroit, Lebron went postal on the rim. The series was tied 2-2 and the New Jersey Nets were about to go up 3 games to 2 games as they went ahead by seven with only three minutes left. Lebron James was not ready to go home and simply, took over.
The game went into double overtime with Lebron scoring all the points in both of them and outside of a Drew Gooden free throw late in the 4th quarter, the King scored 29 of the final 30 points leading them to victory and an eventual series win.
14) Blake Griffin
2015 NBA Playoffs, Back-to-Back Triple Doubles
Blake Griffin must be tired of people claiming he is not good enough to be an élite NBA star. Maybe he was done with the negativity surrounding his leadership. He shut them all up, real fast, when he put up a triple double in Game 7 of the 2015 First Round Western Conference match-up against the Spurs. It was a win or go home match-up and he turned the speaker to 11. (24 points, 13 rebounds, 10 assists)
He wasn't finished either.
In Game 1 of the Western Conference Semi-Finals, he did something that hasn't been done since Jason Kidd accomplished it in 2002. He had his second consecutive triple double in the playoffs. He is only the 3rd non-guard in postseason history to accomplish this feat. (26 points, 14 rebounds, 13 assists)
13) James Worthy
1988 NBA Finals, Game 7
Joe Dumars, Bill Laimbeer, Isiah Thomas, Magic Johnson, and Kareem Abdul-Jabbar all played in the 1988 NBA Finals. That is a lot of NBA greats on the floor at one time, in one series.
But it was James Worthy who stole the show and earned the NBA Finals MVP. During Game 7, with the series tied, James Worthy took over. He scored 36 points, grabbed 16 rebounds, and added 10 assists to help the Lakers win another NBA title.
12) Hakeem Olajuwon
1987 Western Conference Semifinals, Game 6
It is rare to see a player on a list about greatest when his team still lost. However, Hakeem Olajuwon's performance during the 1987 Western Conference Semifinals was so amazing, wins and losses did not even come into consideration.
The Seattle Supersonics ended up winning Game 6 thanks to the duo of Dale Ellis and Tom Chambers, who combined for 73 points. But it was Hakeem Olajuwon who stole the show with his 49 points on 58% shooting, 25 rebounds, 6 blocks, and 2 steals.
11) Dirk Nowitzki
2011 Western Conference Finals, Game 1
Perfection. That was Dirk Nowitzki from the free throw line when he tore up the first game of the 2011 Western Conference Finals hitting 24 of 24, an NBA playoff record.
He finished the game with 48 points, 6 rebounds, 4 assists, and 4 blocks but that is not why he was on the list. Not only did he hit all 24 of his free throws, he also shot 80% from the field, going 12 for 15. He could have kicked the ball and it would have gone in, he was just smoking.
10) Michael Jordan
1986 Eastern Conference First Round, Game 2
In only his second season, Michael Jordan was already becoming one of the NBA's best. During game 2 of the 1986 Eastern Conference playoffs, and only his sixth playoff game of his career, MJ validated what most of us already knew, he was something special.
The Boston Celtics might have swept the Chicago Bulls but that did not stop MJ from giving it his best. He scored 63 points, hitting 22 of 41 from the field. It was a record then and remains one today. Will it ever be broken? It might be, but we do not think it will happen any time soon.
9) Bob Pettit
1958 NBA Finals, Game 6
The Boston Celtics dominated the NBA from late 50's until the early 80's. During their run in the 1960's, with Bill Russell leading the charge, they won 11 NBA titles in 13 years. The only one they lost was in 1958 when Bob Pettit and his St.Louis Hawks stole the show.
The Hawks might have won as a team but without Bob's 50 points and game winning tip-in with only 15 seconds left, things might have went a different way.
8. Shaquille O'Neal
2000 NBA Finals, Game 1
Shaq had one of those games that all the greats have where everyone, including the athlete himself, realize that this just might be a legend in the making.
Shaq's was during the 2000 NBA Finals in Game 1 when he scored 43 points and grabbed 19 rebounds. He was a giant brick wall in the paint on both sides of the ball. No one could get past him and no one could stop him. The Diesel was born.
7) Reggie Miller
1995 Eastern Conference Semi-Finals, Game 1
The fans in New York hate Reggie Miller and it is probably because of 1994 and 1995 playoffs. In 1994, Reggie Miller helped lead the Indiana Pacers to a near upset of the Knicks. They went seven games before losing in one of the best NBA Playoff series of all-time.
But during Game 1 of the 1995 Eastern Conference Semi's, Reggie Miller did one of the most amazing feats ever, he scored 8 points in 9 seconds to upset the Knicks. It was one of those sports moment's that everyone remembers where they were when it happened.
6) Elgin Baylor
1962 NBA Finals, Game 5
What does it take to win an NBA Championship? Elgin Baylor did everything he could to come as close as possible but could never reach his goal.
A great example is during the 1962 NBA Finals when Elgin Baylor scored an NBA Finals record 61 points to help the Lakers win Game 5 and take a series lead of 3-2. He also added another 22 rebounds. So when we say he tried everything to help his team win, we were not lying.
5) Tim Duncan
2003 NBA Finals, Game 6
If the Spurs needed to know why they won so many NBA titles in the 00's through today, they can clearly see it was because of Tim Duncan.
Tim Duncan did not become one of the best Center/Power Forwards in NBA history because he was simply a scorer. He was a hardworking beast under the basket that blocked shots, grabbed boards, and passed the ball out for an easy three-point jump shot.
One of his best performances, however, was in 2003 during the low-rated NBA Finals. During game six, Tim Duncan came closer to doing something than anyone before or after him. He came within two blocks of the first ever NBA Finals Quadruple-double. He finished the game with more points, 21, rebounds, 20, assists, 10, and blocks, 8, than anyone else on either team.
When people doubt his overall performances, remind them of this game that secured the title for the Spurs in epic fashion.
4) Bill Russell
1962 NBA Finals, Game 7
When exactly did the rivalry between the Celtics and Lakers begin?
The 1962 NBA Finals. Mr. Russell finished with 30 points but it was the 40 rebounds that was most impressive. The Lakers had to make every shot they took because if they missed, they weren't getting another chance. Bill was cleaning up the floor like a high school janitor after prom that night. He was the reason they ended up coming back and winning the series and an NBA Title.
3) Charles Barkley
1994 Western Conference First Round, Game 3
Before Charles Barkley was making jokes about shoe sizes and food on TNT, he was a dominate power forward. And it was in 1994 when Charles simply went off during Game 3 of the Western Conference First Round match-up against the Warriors.
Aside from his sick stat lines, 56 points, 14 rebounds, 3 steals, 4 assists, and a block, Charles Barkley also shot an amazing 74% from the field hitting 23 of 31 shots. It was as close to perfect as you will ever see from a big man in the playoffs.
2) Magic Johnson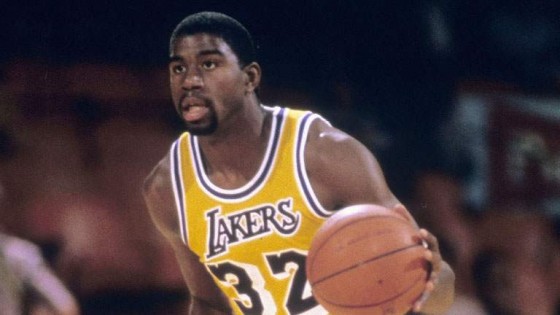 1980 NBA Finals, Game 6
As a rookie, Earvin "Magic" Johnson made an immediate impact on the NBA. He finished his first season with a sick stat line. He averaged 18 points, 7.7 rebounds, 7.3 assists, and 2.4 steals per game. That is MVP caliber numbers for a 20-year-old.
So it was no surprise that he would show up during game 6 of the NBA Finals and completely destroy the 76ers. His 42 points, 15 rebounds, 7 assists, 3 steals, and one block helped the Lakers secure another NBA title.
1) Michael Jordan
1997 NBA Finals, Game 5
When I have the flu, I can barely sit up in my bed to put on a fresh pair of socks. I become a paralyzed crab and I am about as miserable as Marilyn Manson in Disneyworld. This is how the majority of people feel when they have the flu too.
Not Michael Jordan. The legendary NBA star had one of the greatest performances in his incredible career during Game 5 of the 1997 NBA Finals and he did it with the flu.
During the infamous "flu game", MJ finished with 38 points, 7 rebounds, 5 assists, 3 steals, and shot 48% from the field while playing 44 of the 48 minutes. And he did it all with the flu en route to a win. There will never be a better playoff performance in NBA history. At least not like this one.