Fifteen Great Examples of Car Art
If you are a car lover and you enjoy creating works of art, than this is for you! These are some of the finest examples of turning vehicles into art. And if you're doing that, I guess you could really turn anything into art. So if cars aren't your medium, there's still hope for you.
I have to admit that these are pretty interesting on the whole and led to some cool pictures. My only complaint? They're not as cool as actual Transformers like the picture above. That would be the next step in cool Car Art, robots that transform. Although maybe you'll argue that engineering isn't quite fine art. Either way, until that time of real Transformers, you can enjoy these car sculpture creations from across the globe:
15. Big Rig Jig
Big Rig Jig is a sculpture conceived and designed by Mike Ross that features two giant tanker trucks, curving around each other in perfect balance. It was found at Burning Man 2007 as part of "The Green Man" theme. People even were encouraged to climb up the structure once it was completed.
14. Potsdamer Platz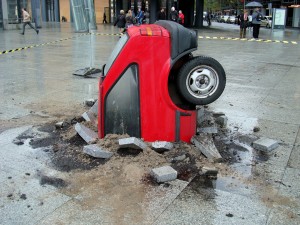 The car that fell from the sky? Unfortunately, no. This Volkswagen Polo Coupe crashed car sculpture is located in Potsdamer Platz, which is a public square and traffic intersection in the center of Berlin, Germany. The installation is a public relations stunt for a local video-sharing website.
13. Lizard King Car
Lots of people will put stuff on their car. This takes it to a whole nother level. This "Lizard King" in tribute to Jim Morrison and The Doors was created by the students of Rebecca Bass, who teaches at Waltrip High School in Houston, Texas. Evidently this woman has her students making car art every year. It is almost impossible to tell that beneath the thousands of mirror shards, paint, plaster, beads, coins and other objects is a 1990 Honda Civic Hatchback. The car took first place in the 2004 Houston Art Car Parade and a gift to Steamboat Springs, Colorado.
12. Metal Horse (Spaghetti West 10)
If Lizards don't work for you, instead you can transform your car into a horse. Found at Burning Man 2008, this sculpture by UK scrap-metal collective Mutoid Waste Company is an animatronic fire-breathing metal horse that can pull a covered wagon. It's one-third Little House On The Prairie and two-thirds Horseman Of The Apocalypse.
11. Still Life with Stone and Car
I guess you should watch out for falling rocks. If destruction is your thing, you can find this old rock on a new car artwork in Sydney, Australia. Done by Jimmie Durham, it was created at the Sydney Opera House for the 2004 Sydney Biennale and since moved. Why'd he do it? Maybe to make you think about consumerism and the transitory nature of pleasure. Maybe to make you shriek at the sound of a very loud crunch. Who knows? You can read a little bit about him over here.
10. The Dance
Found in Sarasota, Florida this looks like the beginning to a great House of Cars. Entitled "The Dance", this work by Dustin Shuler is a grouping of twelve cars from the Sarasota Season of Sculpture. The doors to the cars had to be welded shut because people were getting in the cars to have their pictures taken behind the wheel.
9. Grenzeloos (Lady on a Fiat)
This artwork is located in Geldrop, Netherlands and is composed of a Fiat 500 with a lady on a chair mounted on top. The complete work is painted to give it an old copper look. Titled Grenzeloos, meaning without borders or infinite, it is a creation of Carla Rump.
8. Goodwood Land Rover Sculpture
Standing proudly in front of Goodwood House (which is located about 60 miles outside of London) is the forty foot raw steel 'rock' structure, complete with five Land Rovers (one of each model). Designed by Gerry Judah, the massive sculpture marks the 60th anniversary of the Land Rover brand.
7. Gorilla Holds Aloft a VW Beetle
In Salisbury, Vermont a King Kong-like Gorilla, sometimes referred to as "Queen Connie", has traded in Fay Wray (Or Naomi Watts) and instead holds up a golden VW Bug in front of Pioneer Auto Sales, Inc. The gorilla is nineteen feet tall and made of steel-reinforced concrete by local artist T.J. Neil in 1987.
6. Arman Ferrari Sculpture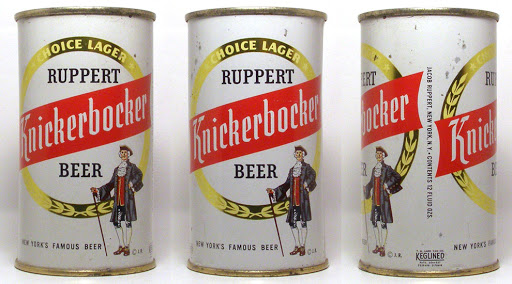 This work of art is situated at the main entrance of the Enzo and Dino Ferrari Racetrack in Imola, Italy. Created by French sculptor Arman, the Hommage to Ferrari: La Rampante is a five meter tall bronze structure consisting of the famous Ferrari F40 model racing cars in red bronze, cut and superimposed in a harmonious group. The sculpture was inaugurated on April 30, 1999.
5. Car Cow and Bull
Art by Miina Äkkijyrkkä, or Liina Lång as she's also known, erected the "Tin Cows" in Ruoholahti for the Night of Arts festival in 2000. They've since grazed all over Finland. You can find more information about her life, her art, and her fascination with cattle on her homepage.
4. Prague Car Triangle
It's in Prague's Wenceslas Square (which isn't shaped like a square at all) and the sculpture is shaped like a triangle. It creates a very nice window through which to view the Natural History museum, especially at night. This sculpture, and many others in the square, are placed in such a way that people can interact with them by touching them and so forth.
3. Cadillac Ranch
Either ten junker Cadillacs buried nose-down or art, Cadillac Ranch was created in 1974 by Chip Lord, Hudson Marquez, and Doug Michels in Amarillo, Texas. The structure was originally located in a wheat field, but relocated in 1997 in order to place it further from the limits of the growing city. A tribute to the Cadillac Ranch was featured in the Pixar film Cars and visitors are encouraged to add their own graffiti which leads to a constantly changing look.
2. Berwyn Car Spindle
Sadly, the BerwynCar Spindle was dismantled on May 2, 2008 to make room for a Walgreens. Still, the 50 foot spike with eight cars impaled on it also known as the "Car Kabob" or the "Eight Car Pileup" is a great example of car art. And it even got a cameo in Wayne's World. The Spindle had been located in the parking lot of Cermak Plaza in Berwyn, Illinois.
1. Carhenge
Carhenge is a replica of England's Stonehenge located near the city of Alliance, Nebraska. As the name indicates, Carhenge is constructed of 38 vintage American automobiles (and not stones) rescued from nearby farms and dumps and covered with gray spray paint. The work was the brainchild of Jim Reinders and dedicated in the June of 1987. Carhenge is open 24/7/365, and you can read more about it on the official website.