Fifteen Great Obscure Album Covers
Sadly, one of the many visuals we've lost since the influx of digital music streaming and downloads is the epic album cover. Even back when 8-Tracks, Cassette Tapes, and CD's each were in their respective heydays, they always featured myriad different pieces of artwork as their covers. Sure, CD's are still around, and even vinyl is making a strong return to form, and as such we do still see groovy pieces of art now and again, but the real time of great album covers has gone away. It just isn't the same looking at album art on the small screen of your iPhone. So let's take a look at fifteen classic examples of this never-forgotten art-form. These are all relatively obscure, but still awesome.
Big Bro & Holding Co – Cheap Thrills (67)
Picked for number 9 in Rolling Stone magazine's greatest album covers of all time, this R. Crumb-illustrated cover was Janis Joplin's last with the band. Originally intended to feature the band naked in bed together and Crumb's work on the back, Joplin argued in favor of the artwork for the front instead. Good choice.
Peggy Lee – Black Coffee (1956)
Up til this point, Peggy Lee had yet to record a full length album, and thus this was her first. Though the record failed to make much of an impact, it was the implications of the photo that remains the biggest mystery. A rose, coffee, and a discarded pearl necklace? Hmm… could mean a lot of things.
Dead Kennedys – In God We Trust, Inc. (81)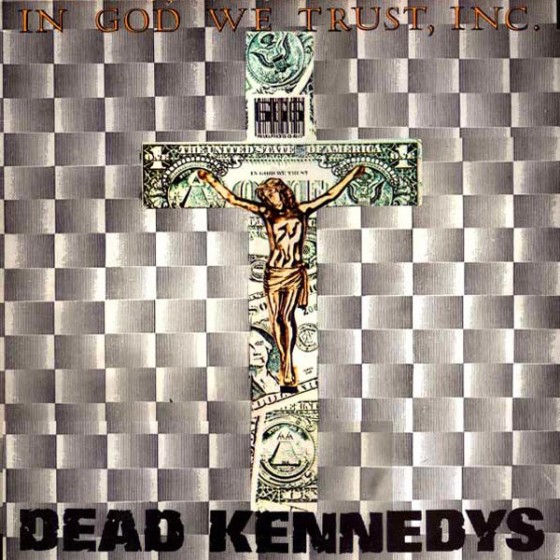 Thrashing punk, anti-government/establishment/you name it, and blistering lyrics by Jello Biafra is what Dead Kennedys were all about. This cover cleverly depicts Jesus crucified on a cross made of money against a shiny, almost irritating, metallic backdrop. It fits the theme perfectly.
Ohio Players – Fire (1974)
Sexual innuendo much? There is one singular idea portrayed on this cover that is so face-smacking obvious that it almost makes you either horny or incredibly uncomfortable. Either way, sex sells and a beautiful lady posing orgiastically with a giant hose… well, it certainly sold a few albums.
Pink Floyd – Atom Heart Mother (1970)
Lulubelle III is the cow's name. Hypgnosis is the artist. The theme is pretty straight forward: simple, plain, and unassuming. Mission accomplished. This is Pink Floyd to a T.
Ween – Chocolate & Cheese (1994)
Gene and Dean Ween comprise your band and make no apologies for the bizarre, yet incredibly complex music they make. Their albums are each as different as any two from any other artists you can imagine,  and if your a fan, it only makes more sense. This album cover features model Ashley Savage showing a surprising amount of underboob, and pays homage to a Commodore's album with a boxer on its cover. The original idea was to have a homosexual sailor. Just so ya know.
Cannonball & Coltrane (1965)
It's hard to say just what is supposed to be depicted on this album cover, be it a flower or an oil stain, or an egg, but what we do know is just how unusual it is. Unusual enough to garner its inclusion here.
Roxy Music – Country Life (1974)
Models Constanze Karoli and Eveline Grunwald feature on this cover and as you can imagine it caused quite a stir upon its release. Considered one of the greatest albums and covers of all time, Roxy Music proves just how controversial it can be.
Under Milkwood – Dylan Thomas (1954)
Ink on wood for this piece of album art rendering a beautifully almost post-modern cubist feel. This is a spoken word album based on a film and is honestly a little dull. The cover, on the other hand, is not.
Wilco –  Yankee Hotel Foxtrot (2002)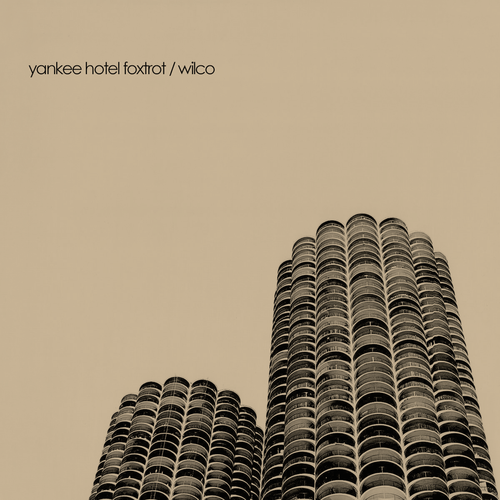 Marina city on the North Bank of the Chicago River is where the scene here is set. The towers resemble a teetering series of stacked plates or maybe even tightly formed bottle caps and the perspective from which the photo is shot makes them look even more inhospitable and less like the buildings they are.
Jim O'Rourke – Eureka (1999)
Yes, this cover does indeed depict a weird, impish man doing… something unnatural to a stuffed rabbit. Maybe he's… uh, finished, or perhaps he's just about to begin. Either way, this is one hell of a bizarre cover which is just as equally awesome.
Sonic Youth – Washing Machine (1995)
The boys are unknown fans at a Sonic Youth show from 1995 tour during which the band was toying with the idea of changing its name to Washing Machine. The signatures are from the opening act, Come, and, more obviously, the band's name change plan turned out to be more of a ruse than truth.
The Pop Group – Y (1979)
This photo shows some kind of tribe of some kind of natives from… somewhere. Sorry, there really is little information about this cover. The fact is it's damn unsettling and rather than look like a troupe of jolly performance artists, they look like they are about to systematically dismantle you limb from bloody limb.
The Smiths – Meat is Murder (1985)
The soldier is Marine Cpl. Michael Wynn taken during the Vietnam war from 1967. The original sign on his helmet read, "make war not love." The image is both invocative of Warhol and a bit pop-artistic, but it hammers home the point quite convincingly. And yes, some of the band members were indeed anti-meat.
Hefner – Breaking God's Heart (1998)
Bold colors, bold lines, purple eye shadow. It's all there and it's very in your face. There is a weird love mixed with an almost post-coital feel of separation anxiety mixed with the couple's desire to quickly hide what they've likely just done. There is an awful lot to interpret here.