Fishing and Boating Responsibly in Montana
We're outdoor loving men here at Gunaxin, and that certainly includes fishing and boating. Located right near the Chesapeake Bay, we often enjoy water sports and wildlife that the region has to offer. However we also travel often, and last year that travel included a couple of fishing trips that we've shared with you previously. One of those trips was taken by Tim to do some fly-fishing on the waters made famous by "A River Runs Through It" near Bozeman, Montana. Tim had a fabulous time on the guide led trip to one of the most beautiful states that this nation has to offer.
Thousands of people visit Montana every year for the same purpose, to go fishing and boating on Montana's wonderful rivers. However there is a hidden threat that many people may not know about, and we're proud to be working with Montana Fish, Wildlife & Parks to get the word out about Aquatic Invasive Species (AIS).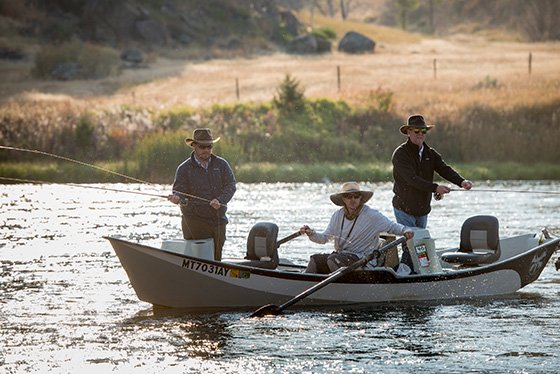 Aquatic invasive species (AIS), including diseases, are easily spread from one water body to the other. Anglers, boaters, construction workers, pond owners, gardeners, seaplane pilots, field workers – virtually anyone who works or plays in or around water can unknowingly transport these pests on their boats and equipment or allow them to spread via improper management practices. It takes only one mistake to potentially infest a new water body. To protect Montana's waters and native aquatic species, please follow these rules and guidelines:
CLEAN : Completely remove all mud, water, and vegetation before leaving the access area.

DRAIN : All water from watercraft and equipment.

DRY : Your watercraft and equipment. Aquatic invades can survive only in water and wet areas.
These are easy steps to follow whenever you use your watercraft, but they are especially critical if you're going to be moving that vessel between multiple bodies of water. Check out this quick video for a more detailed look at the process :
Responsible travelers and outdoor enthusiasts should remember these three easy steps (CLEAN, DRAIN, DRY) whenever they use boats or personal watercraft to greatly minimizes the risk of spreading Aquatic Invasive Species into new locations. For much more on this topic, please visit Montana's Protect Our Waters site.
We recently partnered up with Mantripping.com and Men Who Blog for a Facebook Live interview with Russ from Montana Fish, Wildlife & Parks to discuss this issue along with some general talk about fishing in Montana. Check it out below:
Post Sponsored by Montana Fish, Wildlife & Parks.