Fiskars StaySharp Max Reel Mower : Review
Reel mowers are not new technology. Long ago, they were the norm. But the advent of reliable small engines brought about the gasoline-powered push mowers many of us use today.
Lately, reel mowers have been resurgent. It's not uncommon to see them in the mower section at the big-box home improvement stores, though they're kind of presented as a niche product. Usually, you're lucky if your local store has one or two reel mowers to choose from, as compared to a dozen or more varieties of gasoline-powered push mower.
The folks at Fiskars Americas have been leading the charge for reel mowers. And there's a lot to recommend for reel mowers, in general: They don't pollute, either with carbon emissions or noise. There's no gasoline engine to maintain. They cut the grass in a much more healthy way, too. Where gasoline mowers have a rotary blade that leaves the tips of your grass ripped and damaged, reel mowers cut the grass as cleanly as a pair of scissors.
But a reel mower also has limitations, critics say: they're hard to push, they're easily clogged by twigs, and they miss tall stalks.
Well, we have two acres of mostly flat Tennessee lawn that is not picture-perfect, by anyone's definition. We have trees and bushes that shed twigs and limbs. We have molehills. We have weeds aplenty, and there are probably a dozen varieties of pasture grass growing here. We asked Fiskars Americas if they thought the StaySharp Max would be up to the challenge and they sent us one to put it to the test ourselves.
The Fiskars Difference
Fiskars took a look at reel mowers and addressed the foremost concern for a generation that has gotten used to powered mowing equipment: reel mowers are hard to push through thick grass.
To meet that challenge, Fiskars equipped the StaySharp Max with an inertia drive system somewhat similar to a bicycle. The main wheels of the mower turn a chain, which turns the blades faster than the wheels by way of gear reduction. A freewheel clutch allows the blades to continue spinning for a couple of seconds after forward momentum stops — a nice touch for trimming around trees or other obstacles, we found.
Fiskars also addressed the "hard to push" concern by designing a precision blade system that does not make contact with the bottom, stationary blade like most reel mowers do. This "contactless" blade design results in less resistance for the user and has a beneficial side-effect: No need to sharpen the blades every season. In fact, depending on your use, you may never need to sharpen the blades of the Fiskars StaySharp Max, according to the manufacturer.
Another way the Fiskars StaySharp Max differs from most reel mowers we've seen is its four-wheel design. In addition to the two larger main wheels, there are two small auxiliary wheels on the front of the mower.
These smaller wheels help the mower track straighter, and they also facilitate easy blade height adjustment because the blade cassette is located between the two sets of wheels, not totally unlike gasoline push mowers we've used in the past. This positioning also means we're able to press down on the mower's push handle while walking to raise the blades and tackle a small, thick spot of grass that's going to require two passes — again, an action we're familiar with after years of using gasoline-powered push mowers.
The final way Fiskars does things differently is in allowing users to select where their clippings go. In traditional reel mowers, clippings are ejected out the back of the mower, often resulting in grass clippings sticking to your legs. Fiskars put an ingenious little chute on the top of the blade cassette of the StaySharp Max, allowing you to direct clippings forward or rearward — your choice
Zen and the Art of Lawn Maintenance
The thing the Fiskars StaySharp Max taught us almost immediately was the importance of lawn maintenance. In the past, our two-acre plot has not been maintained very well, to be honest. Using a gasoline-powered lawn tractor spoiled us. Often, we'd go two weeks between cuttings, and the grass clippings left behind were thick enough that they left dead or weed-choked spots in the lawn the next time.
When the Fiskars StaySharp Max first arrived on our doorstep, it was early spring, which illustrated the imbalance of grass to weeds in our lawn. Wild onions were everywhere, for starters. There were plenty of other tall weeds there, too.
This was when we learned one of those frequent complaints of reel mower critics rings true: They can't cut down tall, weedy stuff. With a damp, warm spring resulting in early grass growth, we broke out the Fiskars StaySharp Max early in hopes we'd stay on top of the lawn-cutting schedule. With fast growth, the lawn would be healthiest if we mowed every week, we reasoned.
But the StaySharp Max, with a cutting height set at 2.5 inches, totally missed most of the wild onion stalks. They were pushed down by the blades, but would soon rebound and stand up. It was frustrating to look back at an otherwise smooth lawn to see all those weeds. It's telling that Fiskars sells a stand-up weeding device on the same page as its reel mowers.
Our options were simple: Either wait until the wild onions died out naturally — which is what they do, before summer rolls around — or get out there and try to remove them by digging them all out. Not content to dig holes all over the lawn, we decided to leave them alone. But by the time the wild onions were drying up and disappearing in late spring, those and other weeds had choked the lawn so much that we needed to break out the lawn tractor just to mow them down.
But doing so provided the reset we needed to really let the Fiskars shine. After we used the lawn tractor to mow on-schedule for four weeks — once a week, like clockwork — we started to see the grass take over again. After week five, we were able to put the StaySharp Max to work in a lush lawn full of grass, not weeds.
We bought weed-and-feed granules earlier in the season thinking it might help us better control the weeds and spur grass growth, but that was not strictly necessary for a healthy-looking lawn, it turned out. We just needed to stop giving weeds a chance to overshadow the grass that was struggling to poke through early on in the season.
Too Much Ground to Cover
So with the grass growing in nice and uniform, by the time summer officially hit in June, we were ready to put the Fiskars StaySharp Max to the ultimate test: How much of the lawn could we mow with it in a day?
We started by using the StaySharp Max to trim around the house. Its design makes it suitable for this work, though you'll still need a string trimmer for reliable cutting around flowerbeds, trees, and close edges. This is again not unlike something we could say about any gasoline-powered push mower.
Once we got out into the open areas of the lawn, the 18-inch-wide StaySharp Max started to shine. It makes beautiful, even cuts. Pushing it through most grass was easier than pushing the last gasoline push mower we used, because the gas mower was not self-propelled.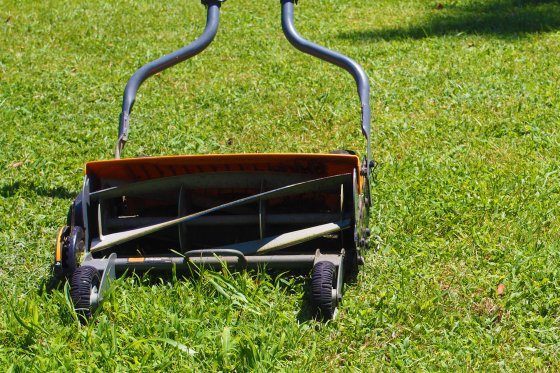 Only in the thickest parts of the lawn did pushing the Fiskars StaySharp Max feel more difficult than our previous gasoline-powered mower. Part of the difficulty could have been reduced if we had taken time to direct grass clippings behind the mower so we weren't continuously mowing over them. A good pair of work gloves also would have helped, as our sweaty hands had difficulty hanging onto the padded grip on the handle while trudging through the thickest patches of grass in our lawn.
We mowed about half of our two-acre lawn before giving up. It had been 10 days since the lawn was last mowed, and humid Tennessee midday heat conspired against us. The ride-on mower was brought out of the shed and finished the job in just a few minutes.
Editor's Note: It appears the mower was up to the test, but the writer was not.
The ultimate lesson learned here was twofold: The Fiskars StaySharp Max is wholly capable of cutting our lawn if it is cut every week, but the lawn is too large to make that feasible if the Fiskars StaySharp Max were our only mowing machine. For someone mowing half an acre or less, we daresay the Fiskars StaySharp Max is a great alternative to owning a loud, polluting, gasoline-powered push mower.
Conclusion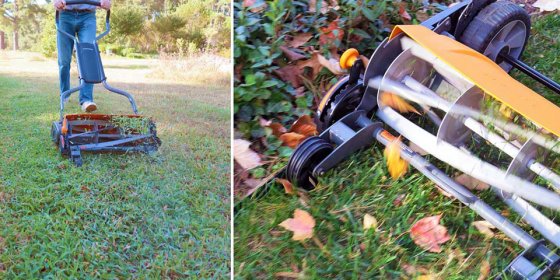 Getting the most out of a Fiskars StaySharp Max reel mower means setting a date with your lawn every week. If you can do that, it will reward you with excellent cutting quality. If you're not the type to block out your lawn-mowing time in your schedule every week, you may find yourself frustrated by thick grass or tall seed-head stalks that are hard — sometimes impossible — to mow down with the StaySharp Max.
In our case, the lawn is simply too large to be effectively maintained by the Fiskars StaySharp Max. But we found a happy balance as we were able to use it for parts of the lawn near the house, saving the occupants from the noise and sometimes flying debris (!) of the powered mowers. If you run over an errant gravel from the driveway with the StaySharp Max, it will either roll over it or jam up and stop, depending on how large the gravel is. If you roll over that same gravel with a gas-powered mower, the mower will either roll over it or throw it out of the discharge chute.
At a list price of $249, the Fiskars StaySharp Max is priced similar to several midlevel push mowers, and is more expensive than some bargain-priced low-end push mowers at the big box store. But unlike those, the Fiskars StaySharp Max will never require you to fill it with gas or change its oil, and it will never leave your ears ringing from noise nor your hands tingling from vibration after a day of mowing. And unlike the bevy of electric push mowers starting to proliferate online and big-box retailers, it'll never need batteries or charging, either.
For those looking to "go green" in their lawn maintenance, the Fiskars StaySharp Max warrants a close look.
Our thanks to Fiskars Americas for providing the product to make this review possible.