Five African American Sports Pioneers You Probably Don't Know
February is Black History Month, a time to celebrate iconic African Americans and historical contributors who represent the black constituents of this great nation. February is also known as the only month of the year lacking at least 30 full days on the calendar with an average national temperature of 30 degrees Fahrenheit.
Maybe the powers of our society are comfortable with this screw job… we most certainly are not. Thus we take aim by arming you with knowledge, and since we swing a sports-minded stick on this side of the yard, we're using that stick as our weapon of choice.
Darrell "Bubba" Wallace Jr. is an African-American race car driver who finished 2nd in the 2018 Daytona 500. Just competing in the race is quite notable, as Wallace is the first African-American driver to have a full time Cup ride since Wendell Scott in 1971. However Bubba's 2nd place finish is also the highest finish by an African American in a NASCAR race since Scott's victory in the Jacksonville 200 in 1963. The story didn't gain much national attention, but Bubba's performance in that race was indeed historic, and quite important in the world of African-American Sports.
As the career of Bubba Wallace Jr. continues to develop, we expect him to join a list of African American Sports Pioneers, such as the one we present today. We've identified our five favorite African American pioneers from sports arenas normally identified as homes for a Caucasian audience, proving racial boundaries and stereotypes are as ridiculous as the decision to designate February, the coldest and shortest month of the year, as Black History Month.
(Actually, to be fair, we've identified four African Americans and one Black Canadian. I have no idea if they celebrate Black History Month in Canada… but Wikipedia suggests they are happy to share in the celebration with us here in the States. A vast majority of 'em live so close to the border, it only seems fair to bring them into the yard for this celebration. Besides… I love Canadians. Thus, as far as I'm concerned, they are in.)
1) Willie Thrower : Quarterback, Chicago
When you consider the most important position in the most popular of the four major sports, you may be talking about the most controversial of racial debates. The position of quarterback in the game of football has been dominated by the pale face… of the 23 modern-era quarterbacks enshrined in the Pro Football Hall of Fame, only ONE is not caucasian, that passer being Warren Moon.
Before Moon and the growing number of African-American passers in the game today, Willie Thrower was the exception to the rule. Thrower was the first African American player to appear in the modern-era (defined as "post World War II") professional game at the quarterback position in the National Football League, earning starts behind center for the Chicago Bears in 1953.
Understand… Thrower wasn't a star, by any stretch of the imagination. The former Michigan State Spartan, fresh off leading his team to a national championship in 1952, wasn't drafted. The Bears offered Thrower a one-year contract coming out of college, he earned one appearance in the NFL, going 3-for-5 for 27 passing yards with no touchdowns and one interception for the Bears against the San Francisco 49ers, and the Bears released him from duty following that season… and he never played in the league again (moving on to a career as a social worker).
That doesn't change historical fact. He was the first to break those long-standing barriers and Moon thanked Thrower as an inspiration during his Hall-of-Fame induction speech. That may have been the one opportunity for some of you to learn about Thrower… and we're betting you missed it.
2) Myrtis Dightman : Cowboy
According to most accounts of the day, Dightman "never liked riding bulls." However, there is no denying Dightman was a cowboy, and there certainly was no room to deny Dightman was an African American cowboy. According to those who tell the story, Dightman was also one of the most driven men of his day and he wanted nothing more than to earn a place in sport dominated by whites.
In 1966 he broke through, becoming the first black cowboy to qualify for the National Finals Rodeo. In 1967, he became the first African American to place in the competition (finishing third in the bull riding world standings, the closest he ever came to a world championship), and from that first time in the hunt in '66 through '72, Dightman missed qualifying for the competition only once.
Today Dightman is also known as the first living African American cowboy to be inducted into the National Cowboy Hall of Fame in Oklahoma City.
(To be fair, Dightman does not earn credit as the first black cowboy to compete in the competition… he was the first "serious contender for the world title" and more than a few who witnessed his journey suggest, if not for racially-motivated injustice in a world dominated by whites and ruled by system controlled by judges rather than objective evaluation, he would have been the first African American to serve as world champion.)
3) Elias Bowie : Race Car Driver
Many sources will name Wendell Scott, the man pictured above, as the first African American NASCAR driver. In 1963 he became the first (and only) black man to win the Grand National/Winston Cup Series, racing against iconic NASCAR figures such as Ned Jarrett, David Pearson, and the great Richard Petty.
Wendell enjoyed a fantastic career in racing and would be correctly identified as the most SUCCESSFUL black driver in NASCAR history, but in truth, it was Elias Bowie (right) who served as the first African American to drive in a NASCAR event.
On July 31, 1955, NASCAR indicates Bowie raced on a one-mile dirt track in San Mateo, finishing 28th out of 34 cars in front of 15,000 faces. It was the only appearance Bowie ever made in a NASCAR Cup event.
We originally couldn't even find a picture of the guy (and have now added one thanks to a reader)… but NASCAR recognizes Bowie as the first African American to ever take the wheel for one of their events, and there have been so few following his lead, we cannot overlook him for our piece today.
4) Willie O'Ree : Right Wing, Boston Bruins
Ask any fan of sports to select one of the four "major" leagues most readily associated with a predominately white audience and white employee base and you'll likely find the NHL listed as the overwhelming choice. According to reports from the league, the NHL witnessed only 18 black players between 1958 and 1991. The NHL is quick to note this fact is a likely product not of racism but of demographics, noting over 95% of the players in the league during that time came from Canada (and census numbers show only 0.02% of all Canadians during that era were black).
The rise in American influence since has led to a rise in black players in the league (recent studies suggest the US is contributing approximately 15% of the player population while the Canadian population in the league has fallen to about 60%), and while goalie Grant Fuhr is often identified as the most successful black player in the history of the game, it was Willie O'Ree who shouldered the burden of breaking that color barrier as the first black player in NHL history.
On January 18, 1958, O'Ree made his NHL debut with the Boston Bruins. He played only two games for the Bruins that season before returning to the minor leagues, earning another 43 appearances in 1961… and as you can imagine, he was subject to relentless abuse and attack in a sport that continues to fight for diversity today.
In interviews since O'Ree has shared stories of the racial taunts and threats hurled his way during his time with the Bruins. He endured and today he is commonly referred to as the Jackie Robinson of hockey.
(And to be clear, O'Ree wants it known he was not the first "African American" in the NHL… he is the exception to the rule we noted in the intro as he is Canadian and is proud of his Canadian heritage, noting "racist remarks were much worse in the US cities than in Toronto and Montreal," the only Canadian markets hosting NHL teams during his time in the game.)
5) Jayne Kennedy : Anchor / Producer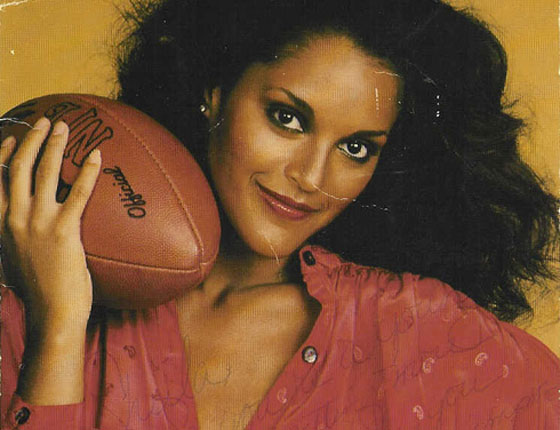 If you are going to identify any of the folks we've listed here as a true "pioneer," I would think few would argue that Jayne Kennedy is anything less. The world of sports broadcasting has long been dominated by (a) men, and (b) whites. Kennedy broke through the barriers of both worlds to become the first African American female co-anchor of a network sports show.
In fact, she joined the most popular network sports show of the era, CBS's NFL Today. Today she is credited as the ONLY female to ever host one of television's longest-running syndicated sports shows. She is also named as the only female to earn honors as a television color commentator for a men's professional boxing match… and those honors are only just the beginning of one of the most illustrious resumes you'll find in the sports broadcasting history.
In truth, Kennedy has been breaking barrier her entire life. She was the first African American ever to win the Miss Ohio crown in the 1970 Miss USA/Universe Pageant. She earned multiple Emmy Awards, including a statue earned for coverage of the Rose Bowl in 1981. She moved on to an amazing career as an actress and producer both in film and television, earning various awards from numerous organizations along the way. A Coca Cola opinion poll named Kennedy as "One of the 20 Greatest Sex Symbols of the 20th Century." Oprah's magazine "O" named Kennedy as one of America's legendary "IT" bodies in 2004 following an extremely successful career as a model (including an appearance in Playboy, credited as one of the first celebrity sex scandals when a home video was leaked by ex-husband Leon Isaac).
Reading a review of Kennedy's life is as intriguing as any story you'll find, and today she is respected as one of the most influential African American women in history. The world of sports was blessed to serve as a catalyst for that story and as such we find it difficult to keep her name from the top spot on our humble list of figures we wish to celebrate for Black History Month.
To be blunt, she was as amazing and as influential as any African American sports celebrity we've seen… and she was sexy as hell.
And now you know.