Five Awesome Events at the Sturgis Motorcycle Rally
The Sturgis Motorcycle Rally has been an increasingly empowering event, growing from as a few as 200 riders, to hundreds of thousands it hosts today. From the ever loved Harley Davidson, to the Kawasaki, Honda, and even a variety of dirt bikes, Sturgis shows off the love of our two-wheeled companions. Sturgis, South Dakota where the event is held, provides the event with unique character. Character that is only demonstrated by those who show this major piece of their lives, that is only shared by a select few. People who ride know the feeling of true adventure, truly feeling your speed, and taking in breathtaking scenery without a glass windshield, or a screen. Here is a list of five amazing events that give the 77th Sturgis Motorcycle Rally its true character.
1) Street Food Throw Down
Over 100 different food vendors will be at this event, providing signature cuisine from all across the world. Fuel up and ride out to your heart's desire. Ladies and gentlemen take note of the new Street Food Throw Down to decide the best vendors of this year's rally. Registered vendors will take part to win the title of People's Choice and Best of the Best. With all the competition, it is only fair that the food competes to find the best dish for the Sturgis Motorcycle Rally to enjoy. Celebrity judges will judge the signature dishes of the event and crown the best dishes that are served to customers at the rally.
2) Win a Police Motorcycle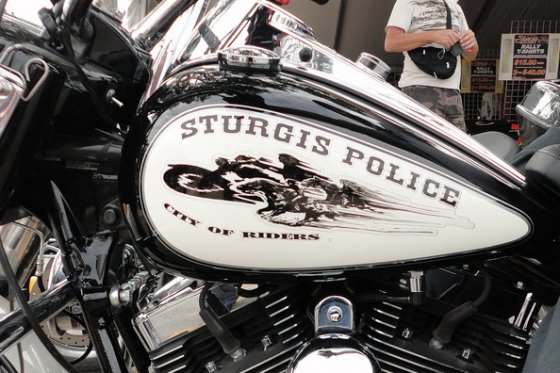 Hate when flashing red and blue lights ruin your ride? Why not be that guy? Get a bike with that capability and a little bit of history. A 2015 Sturgis Police Edition FLHTP motorcycle will be raffled off at the 2017 Sturgis Rally. What makes this bike unique? First off, it's practically brand new at only 3,000 miles. This bike will be a great addition to your collection. Also, it was used in the last two anniversaries of the Sturgis Motorcycle Rally to catch the people breaking the rules. Grab a piece of history and a few practical jokes by making this bike a part of your collection.
3) 77th Sturgis Challenge Coin Pub Crawl
How do you get elected as mayor of Sturgis? On top of of having strong morals and beliefs, sponsoring an amazing pub crawl seems to help. Mark Carstensen, the Mayor of Sturgis, and other select VIPs invite you to tour some of the iconic pubs and bars in Sturgis. What better way is there to knock back a cold one, and tour some of the icons of Sturgis? Participants in this challenge will receive the coveted Sturgis challenge coin. It's an excellent way to explore the local landscape, taste the local food, and best of all drink what the locals drink. Make memories and new friends for your travels.
4) Live Music Aplenty
Who does not like live music? The Sturgis Motorcycle Rally has a strong reputation of bringing in signature bands to perform for guests. There is no shortage over the scheduled ten days and nights of live music. Bands range anywhere from local gigs making a premiere, to regionally acclaimed bands looking to make the national stage, to established nationally known bands. Bring out your inner party animal and join the thousands in experiencing live, unique music. Scheduled performers include Blink 182, Insane Clown Possee, Kotton Mouth Kings, Lynyrd Skynyrd, Ozzy Osbourne, and other big performers. Check out the list of performers for up to date times on these major artists.
5) Ride and Discover
Take the road less traveled. Ride with the VIPs in a three hour tour of the Sturgis back roads. Sturgis is the home of the Black Hills, that provide even the most experienced riders with a powerful adventure. Beautiful scenery and mountain air cover the landscape. Untouched beauty and landscape is one reason many riders do ride. See nature with your own eyes. No camera, no filter, no screen, and no windshield. Experience nature in the way it was truly intended. This guided tour will give you the gateway to a unique and one of a kind experience that only the Sturgis Motorcycle Rally can provide.