Five NBA Rookies Who Dominated the League
Most rookies enter the NBA as a small fish in big bowl. They struggle to get the stats they were getting back in college, when they were the big fish. There are a select few throughout NBA history who have taken the bull by the horns and been a shining star in their first year. Some men were built to dominate in their rookie season while others take a few years to bloom. As another NBA season dawns, we've listed some of the greatest rookies seasons in NBA history. These players walked on to the court in their first year and changed the game with their dominance.
1. Shaquille O'Neal
Shaquille O'Neal is a household name when it comes to basketball. The Orlando Magic drafted him with their number one draft pick in 1992. At that time, he was one of the tallest and biggest in the league. In O'Neal's rookie year he averaged 23.9 points, 3.5 blocks and 13.9 rebounds. The team went 41-41 that year. O'Neal was awarded NBA Rookie of the Year and also voted a starter on the All-Star team. No other rookie was voted a starter on the All-Star team since Michael Jordan in 1985. O'Neal's raw athleticism and sheer power lead him to many endorsements his rookie year. He was also famous for shattering glass backboards with his powerful dunks.
2. Magic Johnson
No one messed with Magic Johnson on the court. He joined the Los Angeles Lakers in 1980 as a rookie. Johnson averaged 18 points, 7.3 assists and 7.7 rebounds. That year, Johnson was credited with carrying the team to the NBA Finals. In Game 6, Johnson got to start when teammate Kareem-Abdul Jabbar got injured. In that game, he was able to score 42 points and get 15 rebounds. Surprisingly, rival Larry Bird won Rookie of the Year, but Johnson won Finals MVP and the team took home the trophy as NBA Champions.
3. Michael Jordan
Most people don't think about NBA basketball without thinking of Michael Jordan, one of the overall best to play the game. Jordan was drafted by the Chicago Bulls in 1984. He averaged 28.2 points per game, 6.5 rebounds and 5.9 assists. In an incredible feat, he won Rookie of the Year and was voted a starter on the All-Star team, something unheard of at that time in the NBA. Jordan became a worldwide phenomenon as he flew through the air to dunk the ball. He even teamed up with Nike to create the iconic Air Jordan shoe.
4. LeBron James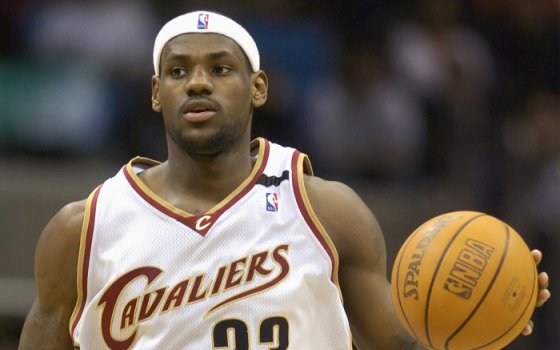 LeBron James entered the league as a star rookie and is still playing as a star veteran. He's arguably one of the best players to ever play the game. At a powerful 250 pounds, 6 foot 8 inches, James went from playing high school basketball straight into the NBA. In 2003, James was selected as the first overall pick in the draft to the Cleveland Cavaliers. He set an NBA record for scoring 25 points in his debut game as a rookie. He averaged 20.9 points, 5.9 assists and 5.5 rebounds per game.
5. Wilt Chamberlain
Reaching way back in the vault of rookie legends, Wilt Chamberlain sits with his 1959 debut season. Chamberlain joined the Philadelphia Warriors after playing with the Harlem Globetrotters. In his rookie year with the Warriors, Chamberlain averaged 37.6 points and 27 rebounds. He was voted MVP his rookie season, the first player to ever get the award. The team did not win the NBA Championship that year, but Chamberlain did hit 50 points in Game 5. One thing that stands out about his amazing athleticism is he was known to score, but could barely hit a free throw.