Five Classic Rock Bands That Are STILL Rocking
Rock and roll never got better than the classics. The Beatles, The Stones, and The Who in the sixties led to Led Zeppelin, Queen, Aerosmith and a whole slew of other classics in the seventies. Aside from Cole Porter and George & Ira Gershwin, these classic rockers shaped music more than anybody else ever has. And even into the 21st century, some of these bands are still going. Individual artists like Paul McCartney, Billy Joel and Ozzy Osbourne have always kept going at it for themselves, but keeping a band together for this long is a major achievement. So here are five classic rock bands that are still rocking out and taking names in the modern era. Let us know on social media if we've missed any of your favorites.
The Rolling Stones (1962)

The "World's Greatest Rock and Roll Band" actually started out as the "bad boys of rock". If you'd let your daughter marry a Beatle, you certainly wouldn't let them date a Rolling Stone. The Stones moved from their initial R&B/blues roots and cover versions into writing their own – and stronger – material in 1966. Since then, The Rolling Stones have been seen as one of the primary and most influential bands of the 1960s (behind The Beatles). They delved into a harder sounding rock sound with the releases of Sticky Fingers in 1971 and Exile On Main Street in 1972. Decades of near-endless touring since then with only one line-up change in that period (In 1974, supporting guitarist Mick Taylor left and was swiftly replaced with Ron Wood who remains a Rolling Stone to this day) have ensured their consistency in the public eye. Every Rolling Stones album since 1989 has received major critical success and every album they've released has been in the top ten in the UK or US. Their latest release, 2016's Blue and Lonesome – a collection of blues covers – was #1 on both sides of the Atlantic. The Rolling Stones show no signs of ever slowing down.
AC/DC (1973)
Brothers Malcolm and Angus Young started this hard rock band in Australia in 1973. They combine blues, hard rock and heavy metal into a style which can only be called "AC/DC". International success came for the band after the death of lead singer Bon Scott with the album Back In Black, fronted by Scott's replacement: Brian Johnson. Every one of the band's albums has been a major international hit since then, despite a constantly changing line-up. Currently, Angus Young is the only original member to be part of the current AC/DC and they're now fronted by ex-Guns 'n' Roses frontman Axl Rose. Their tours are major sellers and if they release a new album, it's sure to be a hit.
The Beach Boys (1961)
The invention of surf rock came with The Beach Boys and the Wilson family. Brothers Brian, Carl, and Dennis Wilson, along with Al Jaradine and Mike Love got a deal with Capitol and proceeded to release twenty albums over the next seven years. The band's influence can't be overstated as people ranging from Paul McCartney to Johnny Ramone have claimed the band as a major influence. Unofficial band leader Brian Wilson is often referred to as a genius for his musical inventions and it would be hard to argue with that assessment. Despite a number of personal setbacks (including deaths and mental breakdowns), the band continues to play live to this day and routinely sell out stadiums on their American tours. Without The Beach Boys, would we have anyone else on this list?
The Who (1964)
If not for The Who, Led Zeppelin would never have formed. The Who's blending of intricate songwriting (courtesy of guitarist Pete Townshend) with insane and destructive stage antics was a direct precursor to the Zep. Initially starting as an R&B band, The Who soon moved into power pop with 1967's The Who Sell Out and into hard rock with 1969's Tommy. The Who remained with one line-up until 1978 when drummer Keith Moon died. The band hired Faces drummer Kenny Jones in his place and released two more albums, Face Dances and It's Hard. The Who disbanded in 1982 but reformed for a major world tour in 1989. In 1996, The Who decided to stick around permanently and went on another world tour. Despite the death of bassist John Entwistle in 2002, The Who continues as a two-member band with numerous backing musicians. The latest Who album was Endless Wire in 2006 which was a major critical and commercial success. In 2018, lead singer Roger Daltrey and guitarist/multi-instrumentalist Pete Townshend both had small tours in the United States and United Kingdom.
Aerosmith (1970)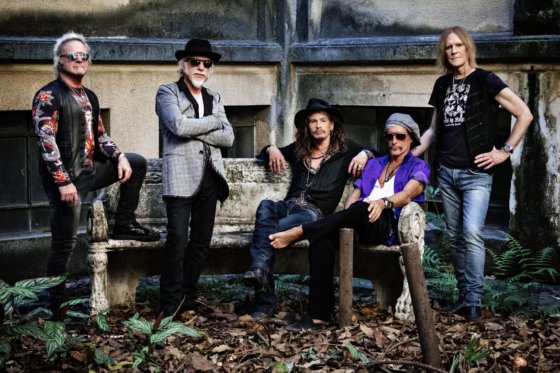 "The Bad Boys from Boston" are often referred to as America's Rolling Stones, which is a fair assessment. These guys rock harder than pretty much anybody else, with plenty of attitude and guitar solos in tow. Every album they've released has a been a commercial smash, even the mid-80s albums that are considered the lowest point of their career. Following those albums that received lukewarm reception, Aerosmith put out a trio of albums produced by Bruce Fairburn that shot them up to #1 again. Since then, Aerosmith has toured constantly and become one of the world's best-selling rock bands.