Five Things You May Not Know About Goodyear Race Tires
"The tire is the most important thing on a car, because it connects you to the race track" – Dale Earnhardt Jr.
Everything in NASCAR rides on Goodyear Tires, as you can see in our video above from our race day experience at the Consumers Energy 400. Back in 2018, we were invited to get a behind the scenes look at the Official Tire of NASCAR, from the Goodyear factory in Akron, to the track at Michigan International Speedway. We learned more about race tires in two days than we suspect most race fans learn in a lifetime of left turns, so to help share that knowledge, we're going to start with this excellent infographic, to get your oriented on Goodyear's Racing Tires:
In the interest of pushing past the rubber rumors and diving deep on some tire trivia, we've prepared this list of Five Things You May Not Know About Goodyear Race Tires. Although we promise if you make it to the finish line, you'll learn much more than five things.
1) Exclusive Tire of NASCAR since 1997
Goodyear has over 100 years of motorsports experience, and has been supplying tires to NASCAR for over 60 years. In 1997, Goodyear became the Official Tire of NASCAR, exclusively providing tires for ever racing vehicle in NASCAR's top three series. However Goodyear's success in the sport goes back even farther, as every champion of the premier Cup series has been riding on Goodyear tires since 1969.
"We never take our history with NASCAR for granted. We work hard to make every single race a success. Whether that means developing a new tire for a repaved race track or keeping up with the ever- changing rules of competition, our tire development effort never stops." – Stu Grant, GM of Worldwide Racing
2) NASCAR Tires are Handmade in Akron
Goodyear produces 159 million tires annually across 48 facilities in 21 countries, but every single one of the over 100,000 tires produced yearly for NASCAR is built by hand at the 102-year old Goodyear race tire facility in Akron, Ohio. It is physically connected to Goodyear's Headquarters, and on the same campus as their test center, which allows for tight quality control over the race tires. We witnessed the entire manufacturing process, but were most struck by the skilled tire builders who hand assemble all of the various component layers together into the finished product.
The men and women who custom-make these tires are dedicated craftspeople who take enormous pride in the role they play in NASCAR. Each one of them puts his or her name inside every tire they build so no matter who wins each race, a Goodyear associate is in the winner's circle as well. – Steve McClellan, President
Every single tire undergoes a rigorous inspection process, both by hand and by machine (including X-Ray). When that tire leaves the factory, it has been checked by numerous Goodyear associates to ensure uniformity and quality.
3) Tires are Customized for Each Track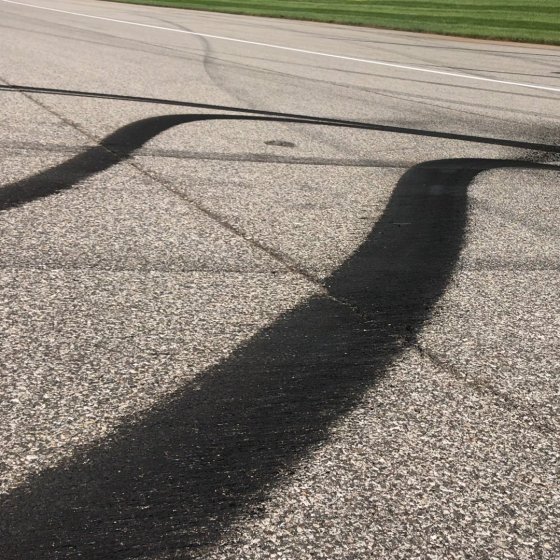 Different lengths, different surfaces, different banking angles, different geometry, and different climate conditions make every race track in NASCAR a unique challenge to Goodyear. They embrace that challenge, by producing a unique tire for every track on the NASCAR schedule. The tires are continuously refined by on-site testing and data collection at every test and race.
"We have to create set-ups for tracks that range from Martinsville to Dover to Daytona to Sonoma, all the while keeping up with rules changes and teams trying to stay out front of those changes. It's somewhat of a moving target, but it's a challenge we are up to." – Greg Stucker, Director of Racing
Goodyear has five pages in their media guide describing the different track conditions that they encounter all over the country. Tire Components are selected based on the geometry, length, and bank angle of a track, while Tread Compounds are selected based on surface characteristics and anticipated fuel range. Goodyear is always balancing Traction, Heat, and Longevity, and their goal is to make a custom tire for each track that will last through one tank of fuel in a race-car. Hitting that sweet spot is what makes for a competitive, fast, fun, and safe race.
4) Left and Right Tires are Different
Tires aren't just different for each track, they're also different for the two sides of the car. On a traditional oval track, the car needs to be able to turn left effectively on banked turns. For this reason, right side tires are larger in diameter and are made to support approximately four times the load of the left side tire. Race teams are aware of this fact, which is why they push the limits on one of the few tire related factors that they control themselves, air pressure.
"Guys are going to run the lowest air pressure they possibly can run in the left front tire, and that gives that tire a lot of grip." – Dale Earnhardt Jr.
Air pressure on the right tire is significantly higher than the left tire, which teams have been known to push below the Goodyear recommended levels into the single digits. The left tires are constructed to withstand very low air pressure, but teams are always pushing against those limits and suffer the consequences.
"They want to run that as low as possible, but they get so low that they fail the tire" – Dale Earnhardt Jr.
5) All NASCAR Tires are Tracked
Goodyear brings nearly 4,000 tires to the track on a typical NASCAR race weekend. Every single one of those tires is tracked from the factory with an RFID chip since 2006, and a barcode for backup. The chip is embedded in the sidewall and is read with a hand-scanner whenever a tire is purchased, transferred, or returned. They utilize custom software to monitor the location of each tire throughout the race weekend, both for tracking and billing purposes. Goodyear also tracks what day the tire was made and who constructed it, along with data they collect at the track. When they receive feedback on the tire's performance, they can use this information to improve the product in the future.
"With all the different combinations of variables that go into each facility, our goal is to be the best steward of the sport that we can be and help provide tires that lead to the best racing in the world." – Greg Stucker, Director of Racing