Five Fun Atlantic Beach Towns
Do you love the ocean? If you have ever tried to plan a beach vacation, you know the choices are unlimited. The East-Coast has hundreds of beaches that are fun to visit. However, not all of these beaches have a town to explore right next door.
Do you want to enjoy the warm waters of the Atlantic Ocean and have an adventure in the evening? Maybe you want to experience horses on the beach or see some amazing, beautiful scenery? From Massachusetts to South Carolina, these five astonishing beach towns offer the best of both worlds.
5) Nantucket, MA
Nantucket is an isolated island 30 miles south of Cape Cod in Massachusetts. The island is a beach wanderer's dream. Almost any direction on the island leads you to a protected beach with warmer water and small waves. However, the South Shore beaches are perfect for the surfers who enjoy a good wave.
After a day of enjoying volleyball, tennis, surfing, sailing, fishing, boating, or any other beach activity, you can investigate the cobblestone streets and wharves of the Town of Nantucket located on the Nantucket Harbor.
With a variety of high-end boutiques, shops, and restaurants lining the streets, everyone in your family will find some entertainment. The century-old steeple churches are a must-see for anyone who appreciates the elegance of fine craftsmanship. The Whaling Museum will introduce you to 19th-century whaling.
You can enjoy Keno, beer, and unsurpassed chicken fingers at the Muse. The Club Car offers a unique experience of having a drink inside a train car. If you are in Massachusetts, a visit to this amazing beach town should be on your list.
4) Dewey Beach, DE
If beaches had souls, Dewey Beach would have a rock and rock soul. Jet skiing and beach volleyball are favorite pastimes while vacationing in the area.
During the summer months, you can explore a variety of activities. On Monday nights, bring your entire family or just a date to the beach to watch a family friendly movie. On Tuesday and Wednesday nights, you can roast a marshmallow while enjoying the bonfire on the beach.
You can rent kayaks, paddleboats, and other water toys from numerous vendors located close to the beach. In town, you can have fun at Jungle Jim's Waterpark. A variety of restaurants is available to satisfy your hunger after playing at the waterpark.
Dewey Beach is the perfect beach town for anyone in any stage of life. The amazing scenery should be experienced first hand.
3) Assateague Island and Ocean City, MD
Ever dream of running on a beach with wild horses? Assateague Island National Seashore can make this dream come true.
When visiting this seashore, you can discover the beach, wetlands, dunes, wildlife, and marshes. You can even board a sightseeing cruise or a kayak adventure to view the island from the Atlantic Ocean which offers a unique advantage point.
Bird watching, hunting, fishing, and crabbing are also available for your enjoyment. When you have your fill of the beach, you can drive a mile or two to Ocean City, Maryland which is a world-renowned town that sits between the Atlantic Ocean and the Isle of Wight Bay.
People come from all over the world to experience Ocean City's wooden boardwalk with Trimper's Rides at the southern tip of it. After strolling the boardwalk, you can find fresh seafood at a variety of restaurants where you can enjoy a meal on a tethered boat. Ocean City and Assateague Island National Seashore is the perfect combination of city and ocean.
2) North Myrtle Beach, SC
Myrtle Beach offers over sixty miles of pristine beaches and some of the best Golf in the country, but when we're in town, we prefer staying just north to avoid some of the crowds and traffic.
In North Myrtle Beach, you can take a ride on Blackbeard's Pirate Cruise or Barefoot Princess River Boat and get a once in a lifetime experience. Take gambling to the next level while sailing the Atlantic Ocean on the Big M Casino Boat. Myrtle Beach is perfect for the golf enthusiast with almost a hundred premier golf courses available.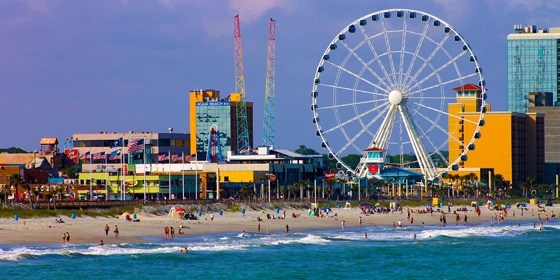 The finest wines in South Carolina can be appreciated at Duplin Winery. Free summer concerts can be a delight at McLean Park in North Myrtle Beach. You can also learn about alligators, snakes, lizards, and other animals at the local sanctuary.
If you want some outdoor fun, take a ride down the world's largest waterslide located in the Myrtle Beach area. If you are a night owl, Myrtle Beach offers live shows, variety shows, and much more every evening. The diversity of North Myrtle Beach must be experienced to be believed.
1) Virginia Beach, VA
In beautiful southeastern Virginia, the small coastal town of Virginia Beach can be found where the Chesapeake Bay meets the Atlantic Ocean. The ocean is just steps away from downtown Virginia Beach. When looking for accommodations, you can easily find hotels, motels, and bed and breakfasts located directly on the beach.
Virginia Beach offers a variety of activities for any age, but ghost crabbing is a unique experience found only in the local area. It appeals to people of all ages and is easy. Some form of illumination is all you need to begin the treasure hunt of finding crabs on the beach at night.
The Virginia Beach Pier offers some of the most outstanding fishing on the east coast. Make sure to bring your binoculars, so you can keep an eye on the local wildlife which can include dolphins and even whales.
Completed in 1792, The Cape Henry Lighthouse can be found at the mouth of the Chesapeake Bay, where the 'First Landing' happened in 1607. This lighthouse has been guiding ships for over two hundred years. With these attractions, Virginia Beach is the ideal combination of ocean, history, and city.