Five Overlooked Christmas Classics
As the years march on, Christmas after Christmas, we've become numbed to the sheer number of Christmas specials that come out on our TV's. For years all we looked forward to were the classics like Rudolph the Red-Nosed Reindeer, Frosty the Snowman, A Charlie Brown Christmas, How the Grinch Stole Christmas and any number of those wonderful family shows now played throughout the season on the Freeform Channel. Those were great, and still are, but soon we replaced those with others like It's a Wonderful Life, Jingle All The Way, Christmas Vacation, Scrooged, Die Hard and many others of that ilk, too. Yet, somehow, along the way, some of the more cherished Christmastime classics have been either overlooked or else completely forgotten as the true Holiday standards they need to be. Let's take a look, shall we?
Gremlins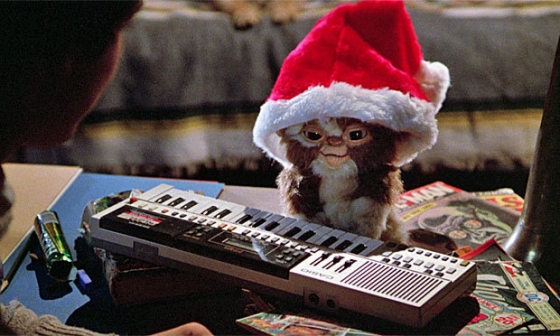 Believe it or not, the movie is classified as a Horror movie on nearly every list. Sure, it's overrun with drooling, snarling, green monsters that terrorize a town and just so happen to 'hatch' from cute little creatures when exposed to water, but still, Horror? I don't know. It could scare kids, probably, but all-in-all I don't really get it. What it should be is a Christmas Classic because the bulk of the film takes place on and around the holiday.
Billy Peltzer receives a birthday present from his dad in the form of a Mogwai -a cuddly, fuzzy Yoda mixed with a Furby- and is given a list of three seemingly easy rules to follow in order to keep the thing from freaking the hell out. But, though Billy is obviously an adult with some really creepy post-adolescent tendencies, he is incredibly stupid and very naïve. You should easily guess where this movie goes. If you said monsters terrorize the town, you either read the first paragraph, or you've seen this fantastic flick. Either way, good job. Soon, Gremlins are all over the place and turning an otherwise bland, every-Christmas into a mayhem-filled nightmare… oh right, now I see why it's horror. Anyway, add it to your holiday viewing list. It's great fun for almost the whole family!
MST3K: Santa Claus Conquers the Martians
It should be an unwritten rule that everyone must watch at least one episode of Mystery Science Theater 3000 a month. Why? Because this show was absolutely genius and wasn't often given the kudos it so richly deserved. Now, however, it is regarded as classic television and most of the cast has stuck true to their Riffing roots and have gone on to taking on modern movies as well.
If you've never seen MST3K, well, we're sorry. However, I will narrow it down to its basic roots for you: Two robots and a hapless janitor are trapped in space and forced to watch terrible movies and keep themselves from going crazy by making fun of them. That's it. And Santa Claus Conquers the Martians is by far one of the most terrible movies they were forced to endure. That being said, it really isn't that bad as far as bad films go, but the MST3K gang make it so much more tolerable and so much funnier. Trust us, you'll want to add this to your Christmas viewing library. It is so worth it.
The Year Without Santa Claus
It's no piece of news that Rankin-Bass owns its own little chunk of Christmas. The animation company has under its creative belt no fewer than 18 Holiday specials, many of which are aired throughout the season on cable. We all know Rudolph the Red-Nosed Reindeer, Frosty the Snowman, Santa Claus is Comin' to Town, and Nestor, the Long-Eared Christmas Donkey. But perhaps the one that gets the least attention is The Year Without Santa Claus, which is sad considering this is the one that introduced the world to the wonderful Miser Brothers.
In this tale, Santa (Mickey Rooney) wakes up with a head cold and realizes the world has turned into a collection of assholes and chooses to take the holiday off to recover, reflect, and shirk his duties. Instead, he sends to incredibly inept elves, Jingle and Jangle, to traverse the globe to hopefully find out if the Christmas feeling still lives anywhere. Riding on the reindeer, Vixen, the elves are immediately shot down over Southtown by the aforementioned Miser brothers and are forced to try to explain -while under incarceration, I might add- that Christmas is not only real but alive and well. Yeah, well, the Miser boys get all in the mix, sing a few jaunty tunes, and this Christmas classic just keeps getting more awesome. Go watch it. You'll agree.
Home Alone 2: Lost in New York
With this sequel, we follow the continued exploits of the worst family in the history of ever as they once again forget their youngest son is actually a person and this time somehow manage to lose him aboard a flight going not to Paris, but to New York. Seriously. This kid might as well not even exist since for two consecutive Christmases he has been left somewhere other than with his family, alone to fend for himself. And by fend for himself, I don't just mean with meals and shelter, oh God no. You see, this resourceful youth as to battle the same bandits twice with a series of elaborate and excessively violent traps just to stay alive. This should be the Horror Movie.
Well, anyway, poor Kevin boards a flight thinking he's following his dad and ends up flying to New York. His oblivious parents think they, too, see a kid who must be Kevin, and usher him onto a flight to Paris where he was heading anyway, I guess. So Kevin gets to the Big Apple, meets Tim Curry, befriends a pigeon lady, orders pizza, and fights off The Wet Bandits from the first Home Alone, all culminating in an ending we all saw coming, up to and including the silly room service bill joke. Even if it is basically a cookie cutter version of the original (I'm looking at you, Force Awakens) it does not detract from the fact that it's a holiday classic and needs to be watched every year.
Emmet Otter's Jug-Band Christmas
If you're a fan of the Muppets, and frankly damn you if you aren't, pal, then you really ought to know and love Emmet Otter's Jug-Band Christmas. Voiced and performed by your favorites from the Jim Henson Workshop (you will recognize just about everyone), this story follows Emmet and his Mom as they go about their days in the river reminiscing about life before Emmet's dad died. It's never explored, but our guess is he was trapped and his fur was sold. Gruesome.
Emmet and his mom talk about what their Christmas might be like that year, and both realize that even though they have each other, they don't have much else, yet they are happy despite it. However, a town talent show is calling everyone to join, and Emmet knows he must put a hole in his mother's washtub to make a bass, and his mom must hock Pa's old tool chest to buy fabric to make a dress in which to perform. They do, and they perform admirably. Neither win, but another lesson and opportunity arises and one of the sweetest stories of all time immediately becomes what should be an instant classic. It is, for our money, one of the best, lost Christmas movies ever. Sit down with the family and check it out, you won't be disappointed.