Four Tasty Ways to Eat Chesapeake Blue Crab
Gunaxin is located in Maryland, just minutes from Baltimore and the Chesapeake Bay. So there is no doubt that we love our Blue Crabs and especially crab cakes. Chesapeake Blue Crabs are the Maryland state crustacean and are the state's largest commercial fishery. In order to celebrate our love of Crab, today we're going to explore four tasty ways that we eat our Blue Crabs here in Maryland. If you ever come to visit, we highly recommend visiting our local seafood restaurants, but you can also try some of these methods at home.
What are Blue Crabs?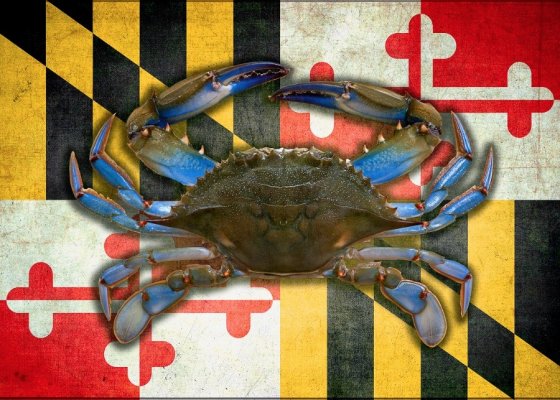 The blue crab gets its name from is lovely, olive-green shell with bright, blue claws. It is one of several species found in the waters of the Atlantic Ocean, from the Chesapeake Bay, specifically the waters of Rhode Island, all the way down to Florida and the Gulf of Mexico.
Chesapeake Bay Blue Crabs can be harvested at 5 inches wide, but have been known to grow up to 9 inches wide point to point. While crabs are often enjoyed during the summer, the largest crabs can be found later in the season. People who love crab will probably agree that the meat from a blue crab is way sweeter and has a sturdier texture than that of other crabs. This is why their product is made in succulent and very satisfying dishes that can please a crowd.
4) Deep-Fried Soft-Shell Crabs
In an indulgent world where even butter sticks are breaded and deep-fried at the local carnival, how could we ever leave our friend, the blue crab, out of the all-things-fried equation? Yes! Blue crabs have also fallen in the hot lard deep fryer, and you are likely to find them served on a stick, "a-la corndog" at one of the hundreds of crab festivals around the United States. In Maryland, we often serve fried soft-shell crabs in sandwiches.
Soft-shell crab is a culinary term for crabs that have recently molted their old exoskeleton and are still soft. Soft-shells are removed from the water as soon as they molt to prevent any hardening of their shell. This means that almost the entire animal can be eaten, rather than having to shell the animal to reach the meat.
Yeah, that's a bit weird, which is probably why we cover the crab with breading and deep fry it, so you don't think too much about what you're eating.
3) Blue Crab Dip
Crab dip is one of the most common ways to enjoy blue crab meat. The crab is combined with a sinful combination of cream cheese, sour cream, parmesan cheese, and white wine. Of course you'll also need to add some Old Bay. The result is a meaty, cheesy and creamy treat that can be eaten alone.
Most of the time, these dips are mixed together and put in the oven until they reach the desired texture.The flavor is a no-brainer. Between the meat and the rich sauces you will have absolutely nothing to want for. Some people serve the dip with pita chips, crackers, crunchy vegetables, such as celery, or use the dip as a topping for lobster tail or boiled shrimp. Enjoy!
2) Steamed Crabs
The traditional way to eat crabs is by steaming the entire crab in a pot. Upon steaming the Blue Crabs turn red, which is why many people are confused by the name. In Maryland, we typically steam the crabs with vinegar and then season them with Old Bay or J.O. Spice. The spice doesn't necessarily penetrate the crab's shell and get into the meat, but it does end up on your fingers when picking the crab, and tastes great with that buttery meat.
At crab feasts, we serve entire bushels of crabs on tables covered with paper and then gather around with wooden mallets and small knives to begin cracking claws and picking the meat. Crabs are often served with sweet Maryland corn on the cob. A crab picking contest to see who can pick the most weight in crab meat within a specified amount of time is a fun way to spice up your crab feast.
1) Crab Cakes
Surely you have tried traditional crab cakes in just about every seafood restaurant that will serve them. Still, blue crab has a special taste that will make a regular crab cake taste better. If you haven't had a crab cake in a proper Maryland seafood restaurant, then you haven't had a crab cake.
There are many great places to get real crab cakes in Maryland, but if you want to make them yourself, we refer you to McCormick's recipe. They're the Maryland based company that makes Old Bay seasoning, so we think they would know. Their recipe includes :
2 slices white bread, crusts removed and crumbled
2 tablespoons mayonnaise
2 teaspoons OLD BAY® Seasoning
2 teaspoons Parsley Flakes
1/2 teaspoon prepared yellow mustard
1 egg, beaten
1 pound lump crabmeat
Crab cakes are typically served either broiled or fried, and either as a platter with two crab cakes or on a sandwich. The best crab cakes generally have jumbo lump crab meat and very little bread filler.