Five Unbreakable Records You've Probably Never Heard Of
Ask a person about baseball records, and chances are they'll throw out names like Ripken or DiMaggio… as in Cal Ripken Jr. playing 2,632 consecutive games, and Joe DiMaggio hitting safely for 56 consecutive games. Ask a casual fan about basketball records, and even the most jaded will know about stuff like Wilt Chamberlain scoring 100 points in a single game. Records like these are cemented into the pop-culture lexicon. They are hallowed, they are sacred, and they are aggrandized so because they are predominantly perceived as being unbreakable. Here are five records that are equally as unbreakable, but devoid of any historical pizazz.
5. Most RBIs In a Single Season (191)
Hack Wilson – 1930
Wilson set the record playing for the Chicago Cubs in 1930. It's been 73 years since anybody's been able to come within 10 (Hank Greenberg – 183, 1937). And in the last 50 years, the most anybody's been able to get is 165, accomplished by Manny Ramirez in 1999. For someone to break it they would have to average an RBI a game, and then some. Baseball is an old sport, and America's pastime, to boot. That's a lot of great athletes not even coming close to breaking this one.
4. Most Points in a Single NCAA Basketball Game (113)
Bevo Francis – 1954
At the time, Bevo Francis set what was to become the all-division NCAA record. He was playing for Rio Grande College, which is probably the reason you've never heard of this one. You see, Rio Grande College (now University of Rio Grande) wasn't a Division I school. And honestly, who gives a damn about Rio Grande? We'll assume this was accomplished at a time when either parity was nonexistent. Ironically, Frank Selvy set the "official" record of 100 points in the exact same year while playing for Furman College, a Division I team whose coach made it a point to give him the ball on every possession in an effort to garner him All-America attention. Douche.
3.) Worst Record To Qualify For The NBA Playoffs (16-54)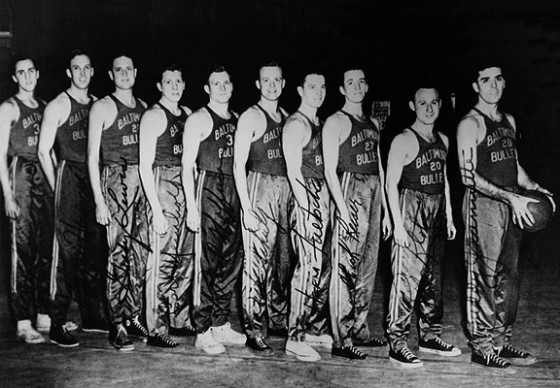 Baltimore Bullets (1953-54)
Seriously, what cosmic imbalance was tilting the basketball world in the early 50s? No official commemoration was ever given to the Bullets for getting to the playoffs that year, so we can only assume they got a lucky break by playing in an era when boxing and baseball dominated the American sporting landscape and NBA owners spent more time figuring out ways to expand their market than focusing on holes in the league's format. The Bullets would become the last NBA franchise to fold just one year later.
1.) Highest Career Test Batting Average (99.94)
Donald Bradman
If you don't know anything about cricket, you're not alone. But still, 99.94 sounds pretty damn good no matter what. Donald Bradman achieved this average over a 20 year career (1928-1948). The second highest career Test batting average belongs to some South African dude named Graeme Pollack, who batted 60.97 for a period of 7 years (1963-1970). Bradman was born in Australia, and in 2001 the Australian Prime Minister dubbed him the "greatest living Australian", probably beating out the likes of Paul Hogan and Mad Max. So…he's got that going for him.
1.) A Bevy of Single-Game College Football Records
Georgia Tech vs. Cumberland (1916)
Cumberland College had discontinued its football program a year earlier, but for some reason weren't allowed to back out of their previous scheduling agreement with Tech. Rather than face a fine for not showing up, Cumberland sent a ragtag 14-man squad to play out the game. One possible explanation for Tech coach John Heisman's mercilessness is the fact that Cumberland's baseball team had beaten Georgia Tech's 22-0 earlier in the year, amidst accusations that they used professionals to pose as students. Since WWII, Fort Valley State has come the closest, point-wise, by scoring 106, in 1969. The "major" college record for points scored in a game for the modern era? 100…by Houston…in 1968. I'm not a doctor, or anything, but that's not even halfway there. The final score was Georgia Tech 222 – Cumberland 0. Not only was it the most lopsided game in the history of college football, but most points scored in a single college football game/most points allowed in a single game, and probably a litany of other records.