Football Manager 2015 Review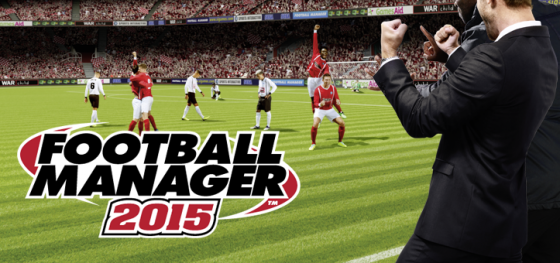 Football Manager is a popular football (soccer) management simulation game that began its life in 1992 as Championship Manager and has been known by its current name since 2005. Each year a new version is released, and Football Manager 2015 was released late in 2014 promising to provide a more personal and customizable experience managing your favorite club.
Here at Gunaxin, we've played Football Manager for many years, and have been playing the latest version of the management simulator for the last few weeks. We can confirm it is indeed a entirely new experience, and below we'll detail our thoughts so far.
New Features
For the first time in a football manager game, players are able to customize their attributes and management approach. When creating a manager, players are asked to choose between two management styles; tracksuit manager and suit and tie manager. The former is for those who prefer to be out on the pitch and involved in the action whereas the latter is for the tactical managers who prefer to evolve a player's mental attributes.
"Football management is a multi-faceted role nowadays and many of the new features in FM15 reflect this," says Miles Jacobson, Director of Football Manager 15. "Whether a manager wants to be old school, or a head coach, they can now dictate this from the very start of their managerial career – and improve their skills throughout by taking virtual coaching badges."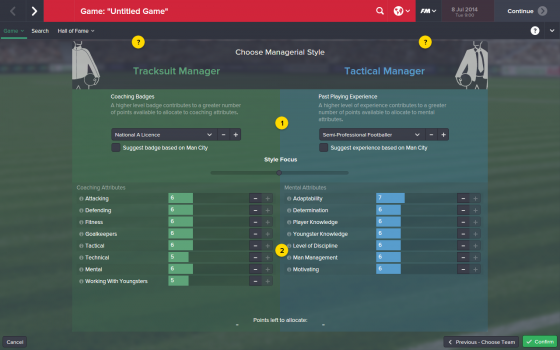 There have been vast improvements to the game's user interface, which when you look back at previous editions, was definitely needed. Navigating to those previously hard-to-find areas of the game is much easier, making those important pre-game tweaks less of a chore. One of our favorite changes to the navigation is the addition of the search bar at the top of the UI, which is connected to a much-more detailed in-game search engine.
More Interactions
Within the first thirty minutes playing the game you'll notice the increase in interactions across the game. Questions from journalists will appear more-often, and they'll use things you've said to your players in those questions, even if it was five months ago.
For those who like to fire their team up pre-match and at half time, more team-talk options have been added. Another cool addition to interactions are tunnel-interviews, where you'll be interviewed immediately after a match.
There are far more interactions in FM15 compared to FM14, and some will say there are too many. However, Sports Interactive have our backs and have kept the popular option of dumping interactions on a member of staff.
Match Graphics
There's no doubt that the graphics used during matches has greatly improved in the last three editions of Football Manager. FM15 has by far the best graphics it's ever had during the game. There's more detail in weather, players and especially how gameplay is represented. New animations for the players make the gameplay look far more realistic and enjoyable to watch. Here is a video demonstrating the match footage :
A Full Season

We didn't want our review of this game to be a typical review where it's just a list of new changes (okay, a bit like the above). We wanted to play an entire season of FM15 before we wrote our review to make sure there wasn't anything we missed.
Premier league champions Manchester City were our choice of team. We played a full-season and took car of all responsibilities, instead of delegating to staff. It took some time.
The experience of a full-season left us feeling drained but with the premiership title retained, we felt satisfied. The increase in interactions took its toll after a couple of hours of gameplay, but it was interesting to see how a reaction to a specific interview took effect on another interview months later. There wasn't a single point in the game where we felt disconnected from an area of the club's operation – and that's rather special.
New Features Video
Want to see everything else that's new? They have a 27 minute video that will satisfy all of your other Football Manager 2015 information related needs…
Download the Demo
Football Manager 2015 is available for Windows PC, Mac and Linux. Want to check it out? Download the demo from Steam and experience the latest and greatest from Sports Interactive.