Former NHL Fighter Heads to MMA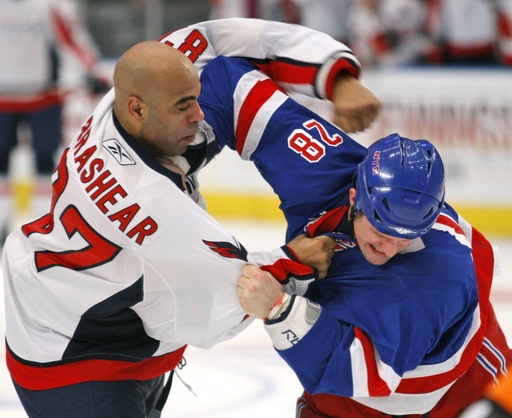 When your main talent in the NHL involves dropping the gloves and punching someone as hard as you can, a transition to MMA after your hockey days are over really isn't that far of a stretch.
Such is the case with Donald Brashear who has just recently signed a contract to join the MMA for a minimum of one fight, with possibly as many as three fights set to take place according to USA Today.
During his career, Brashear spent time with the Montreal Canadiens, Vancouver Canucks, Philadelphia Flyers, Washington Capitals and New York Rangers, skating in 1,025 NHL games. He collected 2,634 penalty minutes to his name during that time while barely contributing to the offense with just 205 points.
Despite all of his fights and altercations on the ice, the incident that he is most widely known from involved him as the victim. In 2000 when the Vancouver Canucks and Boston Bruins squared off, Brashear found himself at the heart of several instances which the Bruins took exception to, including a collision with Boston's goaltender that forced their netminder from the game.
With just a few moments left in the contest, Boston's Marty McSorely sought to send a message and slashed Brashear in the back of the head with his stick. The incident would go down as one of the most violent in the game's history and ended up with legal action for assault pressed against McSorely. Brashear was lucky to not have brain damage but did suffer a severe concussion.
That major incident aside, Brashear has definitely been at the heart of his own controversial situations, involving cheap shots and late hits.
The good news is that he won't have to worry about any hockey sticks colliding with his head, nor will he have to drop the gloves in his new role.
This won't be the first time he's taken his fighting skills off the ice as he spent part of his time during the locked out 2004-05 season as an amateur boxer. He also has trained with the legendary former heavyweight champ Joe Frasier.
Assuming Brashear is able to clear all of his medical tests, he could fight as early as June 4th. It'll be interesting to see just how well he fairs given he is approaching 40.
Below is a nice video compilation of some of Brashear's biggest fights and hits.
WARNING: The music selection is Queen for some reason … we warned you. The mute button might serve some justice here.