Founders Brewing Company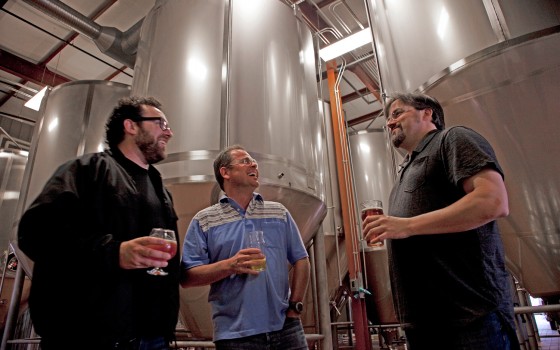 Well it's day three of the wonderful Craft Beer Week, and here at Gunaxin we're sticking with Michigan, (see: the Bell's entry from Tuesday)  specifically Grand Rapids because, a) why not, since there are many craft breweries in the city's confines, and b) because it has just won the prestigious 'Beer City USA' award.
So which beer have we chosen for this little write-up? Well, if you read the header then you know we're focusing on Founders Brewing Company. I chose Founders because they make some of my absolute favorite beers, and one in particular that's become one of those 'Holy Grail' brews that's so hard to get it's borderline ridiculous. Delicious, but ridiculous. I speak, of course, of Founder's Kentucky Breakfast Stout.
What we've got here is an imperial stout brewed with a massive amount of coffee and chocolates, then cave-aged in oak bourbon barrels for an entire year to make sure wonderful bourbon undertones come through in the finish. Makes your taste buds squeal with delight.
Oh, and why not a little something about Founders itself, huh?
We don't brew beer for the masses. Instead, our beers are crafted for a chosen few, a small cadre of renegades and rebels who enjoy a beer that pushes the limits of what is commonly accepted as taste. In short, we make beer for people like us.
Exactly.
It should come as no surprise that Gunaxin has quite a number of reviews about Founders' beers, nearly all of which were written by yours truly. You can find the links below:
Founders beers appear in a few of our lists as well :
So go on out and show Founders and Grand Rapids some love by snatching up a few of your favorites for Craft Beer Week.