Fun Facts About Charles M. Schulz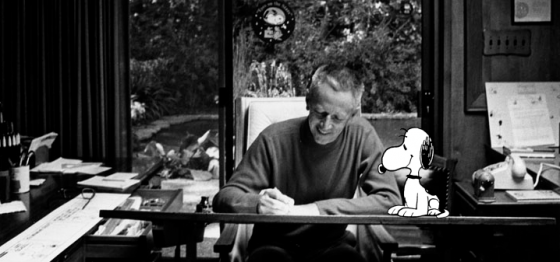 Peanuts creator and cartoonist Charles M. Schulz was born on November 26th, 1922. Nearly 93 years since his birth, the characters he created will be hitting the big screen in The Peanuts Movie. Sadly, Schulz passed away on February 12, 2000, days after his last Peanuts comic strip was released in the newspaper. So today we celebrate his life with a few interesting facts about the man whom friends and family would affectionately call Sparky.
Friends Never Called Him Charles

If someone said that they knew Schulz personally, the easiest way to actually tell whether they did or not was to ask them what they called him. If they said "Charles" or "Chuck," they had never met the man in real life and knew next to nothing about him. From the time he was a baby, everyone in Charles Schulz's life referred to him by his nickname. If he was addressed by most anyone who had met him, they would have addressed him as "Sparky," a nickname that stuck all of his years.

Believe It Or Not

Schulz sold his first cartoon to Ripley's Believe It Or Not of all places. The proto-Snoopy had some odd habits according to the Believe It or Not that ran on February 22nd, 1937. The dog was called "Spike" and was white with black spots. That should sound a bit familiar. Spike was described as "a hunting dog that eats pins, tacks, and razor blades." No wonder Snoopy was always looking forward to the dinner bowl. Snoopy knew the three digestible alternatives. The cartoon stated that the hungry pup was owned by C. F. Schulz of St. Paul, Minnesota. Charles Schulz' father was Charles Fred Schulz. The final line read "Drawn by Sparky."

His Favorite Sport Was … Hockey?

The Redwood Empire Ice Arena was built by Schulz and his wife in the late 1960s. They wanted to bring their love of ice sports from their home state of Minnesota to their new state of California. The project was a massive financial as well as an emotional undertaking. As an indirect result, the Schulz's marriage dissolved over the creation. His wife Joyce Halverson's next husband was a contractor whom she met while he was building the ice rink. Nonetheless, the rink is known as "Snoopy's Home Ice" and has hosted Snoopy's World Senior Hockey Tournament since 1975. The Senior Tournament or Snoopy Tournament features 64 teams from around the globe.

There Was A Real 'Little Red Headed Girl'

The 'Little Red Headed Girl' was actually based on Donna Mae Johnson. Johnson was a co-worker of Schulz when his primary income came from working at a cartooning correspondence school. Sparky and Johnson did date for over three years. The constant threat of rejection is based on the fact that Schulz did propose to Johnson.

However, Johnson revealed that she was already engaged to firefighter Allan Wold. Johnson and Wold would indeed marry. After that, Schulz dated Joyce Halverson. Halverson was a young divorcee and single mother at the time. Schultz and Halverson would marry, but the rejection by Johnson haunted Schulz. Interestingly, Schulz was reluctant to have the Red Headed Girl depicted on-screen. He preferred to keep her as an off-screen character like Charlie Brown's parents.

Son of a Barber Man

There are frequent references to Charlie Brown's father being a barber or working in a barber shop. While this might seem like an odd origin for an eternally follically challenged child, there are some very real 'roots' to it. Schulz' father (also named Charles) was a barber in the Minneapolis area while Charlie was growing up. Schultz was incredibly attached to his parents and lived with them well into his adult years. Practically his first time away from the greater Minneapolis/St. Paul area was when he moved his own family to Colorado. Schulz would spend the last years of his life living in northern California.