Fun With Christmas Catalogs of Yore
It's 2010 and for the most part the year of the standard Christmas Catalog has long since vanished. All we typically get now is a 10 or 12 page insert in the Sunday paper that more or less crams all the good Holiday buys in there. Toys R Us typically does a really nice layout with upwards of 20 pages of crap your kids will no doubt want most of for the Holidays. But all these crummy circulars really do is make us long for the days when racks upon racks of Christmas Catalogs the size of phone books would be waiting for us just inside our local Sears or Montgomery Wards. These were the bastions of Christmas glory filled to bursting with hundreds of pages of literally everything in the store from furniture to watches, and from footballs to curtain: it was all there inside.
Well recently, as I was taking a fine trip down memory lane, I stumbled on a grand collection of pages from some amazing Christmas Catalogs from the past! This person has amassed hundreds of these goodies all ripe for the lookin'! So, before I pick out a few of the more ridiculous pic's, let's give credit where credit is due: Check out THIS COLLECTION. It is amazing. Okay so let's get on with a look at some of the funnier pages therein, shall we?
From the 1945 Sears Catalog
Notice how this page (along with many others from this particular catalog) appears to be hand drawn. Now that's classy. You see, this is why these things were so cool: Class.
And you thought Cabbage Patch Kids were ugly? They had nothing on the Kewpie Doll. This thing was hideous!
From the 1955 Spiegel Catalog
Say, now that's a sextet of dapper lads! Fine looking, strapping fellows, indeed!
Oh I can just imagine the hours and hours of… 'fun'.
Wait a second… you could order an ass from a catalog? What the fuck?
From the 1966 Penney's Christmas Catalog
Barbie had a sister named Tutti? Uh… when did this happen?
That 'Busy Driver' actually plays the Hertz car rental ad. Am I missing something here?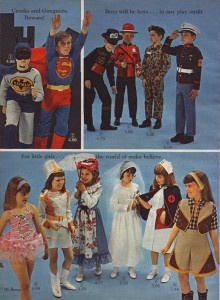 I love how Batman's costume actually announces who he is. It isn't enough to just assume he's Batman by the giant bat on his costume apparently he needs a name tag.
From the 1970 Montgomery Ward Christmas Catalog
Hello, ladies. I like your… zipper.
So if you're gonna pick a name that screams Cowboy, it's hard to go wrong with good old Johnny West.
This scene can end only one way: Hot, hot 70's porn.
From the 1980 Sears Christmas Catalog
Nothing says 'Traditional American Christmas' like a… Pinata?
So much want…
From the 1988 Sears Christmas Catalog
Oh 1988, you were so, so sexy.
And really expensive.