Fun With Tauntauns
Tauntauns are the Arctic kangaroos in Star Wars: The Empire Strikes Back that Luke and Han use while cruising the icy terrain of the planet Hoth. One of them plays a crucial role in saving Luke's life with his warm and cozy innards. Now Gunaxin takes a look at some fun things about Tauntauns.
First, let's look at perhaps the most creative thing made that was inspired by the Tauntaun.
Kudos to ThinkGeek for creating this.
Okay, now let's all listen carefully to this and then try to mimic it. It's the sound a Tauntaun makes. Tauntaun audio
It's like a sheep in pain, isn't it?
Poor Tauntaun
Let's check out Scott Holden's Tauntaun costume.
Remember this Kenner Toy commercial?

The Tauntaun also has a mortal enemy. The Wampa, aka the Abominable Snowman of Hoth.
You can also make a cake out of the Tauntaun. Or, in this case, a wedding cake.

If you're a Facebook geek, you can join the Tauntaun's fanclub.
Here are the best Tauntaun statues: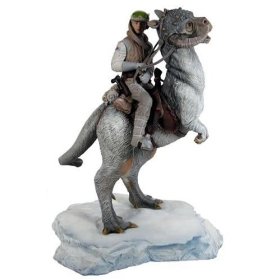 Get more Tauntaun stuff from Amazon.