Futurama's Back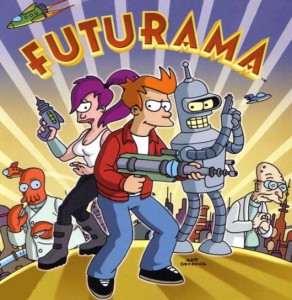 Comedy Central has ordered 26 episodes of Futurama to begin airing in mid 2010. Comedy Central decided to bring back Futurama due to the high ratings of reruns on Comedy Central and high DVD sales of the straight-to-DVD movies.
"We're thrilled Futurama is coming back," Groening said. "We now have only 25,766 episodes to make before we catch up with Bender and Fry in the year 3000."
Futurama was brought back by the same executives that brought back Family Guy a few years ago.
"When we brought back Family Guy several years ago, everyone said that it was a once in a lifetime thing—that canceled series stay canceled and cannot be revived, but Futurama was another series that fans simply demanded we bring back, and we couldn't have been happier when Matt and David agreed that there were many more stories yet to tell."
Soon, we'll get to see Leela shoot down Fry, Bender bend things and get drunk, and Dr. Zoidberg eat everything in site. All in new and exciting ways.