Gadgets for Your Holiday Wish List
The holidays are coming and if you are looking for some great gift ideas, might I suggest a few cool items. If you are looking to upgrade your home theater system, storing your games and gear, or looking for a digital recorder, these three items might be up your alley.
The first item, or I should say items, are from Aperion Audio. The Zona Wireless Surround Speaker System (pictured left) helps your home theater system. The Zona is a pair of high-quality wireless bookshelf speakers. The built-in wireless receivers and two-way power amplifiers in each speaker make Zona a simply beautiful and easy to install addition to most home theater systems. The Zona is a breeze to set up and operate. All you need to do is connect the transmitter to the surround Pre-Out jacks on your receiver and plug the transmitter and speakers into a power outlet. Then the Zona will automatically link up with a high quality wireless connection. The Zona can also play  music directly from a PC via its USB connector, or to send music throughout the house to any number of Zona speakers. The wireless technology automatically identifies and avoids other 2.4 GHz signals that could otherwise cause interference, so your music never takes a hit. The Zona sells for $499.00.
The next item from Aperion (pictured above right) is the Aperion Home Audio Link, or HAL for short. The HAL lets you send music from your computer, MP3 player, or other audio source to any audio-video receiver or audio system. You can also connect your powered subwoofer or powered speakers with no messy wires. Plus, the HAL allows you to send music throughout your house, or even outside. Plus set up is easy since there is no software needed, all you need to do is just plug and play. The HAL sells for $149.00. For more info on the Zona and Hal check out Aperion's website.
If you are a gamer and looking to keep your games and Rock Band gear organized, then check out the LevelUp Rock Band Storage Ottoman. It sells for $179.00.  The Ottoman organizes gaming gear neatly and efficiently. The Ottoman is made of solid wood construction; durable leather-look PVC exterior enhances any living area. There a safety stay hinge lid with lift tag and decorative lid stitching. Plus there are Velcro guitar loops, fitted drum stick loops and fitted side accessory pockets keep gear secure. Check out LevelUp's website for the Ottoman and more great ways to organize your gaming system.
The last gadget but certainty not the least is the Zoom H1 Handy Recorder. The H1 is Zoom's smallest recorder, but don't judge it by it's size. The H1 Handy Recorder has Zoom's superior recording technology and studio-quality microphones in their most portable device ever. The H1 comes with an infinite variety of applications. If you are looking to record musical performances, seminars, conferences, or capturing audio for video, the H1 gives you a crisp and clear stereo sound. It is like having your own recording studio to take with you where ever you go.  The H1 requires a AA battery that lasts up to 10 hours of recording and also comes with a 2 GB microSD card.
Plus the H1 is easy to use. Zoom has thought of every detail to make using the H1 fun and easy. The back-lit display features recording levels, file format, time elapsed, remaining battery life and recording time so you know everything up to the minute while you are recording. So if you have a musician, journalist, or anyone on your Holiday shopping list that loves tech stuff then make sure you pick them up the H1 Handy Recorder. The H1 has a retail price of $99.00 and can be purchased at Amazon.com.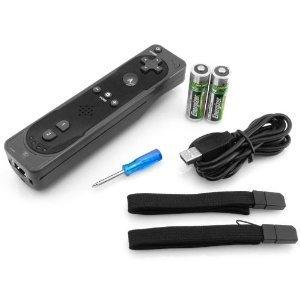 Wii has finally gotten around to including MotionPlus in its Wiimotes, when it should have had it built-in from  the get-go.  While you have to buy a new Wii to get them or shell out $40 for an upgraded one, Snakebyte has not only beaten them to the marker, but do it better with a louder speaker, rechargeable batteries via included USB cable, easy access sync button and stay-put battery cover, all at about $10 cheaper.  Now you can finally get around to playing Wii Sports Resort and get better accuracy with games like Tiger Woods.  Follow @snakebyteUSA on Twitter for special deals, like 40% off Thanksgiving weekend.
Find out if Santa really did bust into your house on Christmas with the Swann PenCam.  This fully functional pen features a pinhole camera that can take up to an hour of video or tons of still photos, all of which get saved right to the 2GB flash drive inside.  Unscrew the cap and pop it right into your USB drive to view and download all your Bond-like footage.  The stills leave a bit to be desired but the video is amazing, recorded in handy 640×480 .avi files.  Bonus features include USB battery recharging, 3 extra pen refills and the chance at seeing your nanny do something naughty.  Pick one up for around $55.
iPods, Pads & Phones do the things they can do very well. It's the few things they can't do at all that make you want to throw them against a cinderblock wall. One of those things is simply getting your video or photos from your iThingie to display on a bigger screen. The SneakPeek II goes above and beyond most people's needs with a switchable component and composite audio/video cable, for less than the cost of Apple's component-only adapter. For the non-nerds, component cables are the Red, Green & Blue video plugs which will give you a lower-end High Def, composite is the Yellow plug that is usually accompanied by the Red & White plugs that carry the left and right audio signals. You have the option to use either for the video here, which is nice when trying to show Granny some pictures you took on your iPhone and she's only got an old-school analog TV with rabbit ears. Another ace feature of this cable is the included USB cable and jack that allows you to charge your iJammie while you play your media through the cables. Whether it's using it to show something in a meeting on a projector, watching streaming movies from Netflix on your hotel TV, or the afore-mentioned Grandma situation, this is an awesome gadget to have in your arsenal. Currently $42 on Amazon.
Always wanted a pet but don't want the responsibility? Prefer the company of robots to humans? Think bugs are beautiful? Meet your new best friend, Skitterbot, a mechanized futuristic cockroach that only its master could love. DeskPets Skitterbot is a remote controlled bug that creepily and quickly moves forward, backward and rotates 360 degrees on its six little plastic legs while it's little beady, red LED eyes stare out ahead and blink too. The Skitterbot is controlled via an easily concealable remote control that also acts as a USB charger for both itself and the bugbot. 4 colors are available, each with a different control frequency for racing or robot-bug-cockfighting. Pick up a couple for stocking stuffers from the kings of remote-controlled stuff, Radio Shack for $19.99. Not for those who fear Starship Troopers.
Webcams have really come a long way from the old pixellated, jumpy thumbnail video you'd get back in the day. Of course, any internet porn fan could tell you this, but for the average guy like me who mainly sees the so-so video from the cam built in to my laptop, the Hercules Dualpix HD720P Webcam is a serious eye-opener. Built for a notebook, but riggable to attach to most flat-screen monitors, or to sit on top of a CRT or computer, the Dualpix bring a truly awe-inspiring HD picture of your ugly mug to your display, even in the most awful of dim, fluorescent basement light. The cam can be used for both standard and widescreen viewing by turning it on its side, which you can do without dismounting the cam. Other nice features include a better-than-average microphone, zoom, autofocus, a 45 degree rotatable axis for view adjustments and automatic image adjustment if you do decide to switch up from standard to widescreen. Ask Santa for one and find out what he's up to the rest of the year on PalTalk. Currently $39.99 on Amazon.
Protection, amplification and versatility are the strong suits of the iMainGo X portable stereo and case for the iPod, iPhone and other media playing devices. Looking a bit like an old school cassette Walkman, the iMainGo X is a hard shell vinyl case that unzips and folds out, fitting your iPod in one side, while the other contains the amplification and speaker units. You control your device via click wheel or touch-screen through the plastic window, while foam and a plastic backboard hold it in place from the inside. Flip it around and you find the speakers and controls, including on/off button, 2 headphone/auxiliary outputs, and a handy mic input. These inputs and outputs are where you can really take advantage of this gadget. Use them to create a powerful speakerphone for conference calls, daisy-chain several iMainGo Xs for even more volume, or plug a guitar into it and use it as a mini-amp, it's a great audio interface any way you can think to use it. Its size makes it a good alternative to lugging around a separate dock and it also makes watching a movie a lot better if you're not using headphones. The sound itself is great on the low end and decent on the mediums and highs. I was actually startled on how loud it was the first time I turned it on. Available from Amazon for the sexy price of $69.
Wicked Audio, the kings of cool-looking, great-sounding, affordable headphones have just added cellular capabilities to three of their popular headphone lines, the in-ear Jaw Breakers and Metallics and the over-the-ear Tour series. I tested a Jaw Breaker set and was ecstatic to finally turn my iPod Touch into an iPhone using the inline microphone built in to the headphone cable. All you need to do the same is a pair of these bad boys that plug into the regular headphone jack of your iPod (and can still be used as regular headphones, of course) and the Skype app to start making free phone calls over wi-fi, no iPhone or crappy AT&T service contract needed. I'm also now able to use my headphones to record voice memos or anything else I'd like to record using the microphone. Wicked Audio cellular headphones range from $14.99 to $24.99.
And finally, it's not really a gadget per se, but we'd be remiss to leave off a gift so perfect as Canned Unicorn Meat. From the psycho-nerds at ThinkGeek.com, it's a Spam-like metal container touting nothing but organic unicorn, fortified with sparkles, love and magic. Inside is actually a plush dead unicorn, hilariously butchered into the choicest cuts of head, legs and torso. We hereby declare Canned Unicorn Meat to be the new 'coal in the stocking' of Christmas. $11.99