Five Lesser Known Gaming Webcomics
Webcomics have been a humorous staple of the internet since at least the late 1990's. Hardcore gamers like to laugh and webcomics such as Penny Arcade, PVP, Ctrl-Alt-del, and Extra Life have been a part of the culture for years. However, other comics aren't as well-known as these classic strips. If laughter is the best medicine, these five sites should help heal the body and soul from various game related deadly encounters.
D20 Monkey (d20monkey.com)
A comic aimed specifically at Hardcore Pen and Paper gamers, this strip follows the exploits of Trevor, and his gaming circle as they experience life, love, and the fickle roll of the dice. The strip has been running since 2010 and covers many different story arcs. The lives of the cast are not static and change with the times, just like real people. It is crazy and sometimes raunchy but always funny and well written.
Something Positive (somethingpositive.net)
This long running comic explores the rather adult life of Davan MacIntire and his group of friends. They are all gamers in one way or another, though that often isn't the main plot of the story arches. This webcomic has been online since 2001 and the whole archive is worth reading. Something Positive has a sarcastic sense of humor mixed with dark and often bizarre storylines. It is not for the faint of heart.
VG Cats (vgcats.com)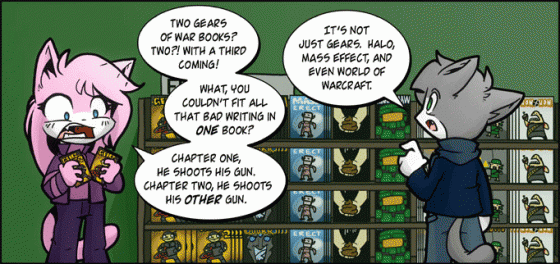 VG Cats has no real continuity between strips. Unlike the above comics, this one tends to just be a series of one-off strips featuring a male and a female cat that love the world of gaming. The subjects have included such notable games as Pokemon, Final Fantasy, Team Fortress 2, and a variety of others. VG Cats also pulls from the geek lifestyle, with comics based on anime and popular movies.
Dueling Analogs (duelinganalogs.com)
Another webcomic with a long history, Dueling Analogs has been on the internet since 2005. There is no set cast and the subject matter varies from comic to comic. However, each entry is very humorous and there are several running gags. The comic focuses on video and computer games, with geek culture filling in the rest. The Rejected Mega Man series of comics alone are worth reading through the archives.
Dorkly Originals (dorkly.com)
Dorkly is a site by gamers and for gamers. It has a variety of gamer specific comics along with a variety of video projects. The webcomics run the gamut from typical joke centered fair to poignant commentary on current gaming news. The original videos are also a necessary watch for gamers. These original productions show how classic game characters view their own universe. Each video is created with the game engines from various classic games. This helps the Dorkly crew nail the humor of the classic titles. These shorts are worth watching and have writing that would make many comedians envious.