Ten Great Gingerbread Stadiums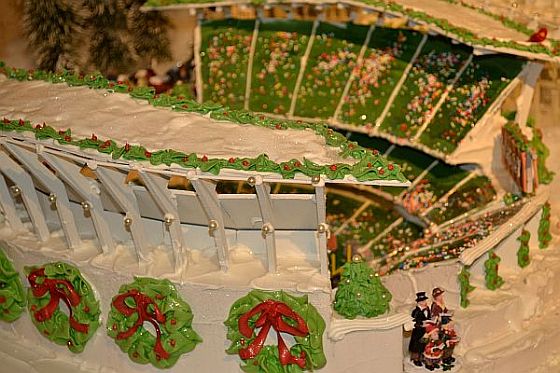 One of the tastiest and most artistic Christmas traditions is the gingerbread house, as icing and cookies are combined to craft everything from the simple shack to the Sistine Chapel. The world of sports has provided ample inspiration for gingerbread creations as well, as fans have recreated some of their favorite venues and moments from sports history. We've picked ten of our favorites to spotlight here, with hopes that some of our readers will be inspired to top them.
If you think you can do better post a link or picture in the comments.
1. Darrell K. Royal Memorial (Texas)

2. Great American Ballpark (Cincinnati Reds)

3. Jordan Hare Stadium (Auburn)

4. Alltel Stadium (Jacksonville)

5. Lambeau Field (Packers)

6. Robertson Stadium (University of Houston)

7. Yankee Stadium

9. Fenway Park (Boston Red Sox)

10. Lavell Edwards Stadium (BYU)