Glass : Review
Those of you with siblings, you'll understand: remember when your brother or sister used to grab your wrist and slap you in your faces with your own hand, repeating "Stop hitting yourself!" ad nauseam? If that memory gives you the shakes, that's exactly how you'll feel watching Glass, writer/director M. Night Shyamalan's comic book trilogy closer.
Honestly, there was no possible way Shyamalan could've ended his Eastrail 177 Trilogy satisfyingly without going to extremes. Much like its predecessors Unbreakable and Split, Glass takes place in a more grounded reality than any Marvel or DC film – a reality where high strength, premonitions, and wall-crawling could be explained away by mere human exceptionalism. And that's where Glass finds our three lead characters – David Dunn (Bruce Willis), Elijah "Mr. Glass" Price (Samuel L. Jackson), and Kevin Wendell Crumb (James McAvoy) – as they stare down the barrel of psychiatric observation under Dr. Ellie Staple (Sarah Paulson).
To recap:
David possesses massive strength and receives precognitive visions when he touches people, both of which he uses to exact vigilante justice. The Philadelphia media has nicknamed him The Overseer, the city's protector. As shown in Unbreakable, water is his only weakness.
Kevin's dissociative identity disorder (DID) manifests through 24 separate personalities, the 24th being The Beast, a creature endowed with superhuman abilities introduced in Split. The Beast's strength seems ready-made for a battle with David, and he seems impervious to bullets while this personality has taken over. There seems to be no stopping him.
Elijah's Type I osteogenesis imperfecta makes his bones brittle and easily snapped by so much as a flick to the wrist, making him David's physical polar opposite, as we discover in Unbreakable. His mind is his weapon, brilliant and cunning beyond all measure.
And as we can infer from Split's surprising, film-redefining final ten seconds, a massive showdown is due between David and The Beast.
Fireworks in the making, right? This being an M. Night Shyamalan film, we know he's less about fireworks and more about a grander truth. However, even knowing this can't stop Glass from being a disappointment, as the film features Shyamalan at his most self-important and condescending. He can't get out of his own way to let us enjoy the movie; he dispenses with subtleties – which is where he excels – and goes straight into the overt, his script's dialogue moving past being cleverly meta and straight into the realm of self-parody.
This is Glass' major downfall: too much talking, not enough showing. Of course, being a PG-13 film, Shyamalan chooses to keep the violence and blood to a minimum until a very pivotal point. The film's muted and comic book-esque color scheme allows for a lack of red – throwing back to his use of the color in The Sixth Sense – and its appearance in the film is startling, almost shouting "NOTICE ME!" to anyone who so much as thinks about dismissing it.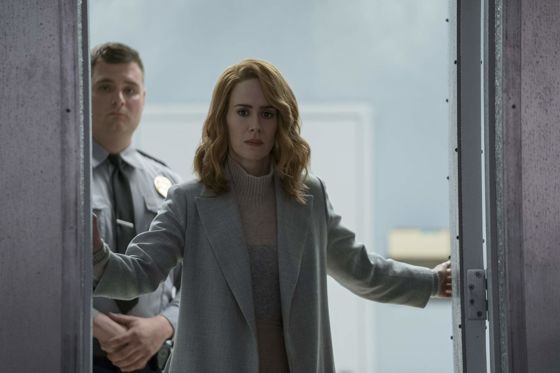 In place of the fireworks we think are set to go off – with the first confrontation between David and The Beast being a low-key grapple – we're instead given montage after montage of David, Kevin, and – eventually – Elijah being talked at by Dr. Staple. She doesn't talk with them as much as she's gaslighting them out of their belief that they're anything other than human. Her presence is the very definition of uncomfortable, as she seems to know too much about everyone. She disabuses them of their superhero/villain notions through drugs and torture, using hypnotic strobes on Kevin to alternate between personalities and filling David's cell with water out of high-pressure hoses.
This is where Shyamalan is granted leeway; in the real world, men like these would be remanded to psychiatric evaluation. David, Kevin, and Elijah would be kept apart from each other and studied with great scrutiny until they die. However, Dr. Staple seems to be on a time crunch; she's given three days in which to work whatever kind of angle she's got, and it's confusing as to what her goal is. Does she want them to be freed, or does she want them to be locked up forever? Or should we treat her according to Elijah's mom's (Charlayne Woodard) final words from the closing moments of Unbreakable? "See the villain's eyes? They're larger than the other characters'. They insinuate a slightly skewed perspective of how they see the world." (The quote is from the original screenplay, not the film itself.)
Remember the first paragraph of this review? Glass' entire middle section is entirely Shyamalan making us smack ourselves in the face. No matter how each character – including David's son Joseph (Spencer Treat Clark), Split's sympathetic Casey (Anya Taylor-Joy), and Mrs. Price herself – tries to explain their predicament, Dr. Staple keeps coming back with avoidance, manipulation, and straight-up denial. There's something completely off with Dr. Staple, and instead of keeping our attention on our three superhumans, we're batted about with wondering how the hell she fits into the narrative. It's tiring to keep up with this potential hazard while the three lead characters knock about in their cells.
Glass is full of itself and its creator, who pushes the comic book motif into his characterizations, resulting in exaggerated, almost caricature-like performances. To the actors' credit, they elevate Shyamalan's screenplay and make the most of being almost summarily dismissed. It's almost like Shyamalan lost any kind of desire for these characters, forcing Dr. Staple like a wedge into these proceedings. But the cast does what they can, reveling in the moments when their personalities are let off the leash and given a chance to fulfill their destinies.
Bruce Willis is back in top form, playing Dunn with a heart which has escaped him in his latest efforts. When he's onscreen, he's magnetic, shedding any sense of "BRUCE FUCKIN' WILLIS" and digging deeper into the soul of the film itself, which is a welcome sight. Continuing his juggling act from Split, James McAvoy still shades every one of his personalities well, but what worked like gangbusters for him in Split was not seeing his transitions between personalities. In Glass, we see each transformation when a different personality "takes the light," lessening the impact and suspense inherent in his character, with his transition to The Beast being an exercise in repetitive overindulgence bordering on comedy. However, it's totally a double-edged sword, as watching McAvoy flit between personalities in one or two seconds without resorting to editing is a feat to behold and admire.
The brunt of the movie is borne by Samuel L. Jackson, and hats are off to him for accepting the role of Glass' mansplainer. He still brings a cold vitality to the calculating Mr. Glass, undercut with an almost childlike wonder at the sudden eruption of The Beast into his sphere of consciousness. However, he's saddled with wretched exposition and constantly overexplaining the plot, a most unfortunate script choice. We already know of Mr. Glass' mind and its vast capabilities; do we really need what amounts to a hockey color commentator narrating why The Beast and David Dunn are fighting? Because of this and other overexposition, Shyamalan takes away the exhilaration of discovery or realization – in essence, he's saying he doesn't trust the audience to get what he's trying to prove, and it's insulting.
What M. Night Shyamalan gets right about Glass is the marrying of the real world with a small step up the evolutionary ladder, not a giant leap like more high-profile comic book films. The Eastrail 177 Trilogy is seated right at the divide between corporeal and fantasy, and it seems like Shyamalan has to fight to keep his characters and his story in the corporeal. He resists the urge to make a big blowout action popcorn flick, which would have been all too easy. Instead, he forges a bottle-episode drama with a touch of the supernatural, and he doesn't want to go any further than a realistic hand-to-hand fight between two of his lead characters. It's more like when your sibling – you know, the one who smacked you in your face with your own hand – hits you in the arm then turns quickly, whistling jauntily while denying even touching you. This is a gag as old as time itself, and it's funny when you think about it later. But when your mom starts repeatedly explaining exactly how and why you got hit, it gets annoying real fast.
MPAA Rating: PG-13 for violence including some bloody images, thematic elements, and language.
Running time: 129 minutes.
No post-credits scenes, but still frames from the trilogy are shown throughout the credits.
Released by Universal Pictures.
Glass
Glass features M. Night Shyamalan at his most self-important and condescending. He can't get out of his own way to let us enjoy the movie; he dispenses with subtleties and goes straight into the overt.