Going to a Casino Ain't Like the Movies
Picture the scene: You're heading to the Bellagio in Las Vegas, attired in a tuxedo. A beautiful woman, who happens to be the duchess of Liechtenstein, is on your arm. You toss the keys of your Porsche to the valet, slipping him a twenty in the process and as the doors open, the security staff address you as "Sir". A night of cool gaming, romance and possibly fighting international terrorists is about to begin.
To contrast, picture this alternative: You are standing outside the Bellagio with the rest of the members of a bachelor party. You can't drive a car as you have enjoyed 14 beers, a mojito and some beverage of unknown origins. You are so drunk that you can't even pronounce the word "Liechtenstein". The security staff won't let you in because you are wearing flip-flops and one of your party has vomited all over themselves.
Movies have given false ideas of Vegas
One of those scenarios is more likely in Las Vegas than the other, and you probably don't need to be told which one. The movies have warped our brains somewhat, giving us a false idea of what it means to go to a casino. Sure, there is hedonism and glamour, but casinos can also be quite strict, expensive and daunting.
If you take, for example, movies like The Hangover or Fear and Loathing in Las Vegas, there is a suggestion that there is no oversight – anything goes. Getting caught with drugs could mean a six-year jail sentence in Las Vegas; destroying your hotel room would – at best – get you a hefty fine.
Hedonism is supposed to go hand in hand with a trip to the casino, of course, and there is some logic to the fact that casino owners will want you to be drunk as it means you are more likely to be loose with your money. However, people who become obnoxious drunks stick out at a casino, and you'll most likely be asked to leave.
In terms of winning or losing, you should always take the latter with good grace and the former with a sense of decorum. Indeed, if you give yourself some boundaries in terms of expenditure before going to a casino, any losses can be taken on the chin and wins feel all the sweeter. A top tip is to take some cash out before going, and then leave your credit card in your hotel room. Otherwise, you might end up trying to flog your kidney at 5am.
Learn the ropes of games and attitude
There is an expectation that you will have some sort of knowledge of the rules of the games, and while it's okay to ask, serious players might get irked if you continuously ask the dealer for advice and interrupt the game. Check out something like blackjack at mansioncasino.com and play some practice rounds with a demo account if you want to learn the ropes, or simply buy a deck of cards and learn to play with friends. Remember that dealers have power, so if you want free drinks to keep flowing you should act like you know what you are doing.
Perhaps the most scurrilous portrayals of casinos have come with how women are depicted. The movies would have us believe that women are props in casinos, hanging by the bar waiting for you to sweep them off their feet. It's rubbish, of course, and while a waitress might flirt with you, it's never a good idea to take things beyond the professional level. While your mother might consider you to be a handsome chap, chances are you aren't irresistible to everyone with an XX chromosome.
Tipping is an art form in casinos, and it will literally open many doors. Again, you should remember to be courteous about. Staff will appreciate a tip, but they aren't going to suddenly become your personal servant because you give them $3. The simple rule is that staff will come back to you with free stuff should you give them an incentive to do so. That means tipping, but also acting like a decent human being.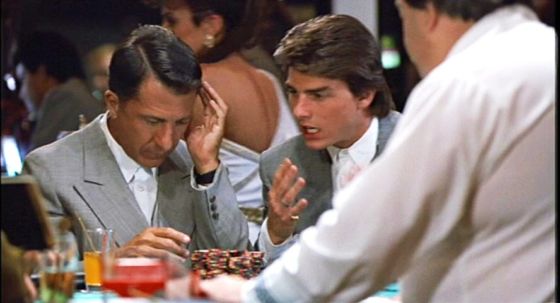 All of this, of course, suggests a rather sterile environment, and we know casinos are nothing like that. The point is that there is a fine line between being boisterous and disrespectful. Often at a roulette table it is the case that if you win, other people are losing, so keep that in mind when you and your friends are doing a lap of victory around the table. Above all: Be cool.