GoldenEye Returns with Updated 007 Action
Bond, James Bond, is hoping to finesse his way into your consoles this holiday season with today's release of GoldenEye 007: Reloaded, but it won't be easy. There are first-person-shooter behemoths guarding the gates, and Battlefield 3 and Call of Duty: Modern Warfare 3 refuse to make room for any other FPS titles on the market.
Agent 007 will have to rely on some smooth talking, updated graphics, and the strong nostalgia factor from lovers of the classic GoldenEye 007 to break through the defenses. But is that enough? Check out the trailer:
The elements that made the Pierce Brosnan-powered Goldeneye so memorable don't really exist in today's gaming landscape. For starters, Nintendo isn't even included in the Reloaded action. The Wii is getting its own GoldenEye 007, but it won't be the same to Xbox 360 and PlayStation 3 gamers aiming to relive their N64 memories.
While the original GoldenEye 007 set the standard for console shooters as we know them today, replacing the scripted action of artificial intelligence with erratic action from real people, the technology in the FPS format has evolved tremendously since. This is a Modern Warfare world, and we're all just living in it.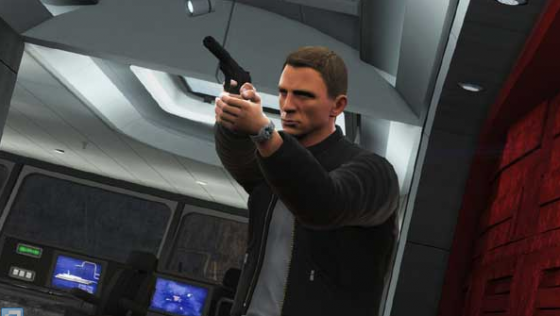 You have to go into Reloaded with a heightened sensitivity for the power of nostalgia. Let it warp perception and cloud better judgment. The trick here is to accept what GoldenEye 007: Reloaded is not trying to be, and accept it for what it is: an updated classic, hoping to borrow some of your time for split-screen action.
Expecting Reloaded to provide similar experiences to those marathon sessions in dorms — or your friend's basement, or wherever — might be unreasonable, and a tad bit unfair. New standards have been set in the multiplayer realm, from more tactical approaches to the run-and-gun Rambo style most love. But one peak at the multiplayer trailer, and it looks like GoldenEye 007: Reloaded is making a quality effort to do what the original did best.
The motion looks remarkably similar to my memories of the original GoldenEye. The golden gun and the familiar faces, rendered to our current gaming-graphics standards, should be welcomed back with opened palms. Grab your controller, pull in a friend (preferably three), and party like it's 1997.