Grace Digital Audio's Eco Extreme
Any MP3 player or Smartphone will allow you to take your music anywhere with you, but the Eco Extreme Speaker case from Grace Digital Audio protects your device. The Eco Extreme is waterproof and has a rubberized protective body that shields your device from harm. You can fit any MP3 player and cell phone including the iPhone, Droid, and Blackberry into the Eco Extreme Speaker case.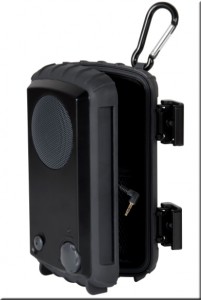 The Eco Extreme comes with a universal 1/8" headset jack that is located inside the case to hook up your gadget. Whether you take the Eco Extreme to the game for your tailgate party or to the beach, the hard outer shell protects your MP3 player or Smartphone from the elements. Plus, the case is designed with platform feet to stand up while it is open or closed. The Eco Extreme has a carabineer to clip onto your backpack, which is a plus if you're going hiking or sitting by the campfire.
The Eco Extreme uses 3 AA batteries and averages about 30 hours of battery life at average volume levels. Not only does it hold your MP3 player safely, but you can also store your keys, credit cards, driver's license, and cash with the spacious amount of storage in the case. The case is designed to protect your device from any drops or falls it might take when you're out and about. For $49.99 you can pick up the Eco Extreme from Grace Digital Audio's website at gracedigitalaudio.com or at Amazon. The Eco Extreme comes in black, orange, and blue. So if you're always on the go and want to protect your music, make sure you pick up the Eco Extreme.