Ten Great Fall Beers For 2016
Summer has, thankfully come to a close. There's only so much blistering heat and sweltering humidity we can take before we finally want to toss in the sweaty towel and get on with cooler temps and a crispness to the air. Speaking of crispness, it turned out that one of the Summer's big, favorite Michigan releases, Bell's Oberon, was actually quite good this year. Go figure. But let's move on to autumn releases, shall we?
Pumpkin anything is a pretty standard theme this time of year, and pumpkin beers have become one of the most popular things to flavor with such. As of right now, it's a safe bet your local store or brewery is fully stocked with the sweet flavors of the gourd. A particular favorite of this author comes from a brewery called Olde Peninsula in Kalamazoo, Michigan. Their pumpkin ale is a perfect blend of vegetal sweetness and the earthy tang of hops. One of their other specials is mixing this ale with their Stout Chocula and calling it Jack O' Lantern. Amazing. But we digress, let's move on to beers folks around the country are more likely to get their hands on.
Rogue : Hazelnut Brown Nectar Ale
Dark brown in color, smooth and malty on the palate, Rogue's Hazelnut Brown is a delicious departure from the standard brown ale fare. It's a rich, nutty essence of Autumn that will instantly remind one of falling leaves and cool breezes.
Ballast Point : Dead Ringer Oktoberfest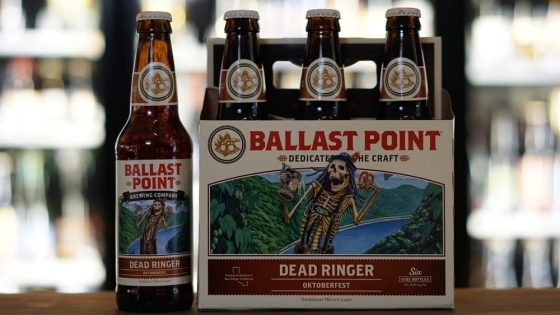 Dark copper and loaded with caramel and toffee aromas, this traditional Märzen style is wholly reminiscent of the Bavarian celebration. It's low hoppiness and just sweet enough toastiness makes this a fall must.
The Bruery : Autumn Maple
Are pumpkin beers wearing you out? Are there just too many and you've become overloaded? Fair enough. How about a beer brewed with yams instead? Trust me, you're going to want to try this one. It tastes almost identical to Thanksgiving yams with cinnamon and maple. Awesome, but a bit powerful at 10% ABV, so be careful.
Dry Dock Brewery : Imperial Pumpkin
For a true taste of Autumn in a glass, you'd be hard-pressed to find a better beer than this massive load of pumpkin. Made with literally tons of the fresh orange gourd right in the mash, and with the addition of Saigon and Indonesian cinnamons, nutmeg, ginger, allspice, mace and cloves, this beer can only scream Halloween.
Red Hook Brewery : Out Of Your Gourd Pumpkin Porter
Yes, it's another pumpkin beer… but then again, it isn't. Because it's also a porter, it's a dark, rich, roasty and toasty offering with a smash of pumpkin, not to mention maple syrup and the requisite cinnamon and ginger. It goes down smooth with just a hint of sweetness that isn't too cloying or overpowering. It is delicious at a bonfire on a cool evening.
Triton Brewing : Gingerbread Brown
What could possibly make delicious brown even more delicious? Spice it with molasses and cinnamon, with a touch of pepperiness. Dark brown and redolent with gingerbread notes, this is a perfect beer for the fall holidays.
Bear Republic : Racer X Double IPA
Even with a firm, malty backbone, this is still a Double IPA at its heart. But a DIPA for fall, you're asking? Isn't that more of a winter warmer? Sure. But it pairs remarkably well with grilled beef, chicken and pork, as well as hard cheeses. Yummy.
Founders Brewing : Harvest Ale
Fresh, juicy citrus notes prevail in this wet-hopped, golden Harvest Ale. Golden straw hued with a frothy lace that stands tall, this is a perfect beer for wasting time watching football or carving a Jack O' Lantern.
Sierra Nevada : Oktoberfest Collaboration

Two brewers are exploring the roots of Germany's famous Oktoberfest beers. Each year, Sierra Nevada partners with a different German brewer to explore a different approach to the style. This year, it's Bamberg, Germany's Mahrs Bräu on a new version of the classic style. Deep golden in color with a rich malt complexity, it has a noticeable spicy hop character from the use of the nearly forgotten Record hop varietal.
Short's Brewing : Evil Urges
Brewed with amber candi sugar, you know right away that this thing is gonna be a sweet, sweet burn. Chocolate and Molasses notes, rich liqueur, and the meandering flavors of dark fruits like figs and cherries and raisins… wow. It's a whopper at 8.5% ABV, but it id so very silky smooth.