Four Fabulous Las Vegas Hotels
Las Vegas is a town where over-the-top glitz can be found from the airport slot machines to the grilled cheese trucks on the Strip. Affordable hotels in Las Vegas have to step up their game with extra special touches to stand out from the rest – thankfully, many of them do! Las Vegas hotels often feature spacious rooms with sprawling floor plans, Michelin-starred chefs, beautiful designs and world-class spas. Here are some of the best Las Vegas hotels.
The Venetian
If you've ever been to Vegas, chances are you've seen The Venetian; it's hard to miss because it is one of the most iconic images in the entire city. A stay here is much more luxurious than a standard hotel room, and guests will find themselves transported to a mini-Venice with Roman tubs and luxury bedding. The hotel features three separate pool areas and a canal where you can take a proper gondola ride.
The Monte Carlo
The Monte Carlo is another landmark of the Las Vegas skyline. It's a casino and luxury resort combined, so guests don't need to leave the property to enjoy spectacular gambling. The Monte Carlo is located in the middle of the Las Vegas Strip and offers amazing shows such as Blue Man Group and Zumanity, in addition to the extensive casino options. The rooms are deluxe and feature Italian marble bathrooms, 250-thread count sheets and other elegant amenities.
Mandarin Oriental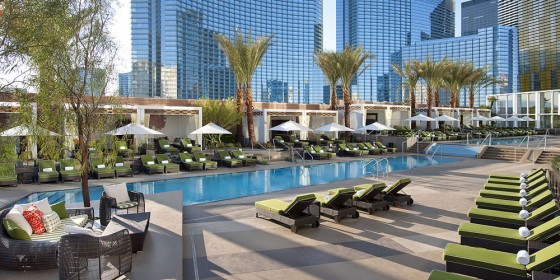 For a dose of modern luxury, check out the highly acclaimed Mandarin Oriental. The rooms feature Egyptian cotton sheets, a down comforter, minibar and gorgeous views of the city skyline or the Las Vegas Strip below. It boasts a full fitness room, a relaxing café with delicious food, a sauna, beautiful pool and Jacuzzi. You can find affordable prices or go all out for one of the luxury suites.
Nobu Hotel
The Nobu Hotel is at Caesars Palace, one of the city's best casinos. The rooms here have traditional and contemporary Japanese art work, and they are swanky, chic and bursting with luxury. They were designed according to the feng shui principle and come with Italian sheets and elegant bath amenities. Guests can dine at the on-site restaurant, order room service and enjoy one of the six outdoor pools.
---
If you're planning a trip to Vegas, stick with one of these hotels to guarantee the most magnificent experience possible.