The Greatest Players from College Football's Greatest Programs
Every dedicated sports fanatic out there does three things regularly. They love their teams unconditionally, regardless of how poorly the front office decisions were during the past season, or seasons. They recruit friends and strangers to join them as a member of their favorite team's fan club while sharing their passion about the game. Finally, they love to talk about sports, all of the time.
When those sports fanatics get together, discussions and debates, sometimes heated, arise over which player is best, what team had the best season, who was the best coach of all time, and about ten thousand other easily debatable subjects and questions about sports.
As sports fanatics ourselves, we decided to jump in while the water was hot and give you all something else to debate with our pick for the single greatest college football player, of all time, from each of the nation's 25 most prestigious football schools.
The choice of which 25 schools we decided to go with was based on a variety of qualifications including how many national and conference titles they have won, as well as overall winning percentage, road dominance, etc… Enjoy.
25) Stanford: John Elway, QB
Years: 1979-1982
Games: 42
Record: 19-22-1
Passing: 774 of 1,246, 62.1%, 9,349 Yards, 77 Touchdowns, 39 Interceptions
Rushing: 259 Carries, 5 Touchdowns
Awards

1982: Pac-10 Player of the Year, All-American, College Football Hall of Fame
24) Wisconsin: Ron Dayne, RB
Years: 1996-1999
Games: 47
Rushing: 1,220 Car, 7,125 Yds, 71 TD
Receiving: 31 Rec, 304 Yds
Awards

1999: Heisman Trophy, Maxwell Award, Walter Camp Award, Chic Harley Award, Doak Walker Award, Jim Brown Award, Big Ten POY, AP POY, SN POY, Consensus All-American
Career: NCAA Record for Most Rushing Yards, Wisconsin Badgers No.33 Retired, College Football Hall of Fame
23) Oregon: Marcus Mariota, QB
Years: 2012-2014
Games: 41
Record: 36-5
Passing: 779 of 1,167, 66.8%, 10,796 Yds, 105 TD, 14 INT
Rushing: 337 Car, 2,237 Yds, 29 TD
Awards

2014: Heisman Trophy, Manning Award, Maxwell Award, Walter Camp Award, Davey O'Brien Award, AP College Football POY, Johnny Unitas Golden Arm Award, and the ESPY for Best Male College Athlete
22) Georgia Tech: Calvin Johnson, WR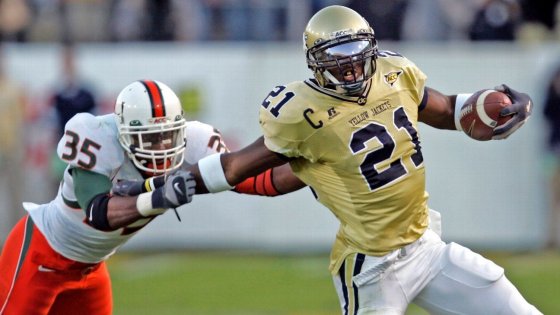 Years: 2004-2006
Games: 38
Receiving: 178 Rec, 2,927 Yds, 28 TD
Awards

2004: 1st Team Freshman All-American, ACC Rookie of the Year
2006: ACC Player of the Year, Biletnikoff Award, Paul Warfield Trophy
Career: 2x 1st Team All-American (2005, 2006), 3x 1st Team All-ACC (2004, 2005, 2006)
21) Texas A&M: Dat Nguyen, LB
Years: 1995-1998
Games: 48
Defense: 517 Tackles, 6 INT
Awards

1998: All-American, Chuck Bednarik Award, Jack Lambert Award, Lombardi Award, 1st Team All-Big 12, Big-12 Defensive POY
Career: Texas A&M Athletic Hall of Fame, Big 12 10th Anniversary Team, Cotton Bowl Hall of Fame, AP All-Time Big 12 Team, Texas Sports Hall of Fame, College Football Hall of Fame
20) Washington: Warren Moon, QB
Years: 1975-1977
Games: 30
Record: 19-15
Passing: 242 of 496, 48.8%, 3,277 Yds, 19 TD, 17 INT, 110.1 Rating
Rushing: 239 Car, 429 Yds, 9 TD
Awards

1977: Pac-8 Player of the Year
19) UCLA: Gary Beban, QB
Years:
Games: 31
Record: 24-5-2
Passing: 243 of 465, 4,087 Yds, 23 TD, 23 INT
Rushing: 462 Car, 1,271 Yds, 35 TD
Awards

1967: All-American, Heisman Trophy, Maxwell Award, SN Player of the Year, Chic Harley Award, Pop Warner Trophy, College Football Hall of Fame
18) Georgia: Herschel Walker, RB
Years: 1980-1982
Games: 33
Rushing: 994 Car, 5,259 Yds, 49 TD
Receiving: 26 Rec, 243 Yds, 3 TD
Awards

1982: Heisman Trophy, Maxwell Award, Walter Camp Award, Sporting News POY, UPI Player of the Year
Career: 3x SEC Player of the Year, 3x All-American, 3x 1st Team All-SEC, Georgia No.34 Retired, College Football Hall of Fame
17) Auburn: Bo Jackson, RB
Years: 1982-1985
Games: 45
Rushing: 650 Car, 4,303 Yds, 43 TD
Receiving: 26 Rec, 272 Yds, 2 TD
Awards

1985: Heisman Trophy, Walter Camp Award, Sporting News Player of the Year, UPI Player of the Year
Career: 2x Consensus All-American (1983, 1985), 3x 1st Team All-SEC (1982, 1983, 1985), Auburn No.34 Retired, College Football Hall of Fame
16) Michigan State: Bubba Smith, DE
Years: 1965-1966
Games: 21
Awards

Career: 2x All-American, Michigan State No.95 Retired, College Football Hall of Fame
15) Clemson: Vic Beasley, DL
Years: 2011-2014
Games: 48
Defense: 89 Tackles, 48 Tackles for Loss, 33 Sacks, 7 Forced Fumbles
Awards

2014: ACC Defensive Player of the Year
Career: 2x Consensus All-American (2013, 2014), 2x 1st Team All-ACC (2013, 2014)
14) Florida: Tim Tebow, QB
Years: 2006-2009
Games: 55
Record: 48-7
Passing: 661 of 995, 66.4%, 9,285 Yds, 88 TD, 16 INT
Rushing: 692 Car, 2,947 Yds, 57 TD
Awards

Career: SEC All-Freshman Team (2006), 3x All-American (2007-2009), 3x 1st Team All-SEC (2007-2009), 2x SEC POY, 2x SEC Conference Champion, 2x BCS National Champion
2007: Heisman Trophy, Maxwell Award, Davey O'Brien Award, AP Player of the Year, SN Player of the Year
2008: Manning Award, Maxwell Award
13) Tennessee: Peyton Manning, QB
Years: 1994-1997
Games: 45
Record: 40-8
Passing: 863 of 1,381, 62.5%, 11,201 Yds, 89 TD, 33 INT
Rushing: 153 Car, 12 TD
Awards

1997: Davey O'Brien Award, Johnny Unitas Golden Arm Award, Maxwell Award, James E. Sullivan Award, SEC Championship Game MVP, Citrus Bowl MVP, SEC Player of the Year
Career: SEC Freshman of the Year, 3x All-SEC Team, 2x All-American (1996, 1997), 1998 ESPY Award Winner for Best College Football Player, College Football Hall of Fame
12) Miami (FL): Sean Taylor, S
Years: 2001-2003
Games: 35
Defense: 190 Tackles, 14 Interceptions
Awards

2003: Big East Defensive Player of the Year, Unanimous All-American
Career: 2001 BCS National Champion
11) LSU: Tommy Casanova, DB
Years: 1969-1971
Games: 25
Defense: 7 Interceptions, 3 Forced Fumbles
Awards

Career: 3x 1st Team All-American (1969-1971), 3x 1st Team All-SEC (1969-1971), LSU No.37 Retired, College Football Hall of Fame
10) Penn State: Jack Ham, LB
Years: 1967-1970
Games: 43
Defense: 251 Tackles
Awards

Career: College Football Hall of Fame
9) Texas: Earl Campbell, HB
Years: 1974-1977
Games: 40
Rushing: 765 Car, 4,443 Yds, 40 TD
Receiving: 6 Rec, 128 Yds, TD
Awards

Career: College Football Hall of Fame, Texas Longhorns No.20 retired
1977: Heisman Trophy, Davey O'Brien Memorial Trophy, All-American
8) Florida State: Deion Sanders, WR/KR
Years: 1985-1988
Games: 44
Punt/Kick Returning: 1,455 Return Yds, 3 TD
Defense: 14 Interceptions
Awards

Career: College Football Hall of Fame
7) Michigan: Charles Woodson, DB/WR
Years: 1995-1997
Games: 34
Rushing: 9 Car, 167 Yds, 2 TD
Receiving: 21 Rec, 370 Yds, 3 TD
Defense: 16 Interecptions
Awards

1997: Heisman Trophy, National Champion, Walter Camp Award, Bronko Nagurski Trophy, Chuck Bednarik Award, Jim Thorpe Award, Sporting News Player of the Year, Big Ten POY, All-American
6) Notre Dame: Johnny Lujack, QB
Years: 1943-1947
Games: 28
Record: 26-1-1
Passing: 144 of 280, 51.4%, 2,080 Yds, 19 TD, 24 INT
Rushing: 81 Car, 438 Yds
Awards

Career: College Football Hall of Fame, 3x National Champion (1943, 1946, 1947)
1947: Heisman Trophy, SN Player of the Year, AP Athlete of the Year, All-American
5) Nebraska: Tommie Frazier, QB
Years: 1992-1995
Games: 35
Record: 32-3
Passing: 232 of 469, 49.5%, 3,521 Yds, 43 TD, 11 INT
Rushing: 342 Car, 1,955 Yds, 36 TD
Awards

Career: College Football Hall of Fame, Orange Bowl MVP (1994), Fiesta Bowl MVP (1996)
1995: Orange Bowl MVP, Big 8 Offensive POY, Johnny Unitas Golden Arm Award, Quarterback of the Year, Consensus All-American
4) USC: Ronnie Lott, DB
Years: 1978-1981
Games: 36
Defense: 14 Career Interceptions
Awards

Career: College Football Hall of Fame, Consensus All-American (1980), National Champion (1978)
3) Alabama: Derrick Thomas, LB
Years: 1985-1988
Games: 34
Defense: 204 Tackles, 74 Tackles for Loss, 52 Sacks, 10 Forced Fumbles
Awards

Career: College Football Hall of Fame, Consensus All-American (1988), Dick Butkus Award (1988)
2) Ohio State: Archie Griffin, HB
Years: 1972-1975
Games: 46
Rushing: 924 Car, 5,589 Yds, 26 TD
Receiving: 30 Rec, 350 Yds, TD
Awards

Career: College Football Hall of Fame, 2x Heisman Trophy (1974, 1975), 2x Walter Camp Award (1974, 1975), 2x SN Player of the Year (1974, 1975), 2x UPI Player of the Year (1974, 1975), 2x Big Ten MVP (1973, 1974), 3x 1st Team All-American (1973, 1974, 1975), 3x 1st Team All-Big Ten (1973, 1974, 1975)
1) Oklahoma: Lee Roy Selmon, DL
Years: 1972-1975
Games: 40
Defense: 325 Tackles, 8 Tackles for Loss, 40 Sacks
Awards

Career: College Football Hall of Fame, Consensus All-American (1975), John Outland Trophy (1975), Vince Lombardi Award (1975)