The Greatest MLB Team Ever Built (Without Yankees)
OK, we get it already. Not even one word into this article and we can already hear all the people in the Bronx screaming. Calm down for a minute and let us explain why the greatest MLB team ever built shouldn't include any of the Yankees.
Because the entire team would be the Yankees. Babe Ruth, Lou Gehrig, Yogi Berra, Whitey Ford, Mariano Rivera, Joe DiMaggio, Derek Jeter, and the list goes on and on. So please understand that it isn't a knock on the Bronx Bombers. It is simply allowing the rest of the MLB to have a chance at making this dream team.
Now on to the fun stuff, the lineup. (We have added their career stats in case you needed more proof.) Do you think this line-up could take down a squad made-up of just the All-Time Greatest Yankees?
1B – Jimmie Foxx
Seasons – 20
AB – 8,134
Hits – 2,646
HR – 534
RBI – 1,922
Runs – 1,751
Avg – .325
SB – 87
2B – 458
3B – 125
2B – Jackie Robinson
Seasons – 10
AB – 4,877
Hits – 1,518
HR – 137
RBI – 734
Runs – 947
Avg – .311
SB – 197
2B – 273
3B – 54
SS – Cal Ripken Jr
Seasons – 21
AB – 11,551
Hits – 3,184
HR – 431
RBI – 1,695
Runs – 1,647
Avg – .276
SB – 36
2B – 603
3B – 44
3B – Mike Schmidt
Seasons – 18
AB – 8,352
Hits – 2,234
HR – 548
RBI – 1,595
Runs – 1,506
Avg – .267
SB – 174
2B – 408
3B – 59
LF – Ted Williams
Seasons – 19
AB – 7,706
Hits – 2,654
HR – 521
RBI – 1,839
Runs – 1,798
Avg – .344
SB – 24
2B – 525
3B – 71
CF – Willie Mays
Seasons – 22
AB – 10,881
Hits – 3,283
HR – 660
RBI – 1,903
Runs – 2,062
Avg – .302
SB – 338
2B – 523
3B – 140
RF – Frank Robinson
Seasons – 21
AB – 10,006
Hits – 2,943
HR – 586
RBI – 1,812
Runs – 1,829
Avg – .294
SB – 204
2B – 528
3B – 72
C – Johnny Bench
Seasons – 17
AB – 7,658
Hits – 2,048
HR – 389
RBI – 1,376
Runs – 1,091
Avg – .267
SB – 68
2B – 381
3B – 24
DH – Frank Thomas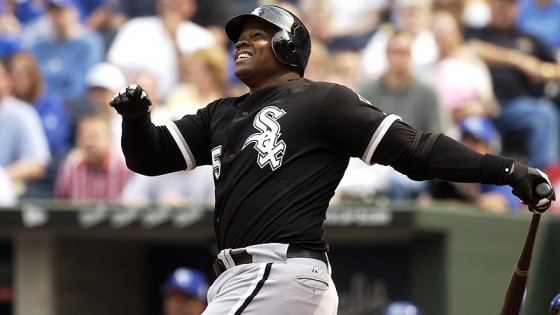 Seasons – 19
AB – 8,199
Hits – 2,468
HR – 521
RBI – 1,704
Runs – 1,494
Avg – .301
SB – 32
2B – 495
3B – 12
SP – Greg Maddux
Seasons – 23
Games Started – 740
IP – 5,008.1
Wins – 355
CP – 109
Shutouts – 35
ERA – 3.16
Strikeouts – 3,371
BB – 99
WHIP – 1.143
SP – Cy Young
Seasons – 22
Games Started – 815
IP – 7,356
Wins – 511
CP – 749
Shutouts – 76
ERA – 2.63
Strikeouts – 2,803
BB – 1,217
WHIP – 1.130
SP – Warren Spahn
Seasons – 21
Games Started – 665
IP – 5,243.2
Wins – 363
CP – 382
Shutouts – 63
ERA – 3.09
Strikeouts – 2,583
BB – 1,434
WHIP – 1.195
SP – Nolan Ryan
Seasons – 27
Games Started – 807
IP – 5,386
Wins – 324
CP – 222
Shutouts – 61
ERA – 3.19
Strikeouts – 5,714
BB – 2,795
WHIP – 1.247
SP – Sandy Koufax
Seasons – 12
Games Started – 314
IP – 2,324.1
Wins – 165
CP – 137
Shutouts – 40
ERA – 2.76
Strikeouts – 2,396
BB – 817
WHIP – 1.106
Closer – Dennis Eckersley
Seasons – 24
Games – 1,071
IP – 3,285.2
Wins – 197
Saves – 390
ERA – 3.50
Strikeouts – 2,401
BB – 738
WHIP – 1.161