The Greatest NBA All-Star Lineup Ever
This Sunday, the beautiful southern city of New Orleans will host the 66th NBA All-Star game. In recent years, the game has served as a stage for some of the greatest players of all-time. Last year Kobe Bryant and Lebron James battled over the career ASG scoring record, with Lebron taking the lead by 1 point. Kobe has now retired, and a new generation of stars has clearly taken over. Russell Westbrook won his second straight ASG MVP award last season, but this year he'll have to defend that title after starting on the bench. Kobe, Lebron, and Russell have put on a show for many years and that brings us to the reason we are here today, creating the best lineup we could build from the best performances in NBA All-Star Game history. Our lineup features players from several generations of NBA greats.
Starting Lineup
PG: Magic Johnson (1992)
Stat Line: 9-12 FG (3-3 3-pt), 25 points, 9 assists, 5 rebounds, 2 steals
On November 7th, 1991, Magic Johnson announced he was HIV positive and that he will retire from the Lakers effective the same day. So when he was still voted into the 1992 All-Star game by the fans, he came out of retirement and played anyways. His performance was nothing short of spectacular. With all the negativity surrounding him at the time, it was even more amazing when he won the MVP award. He participation in the All-Star game gave him the opportunity to also play on the 1992 Olympic Dream Team, the single greatest basketball team ever put together.
SG: Michael Jordan (1988)
Stat Line: 17-23 FG, 40 points, 8 rebounds, 4 steals, 4 blocks, 3 assists
After having played in two All-Star games already, Michael Jordan was still just another NBA star. He wasn't yet the player we know him as today, the G.O.A.T., until the 1988 game when he exploded for 40 points. The game featured 14 other future Hall of Famers and MJ made them all look like rookies. He was 24 years old at the time and this was the defining moment of his NBA career.
SF: Oscar Robertson (1961)
Stat Line: 8-13 FG, 24 points, 14 assists, 9 rebounds
Oscar Robertson got everyone involved in the 1961 All-Star game and finished with a record, at the time, 14 assists. The NBA was still trying to figure Robertson out because back then, no one really had a player that could do it all. Then this rookie comes along and completely takes over a game full of the leagues best players and finishes one rebound shy of a triple double.
PF: Bob Pettit (1962)
Stat Line: 10-20 FG, 25 points, 27 rebounds, 2 assists
Bob Pettit was as good a rebounder as he was a scorer in the paint. He was such a dominate player that when he started in the 1962 All-Star game, he finished with 27 rebounds, a record that has stood the test of time. He was a Dennis Rodman defender with the ability to score 30 points a night. He was lethal on both ends of the court.
C: Wilt Chamberlain (1962)
Stat Line: 17-23 FG, 42 points, 24 rebounds
It should be evident now that the 1962 All-Star game was one for the ages. Bob Pettit was dominating for the Western Conference while Wilt Chamberlain was doing the same for the East. There are only a few players in NBA history that can stand next to Wilt Chamberlain in comparison and not a single one of them put up numbers like these in an All-Star game.
Reserves
PG: Russell Westbrook (2015)
Stat Line: 16-28 FG, 41 points, 5 rebounds, 3 steals, 1 assist
Although he did not break the All-Star game scoring record, Russell Westbrook managed to do something even more impressive. He scored 41 points in 25 minutes which came out to be 1.64 points per minute. He did not start the game but came off the bench and had fun. He just kept scoring. For the All-Star game, he is the definition of a great sixth man.
SG: Kobe Bryant (2011)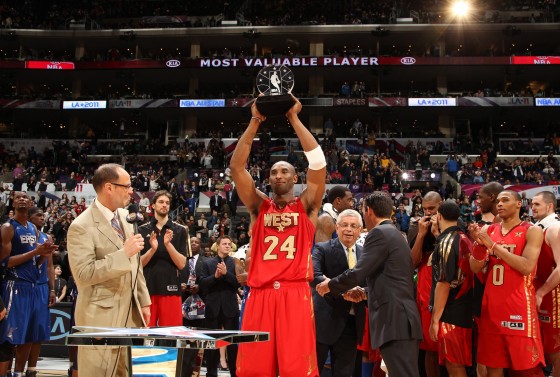 Stat Line: 14-26 FG, 37 points, 14 rebounds, 3 assists, 3 steals
Of all the All-Star games Kobe has played in, the 2011 was his most spectacular. Let's put it this way, Lebron James had a triple-double, only the second time it has ever happened during an All-Star game, and Kobe Bryant still won the MVP award.
SF: Lebron James (2011)
Stat Line: 10-18 FG, 29 points, 12 rebounds, 10 assists
The only time a Triple-Double happened during an All-Star game was when Michael Jordan had one in 1997. So when King James did it in 2011, people were finally starting to give the man respect. He kept the game close and even helped the East on a comeback in the 4th quarter that fell just short of a victory.
SF: Julius Erving (1984)
Stat Line: 14-22 FG, 34 points, 8 rebounds, 5 assists, 2 steals, 2 blocks
Dr.J had several amazing All-Star games throughout his career but it was the one no one talks about that deserves to be considered his best. The 1984 game was all about Isiah Thomas and Magic Johnson yet Julius Erving was the statistical king. When a player can score 34 points and no one notice, he has made it. The fans are so use to his incredible performances that he needs to raise the bar even higher.
PF: Kevin Garnett (2003)
Stat Line: 17-24 FG, 37 points, 9 rebounds, 5 steals, 3 assists
The biggest storyline of the 2003 All-Star game was it was Michael Jordan's final appearance. So when the game got to the second overtime, KG took over and scored seven points to secure the win. His entire game performance earned him the MVP title as one of the more unlikely award winners since 1987.
PF: Tom Chambers (1987)
Stat Line: 13-25 FG, 34 points, 4 rebounds, 4 steals, 2 assists
If you have not had a chance to watch the 1987 NBA All-Star game, take this time to find it on Youtube and watch it. But make sure to understand a few things. First off, Tom Chambers was a last minute replacement for an injured Ralph Sampson. Also, the game was played in Seattle and the team had two other guys that could easily have made it over him. Finally, his MVP performance marks the only time a replacement player won the All-Star game MVP.
C: Kareem Abdul-Jabbar (1980)
Stat Line: 6-17 FG, 17 points, 16 rebounds, 9 assists, 6 blocks
For a player of his size, Kareem Abdul-Jabbar is not supposed to be as good a ball handler as he was during the 1980 All-Star game when he managed 9 assists. In fact, after playing in 18 All-Star games, the 1980 game still remains his best. He had several career All-Star highs including rebounds, assists, and blocks.