The Greatest NBA Finals of All-Time
During the 2016 NBA Finals, LeBron James and Kyrie Irving erupted to lead the Cleveland Cavaliers to their first ever NBA championship after being down 3-1 in the series. It was a performance for the ages as LeBron James led both teams in all five major statistical categories (Points, Rebounds, Assists, Steals, and Blocks). It was truly an incredible NBA Finals for a man that has been considered the greatest to ever play the game.
But it was also one of the greatest NBA Finals in the history of the sport. Not only were the Cleveland Cavaliers down three games to one, they were down to the NBA's reigning World Champions, and a team that just broke the NBA regular season record for wins in a season with 73. With a starting five that featured the likes of Stephen Curry, Klay Thompson, Draymond Green, and Harrison Barnes, once the Cavaliers trailed in the series 3-1, almost all hope was lost. But then LeBron James happened and the rest is history.
As the 2017 NBA Finals are set to begin, we're again treated to the historically great match-up between the Cleveland Cavaliers and the Golden State Warriors. To celebrate that fact, and honor the previous 75 years of NBA Championships, we've compiled a list of the greatest NBA Finals series ever, the ones that have given us the greatest basketball we have seen. You should have no doubt where we ranked 2016, but will 2017 beat it?
25) 1974: Boston vs. Milwaukee
Champion: Boston Celtics
Finals MVP: John Havlicek

Top Performers

(Avg)

Points: Kareem Abdul-Jabbar, 228 (32.6)
Rebounds: Kareem Abdul-Jabbar, 85 (12.1)
Assists: Oscar Robertson, 58 (8.3)

Series Review

(Final Score, Winning Team)

Game 1: 98-83, Boston
Game 2: 105-96, Milwaukee
Game 3: 95-83, Boston
Game 4: 97-89, Milwaukee
Game 5: 96-87, Boston
Game 6: 102-101, Milwaukee
Game 7: 102-87, Boston
24) 2010: Los Angeles (L) vs. Boston
Champion: Los Angeles Lakers
Finals MVP: Kobe Bryant

Top Performers

(Avg)

Points: Kobe Bryant, 200 (28.6)
Rebounds: Pau Gasol, 81 (11.6)
Assists: Rajon Rondo, 53 (7.6)

Series Review

(Final Score, Winning Team)

Game 1: 102-89, Los Angeles
Game 2: 103-94, Boston
Game 3: 91-84, Los Angeles
Game 4: 96-89, Boston
Game 5: 92-86, Boston
Game 6: 89-67, Los Angeles
Game 7: 83-79, Los Angeles
23) 1952: Minneapolis vs. New York
Champion: Minneapolis Lakers

Top Performers

(Avg)

Points: George Mikan, 152 (21.7)
Rebounds: George Mikan, 122 (17.4)
Assists: Dick McGuire, 33 (4.7)

Series Review

(Final Score, Winning Team)

Game 1: 83-79, Minneapolis
Game 2: 80-72, New York
Game 3: 82-77, Minneapolis
Game 4: 90-89, New York
Game 5: 102-89, Minneapolis
Game 6:76-68, New York
Game 7: 82-65, Minneapolis
22) 1995: Houston vs. Orlando
Champion: Houston Rockets
Finals MVP: Hakeem Olajuwon

Top Performers

(Avg)

Points: Hakeem Olajuwon, 131 (32.8)
Rebounds: Shaquille O'Neal, 50 (12.5)
Assists: Anfernee Hardaway, 32 (8.0)

Series Review

(Final Score, Winning Team)

Game 1: 120-118, Houston
Game 2: 117-106, Houston
Game 3: 106-103, Houston
Game 4: 113-101, Houston
21) 1976: Boston vs. Phoenix
Champion: Boston Celtics
Finals MVP: Jo Jo White

Top Performers

(Avg)

Points: Alvan Adams, 138 (23.0)
Rebounds: Dave Cowens, 98 (16.3)
Assists: Jo Jo White, 35 (5.8)

Series Review

(Final Score, Winning Team)

Game 1: 98-87, Boston
Game 2: 105-90, Boston
Game 3: 105-98, Phoenix
Game 4: 109-107, Phoenix
Game 5: 128-126, Boston
Game 6: 87-80, Boston
20) 2012: Miami vs. Oklahoma City
Champion: Miami Heat
Finals MVP: LeBron James

Top Performers

(Avg)

Points: Kevin Durant, 153 (25.5)
Rebounds: LeBron James, 51 (8.5)
Assists: LeBron James, 37 (6.2)

Series Review

(Final Score, Winning Team)

Game 1: 105-94, Oklahoma City
Game 2: 100-96, Miami
Game 3: 91-85, Miami
Game 4: 104-98, Miami
Game 5: 121-106, Miami
19) 2005: San Antonio vs. Detroit
Champion: San Antonio Spurs
Finals MVP: Tim Duncan

Top Performers

(Avg)

Points: Tim Duncan, 144 (20.6)
Rebounds: Tim Duncan, 99 (14.1)
Assists: Chauncey Billups, 44 (6.3)

Series Review

(Final Score, Winning Team)

Game 1: 84-69, San Antonio
Game 2: 97-76, San Antonio
Game 3: 96-79, Detroit
Game 4: 102-71, Detroit
Game 5: 96-95, San Antonio
Game 6: 95-86, Detroit
Game 7: 81-74, San Antonio
18) 1975: Golden State vs. Washington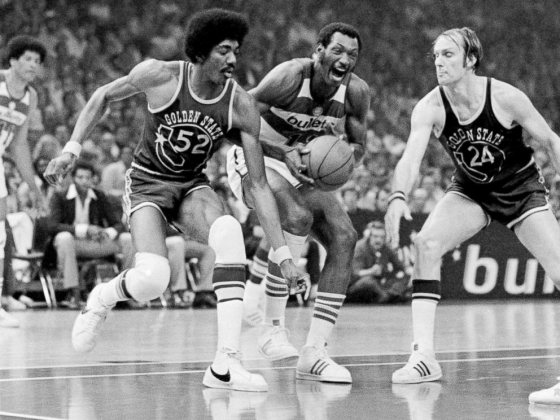 Champion: Golden State Warriors
Finals MVP: Rick Barry

Top Performers

(Avg)

Points: Rick Barry, 118 (29.5)
Rebounds: Wes Unseld, 67 (16.8)
Assists: Kevin Porter, 27 (6.8)

Series Review

(Final Score, Winning Team)

Game 1: 101-95, Golden State
Game 2: 92-91, Golden State
Game 3: 109-101, Golden State
Game 4: 96-95, Golden State
17) 1977: Portland vs. Philadelphia
Champion: Portland Trail Blazers
Finals MVP: Bill Walton

Top Performers

(Avg)

Points: Julius Erving, 182 (30.3)
Rebounds: Bill Walton, 114 (19.0)
Assists: Bill Walton, 31 (5.2)

Series Review

(Final Score, Winning Team)

Game 1: 107-101, Philadelphia
Game 2: 107-89, Philadelphia
Game 3: 129-107, Portland
Game 4: 130-98, Portland
Game 5: 110-104, Portland
Game 6: 109-107, Portland
16) 1991: Chicago vs. Los Angeles (L)
Champion: Chicago Bulls
Finals MVP: Michael Jordan

Top Performers

(Avg)

Points: Michael Jordan, 156 (31.2)
Rebounds: Scottie Pippen, 47 (9.4)
Assists: Magic Johnson, 62 (12.4)

Series Review

(Final Score, Winning Team)

Game 1: 93-91, Los Angeles
Game 2: 107-86, Chicago
Game 3: 104-96, Chicago
Game 4: 97-82, Chicago
Game 5: 108-101, Chicago
15) 1978: Washington vs. Seattle
Champion: Washington Bullets
Finals MVP: Wes Unseld

Top Performers

(Avg)

Points: Elvin Hayes, 145 (20.7)
Rebounds: Marvin Webster, 109 (15.6)
Assists: Tom Henderson, 40 (5.7)

Series Review

(Final Score, Winning Team)

Game 1: 106-102, Seattle
Game 2: 106-98, Washington
Game 3: 93-92, Seattle
Game 4: 120-116, Washington
Game 5: 98-94, Seattle
Game 6: 117-82, Washington
Game 7: 105-99, Washington
14) 1985: Los Angeles (L) vs. Boston
Champion: Los Angeles Lakers
Finals MVP: Kareem Abdul-Jabbar

Top Performers

(Avg)

Points: Kevin McHale, 156 (26.0)
Rebounds: Kevin McHale, 64 (10.7)
Assists: Magic Johnson, 84 (14.0)

Series Review

(Final Score, Winning Team)

Game 1: 148-114, Boston
Game 2: 109-102, Los Angeles
Game 3: 136-111, Los Angeles
Game 4: 107-105, Boston
Game 5: 120-111, Los Angeles
Game 6: 111-100, Los Angeles
13) 1962: Boston vs. Los Angeles (L)
Champion: Boston Celtics

Top Performers

(Avg)

Points: Elgin Baylor, 284 (40.6)
Rebounds: Bill Russell, 189 (27.0)
Assists: Bob Cousy, 65 (9.3)

Series Review

(Final Score, Winning Team)

Game 1: 122-108, Boston
Game 2: 129-122, Los Angeles
Game 3: 117-115, Los Angeles
Game 4: 115-103, Boston
Game 5: 126-121, Los Angeles
Game 6: 119-105, Boston
Game 7: 110-107, Boston
12) 1980: Los Angeles (L) vs. Philadelphia
Champion: Los Angeles Lakers
Finals MVP: Magic Johnson

Top Performers

(Avg)

Points: Kareem Abdul-Jabbar, 167 (27.8)
Rebounds: Kareem Abdul-Jabbar, 68 (11.3)
Assists: Lionel Hollins, 53 (8.8)

Series Review

(Final Score, Winning Team)

Game 1: 109-102, Los Angeles
Game 2: 107-104, Philadelphia
Game 3: 111-101, Los Angeles
Game 4: 105-102, Philadelphia
Game 5: 108-103, Philadelphia
Game 6: 123-107, Los Angeles
11) 1993: Chicago vs. Phoenix
Champion: Chicago Bulls
Finals MVP: Michael Jordan

Top Performers

(Avg)

Points: Michael Jordan, 246 (41.0)
Rebounds: Charles Barkley, 78 (13.0)
Assists: Scottie Pippen, 46 (7.7)

Series Review

(Final Score, Winning Team)

Game 1: 100-92, Chicago
Game 2: 111-108, Chicago
Game 3: 129-121, Phoenix
Game 4: 111-105, Chicago
Game 5: 108-98, Phoenix
Game 6: 99-98, Chicago
10) 1970: New York vs. Los Angeles (L)
Champion: New York Knicks
Finals MVP: Willis Reed

Top Performers

(Avg)

Points: Jerry West, 219 (31.3)
Rebounds: Wilt Chamberlain, 169 (24.1)
Assists: Walt Frazier, 73 (10.4)

Series Review

(Final Score, Winning Team)

Game 1: 124-112, New York
Game 2: 105-103, Los Angeles
Game 3: 111-108, New York
Game 4: 121-115, Los Angeles
Game 5: 107-100, New York
Game 6: 135-113, Los Angeles
Game 7: 113-99, New York
9) 1988: Los Angeles (L) vs. Detroit
Champion: Los Angeles Lakers
Finals MVP: James Worthy

Top Performers

(Avg)

Points: James Worthy, 154 (22.0)
Rebounds: Bill Laimbeer, 62 (8.9)
Assists: Isiah Thomas, 63 (9.0)

Series Review

(Final Score, Winning Team)

Game 1: 105-93, Detroit
Game 2: 108-96, Los Angeles
Game 3: 99-86, Los Angeles
Game 4: 111-86, Detroit
Game 5: 104-94, Detroit
Game 6: 103-102, Los Angeles
Game 7: 108-105, Los Angeles
8) 1994: Houston vs. New York
Champion: Houston Rockets
Finals MVP: Hakeem Olajuwon

Top Performers

(Avg)

Points: Hakeem Olajuwon, 188 (26.9)
Rebounds: Patrick Ewing, 87 (12.4)
Assists: Derek Harper, 42 (6.0)

Series Review

(Final Score, Winning Team)

Game 1: 85-78, Houston
Game 2: 91-83, New York
Game 3: 93-89, Houston
Game 4: 91-82, New York
Game 5:91-84, New York
Game 6: 86-84, Houston
Game 7: 90-84, Houston
7) 1998: Chicago vs. Utah
Champion: Chicago Bulls
Finals MVP: Michael Jordan

Top Performers

(Avg)

Points: Michael Jordan, 201 (33.5)
Rebounds: Karl Malone, 63 (10.5)
Assists: John Stockton, 52 (8.7)

Series Review

(Final Score, Winning Team)

Game 1: 88-85, Utah
Game 2: 93-88, Chicago
Game 3: 96-54, Chicago
Game 4: 86-82, Chicago
Game 5: 83-81, Utah
Game 6: 87-86, Chicago
6) 2011: Dallas vs. Miami
Champion: Dallas Mavericks
Finals MVP: Dirk Nowitzki

Top Performers

(Avg)

Points: Dwyane Wade, 159 (26.5)
Rebounds: Dirk Nowitzki, 58 (9.7)
Assists: LeBron James, 41 (6.8)

Series Review

(Final Score, Winning Team)

Game 1: 92-84, Miami
Game 2: 95-93, Dallas
Game 3: 88-86, Miami
Game 4: 86-83, Dallas
Game 5: 112-103, Dallas
Game 6: 105-95, Dallas
5) 1997: Chicago vs. Utah
Champion: Chicago Bulls
Finals MVP: Michael Jordan

Top Performers

(Avg)

Points: Michael Jordan, 194 (32.3)
Rebounds: Karl Malone, 62 (10.3)
Assists: John Stockton, 53 (8.8)

Series Review

(Final Score, Winning Team)

Game 1: 84-82, Chicago
Game 2: 97-85, Chicago
Game 3: 104-93, Utah
Game 4: 78-73, Utah
Game 5: 90-88, Chicago
Game 6: 90-86, Chicago
4) 2013: Miami vs. San Antonio
Champion: Miami Heat
Finals MVP: LeBron James

Top Performers

(Avg)

Points: LeBron James, 177 (25.3)
Rebounds: Tim Duncan, 85 (12.1)
Assists: LeBron James, 49 (7.0)

Series Review

(Final Score, Winning Team)

Game 1: 92-88, San Antonio
Game 2: 103-84, Miami
Game 3: 113-77, San Antonio
Game 4: 109-93, Miami
Game 5: 114-104, San Antonio
Game 6: 103-100, Miami
Game 7: 95-88, Miami
3) 1969: Boston vs. Los Angeles (L)
Champion: Boston Celtics
Finals MVP: Jerry West

Top Performers

(Avg)

Points: Jerry West, 265 (37.9)
Rebounds: Wilt Chamberlain, 175 (25.0)
Assists: Jerry West, 52 (7.4)

Series Review

(Final Score, Winning Team)

Game 1: 120-118, Los Angeles
Game 2: 119-112, Los Angeles
Game 3: 111-105, Boston
Game 4: 89-88, Boston
Game 5: 117-104, Los Angeles
Game 6: 99-90, Boston
Game 7: 108-106, Boston
2) 1984: Boston vs. Los Angeles (L)
Champion: Boston Celtics
Finals MVP: Larry Bird

Top Performers

(Avg)

Points: Larry Bird, 192 (27.4)
Rebounds: Larry Bird, 98 (14.0)
Assists: Magic Johnson, 95 (13.6)

Series Review

(Final Score, Winning Team)

Game 1: 115-109, Los Angeles
Game 2: 124-121, Los Angeles
Game 3: 137-104, Los Angeles
Game 4: 129-125, Boston
Game 5: 121-103, Boston
Game 6: 119-108, Boston
Game 7: 111-102, Boston
1) 2016: Cleveland vs. Golden State
Champion: Cleveland Cavaliers
Finals MVP: LeBron James

Top Performers

(Avg)

Points: LeBron James, 208 (29.7)
Rebounds: LeBron James, 79 (11.3)
Assists: LeBron James, 62 (8.9)

Series Review

(Final Score, Winning Team)

Game 1:104-89, Golden State
Game 2: 110-77, Golden State
Game 3: 120-90, Cleveland
Game 4: 108-97, Golden State
Game 5: 112-97, Cleveland
Game 6: 115-101, Cleveland
Game 7: 93-89, Cleveland