The Greatest NBA Team Never Put Together
The next time one of your buddies approaches you at a bar and challenges you to a game of "Lebron or MJ?" tell him to shut up. Don't waste your time trying to prove that one player is superior to the other because they are different players, playing in different eras, at different positions.
Instead, come back at him with this idea instead. The most perfect NBA team ever constructed is much more entertaining to debate than just one player. When he begins yelling about how MJ has all the rings and it isn't even close, remind him that without the rest of his team, he wouldn't have won any of those titles. Michael Jordan once said, "You never just saw me. You saw Scottie Pippen."
One of the greatest players of all time understands that he himself is not the only reason he won all those titles. He understands that he needed others around him to do it. He knows that without Scottie Pippen, he might not have won any of those titles.
So, without further ado, we here at Gunaxin bring to you the most incredibly perfect NBA team ever put together. They aren't necessarily the best players ever at each position, but a roster put together to play cohesively as a team, and WIN.
PG – Magic Johnson
Freak of nature. That is what Magic Johnson was on the NBA court. This man stood a whopping 6'9″ but played the PG position better than just about anyone you will ever see. As a big man, he handled the ball with amazing precision, as evident by his 10,141 career assists. But let's not forget his 138 triple doubles. When you have this kind of talent around you, it is going to be a field day for Magic. He would average a triple double in this lineup.
SG – Michael Jordan
Michael Jordan is/was the GOAT of the NBA. This man was amazing on the court. This man inspired awe. He averaged 30.1 points, 6.2 rebounds, 5.3 assists, and 2.3 steals per game. He won championships, six to be exact, and always seemed to find a way to win a game. The number one thing that people forget about MJ was that he was a great defender. In fact, he was one of the best defensive players of all time.
SF – Elgin Baylor
Everyone loves MJ, Magic, and Larry Bird. But people seem to be forgetting about Elgin Baylor, one of the single greatest NBA players of all time. This man was one of the first NBA stars to be able to play just about any position and he did it with ease. He could play the 2 and dominate with his scoring. He could drop down to the 4 and kill you with his rebounding. Or he could just line up at the 3 and be a match up nightmare for any opponent. Elgin Baylor averaged 27.4 points a game. Without a three point line. Oh and he added 13.5 rebounds a night.
PF – Dennis Rodman
This will probably be the biggest shock to most of you but does anybody remember what this guy did on the floor? He was a defensive beast and finished his career averaging 13 rebounds a game. He also knows how to win. Over his first 12 seasons, he averaged 57 wins per season including that infamous 72 win season in 1995 Chicago Bull season, an NBA record. Dennis Rodman is like wet toilet paper on a camping trip. It isn't going to be pretty but it is definitely going to get the job done.
C – Kareem Abdul-Jabbar
In this starting five, Dennis Rodman and Michael Jordan played along side each other for a couple seasons but they aren't the only ones. Kareem Abdul-Jabbar was a teammate of Magic Johnson's for ten seasons and won five of his six career titles with him as his point guard. With Kareem's unstoppable sky hook and shot blocking, this starting five will have enough offense and defense to destroy any five players you think you could match them up against. Any.
Bench – Wilt Chamberlain (C)
Kareem Abdul-Jabbar averaged 36.8 minutes a game during his 14 NBA seasons so he won't be seeing much time on the bench. However, on this team, he might have to because players like Wilt Chamberlain averaged 45.8. Unfortunately for Wilt, Kareem is a better fit for the starting lineup so his minutes are going to have to be someone else's problem. He is going to get his touches and he is going to bring some production off the bench. Could you imagine Wilt Chamberlain in his prime being your sixth man?
Bench – Oscar Robertson (G)
In the 1961-62 NBA season, Oscar Robertson averaged a triple double in points, assists, and rebounds. No one in the history of the NBA has ever done this. Not any of the players on this team. No one. Oscar Robertson stood tall enough to play guard or forward. He can come off the bench and play either the one or the two. He can pass, steal, shoot, rebound, or block. This guy can do just about anything you need him to do. He is a complete tool. He could even play in the three slot. He would not be a great starter but coming off the bench, he is set up to be one of the best of all time in this lineup.
Bench – Larry Bird (F)
Every team needs a guy to come off the bench and score. Larry Bird is exactly that type of player. He can come off the bench and start sinking threes without even taking off the warm-ups. This man could shoot from anywhere on the court and his numbers proved it. He finished his career with a .376 3-pt shooting % and was also a 89% Free Throw shooter. He also knows how to dish the rock and finished with 5,695 assists, good enough for a top 35 finish in NBA history. This guy isn't going to need to do much in this lineup except show up and score.
Bench – John Stockton (PG)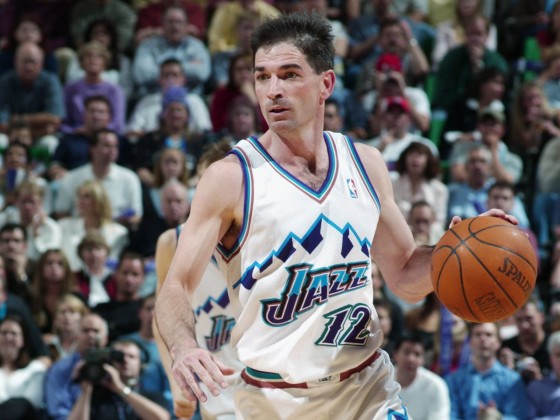 Assists are good but learning how to run an offense is even better. John Stockton is one of the greatest point guards of all time. This man was able to break down a defense with the pick and roll like no player ever. He wasn't flashy and he wasn't entertaining, he was just great. He finished his career with over 15,000 assists and nearly 20,000 points. But what people forget about was his career steals average of 2.2 steals a game equaling 3,265 career steals which is first all time in the NBA. No one is even close to that mark. Second place is Jason Kidd, who recently retired, and he finished with 2,684. Imagine Stockton running the pick and roll with Kareem or Wilt. Now that isn't even close to being fair.
Bench – Shaquille O'Neal (C)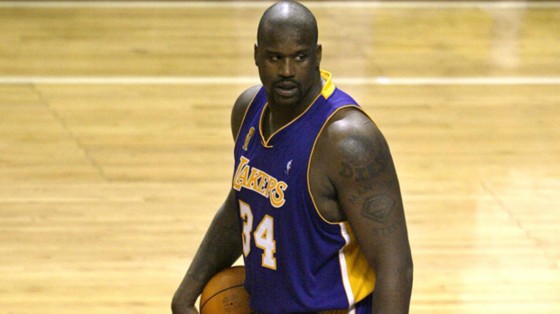 Shaquille O'Neal in his prime is just about the greatest center to ever play in the NBA. That is, of course, behind the other two guys he will be sitting behind on this roster. The opportunities in this lineup will be endless.There will come a time when Shaq and Wilt could end up on the floor at the same time. Try sliding past that front court. Although you can imagine a time and place when you might see Shaq, Wilt, and Kareem all on the court at the same time but that would be insanity. Throw Magic at the point and MJ at the two, what? That would be a crazy defensive lineup. No one would score, ever.
Bench – Julius Erving (G/F)
Give us Dr.J and Michael Jordan in the same lineup on the same floor at the same time any day of the week please. That is the one wish we have always wanted to see, those two men playing in their prime as teammates. It would have been so entertaining to watch but mostly, it would have been a dream come true. The more we write about this team, the less I can picture anyone anywhere being able to stop them.
Bench – Lebron James (G/F)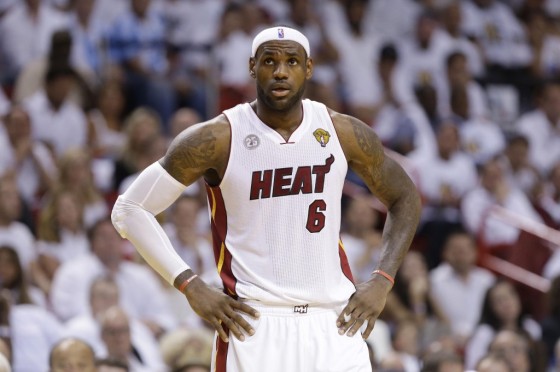 Lebron James is the first and only active player in the NBA to make this roster but we felt that a player of his caliber couldn't be left off a team like this. This man is bigger (Well, not bigger than the Centers), faster, and stronger than almost anyone else on this team in their prime. He can play any position, he can rebound,  defend, score at will, and make the difficult shots at the end of the games. Even with a bunch of years ahead of him, Lebron James is going to end up one of the best to ever play the game. He is too talented and too much of an athlete to not make this team.
Head Coach – Phil Jackson
All he has to do is find a way to regulate the players minutes and not score 1,493 points a night and he will do just fine as the head coach of this fantasy lineup. Phil Jackson has eleven championship rings as a coach and two as a player not because he was lucky enough to coach some of the best players of all time but because he knew how to coach some of the best players of all time. He did it in Chicago and he did it in LA, several times. He will be able to do it again with this team. And that is a fact.