The Greatest Rookie Seasons in NBA History
Tonight, the NBA will announce the 2018 Rookie of the Year award winner and the decision could become one of the toughest since 1993 when Shaquille O'Neal and Alonzo Mourning fought right down to the wire for the award.
This year, the committee will have to decide between Philly's former No.1 overall draft pick, Ben Simmons, Utah's surprising young star, Donovan Mitchell, or the Celtics future superstar small forward, Jayson Tatum. Sadly, because of the season's that Ben Simmons and Donovan Mitchell had this past year, Jayson Tatum is the odd man out and will end up finishing third, far behind the real battle for the title of Rookie of the Year.
Donovan Mitchell's rookie season was impressive because he picked up the Utah Jazz, put them over his shoulder, and carried them into the playoffs. He did more than anyone even knew he was capable of doing and he did it while becoming one of the most dangerous scorers in the NBA. But did he do enough to win the support of the voters?
Or was Ben Simmons meteoric rise to the top of the NBA too impressive to pass on? Although he is not a great shooter, Ben Simmons still managed to average 15.8 points, 8.1 rebounds, and 8.2 assists, and 1.7 steals per game. Those numbers are impressive for a veteran, let alone a rookie (Oscar Robertson is the only rookie in NBA history to average more points, rebounds, and assists than Ben Simmons).
Their battle to become the NBA's next Rookie of the Year was so much fun to watch this season that we just had to do the research and find some of the other epic rookie campaigns from some of the biggest players in NBA history. As we began to uncover some amazing rookie seasons, we also found out that the NBA did not keep track of steals or blocks until the 1973-74 season. Some of the older players on the list could have incredible averages in those two categories but we will never know. Please enjoy the greatest 35 rookie seasons in NBA history.
35) Bill Cartwright, New York Knicks
Year: 1980
Position: Center
Rookie Year Highlights: 82 Games, 54.7 FG%, 21.7 Pts, 8.9 Reb, 2.0 Ast, 1.2 Blk
34) Blake Griffin, Los Angeles Clippers
Rookie of the Year
Year: 2011
Position: Power Forward
Rookie Year Highlights: 82 Games, 50.6 FG%, 22.5 Pts, 12.1 Reb, 3.8 Ast, 0.8 Stl
33) Alonzo Mourning, Charlotte Hornets
Year: 1993
Position: Center
Rookie Year Highlights: 78 Games, 51.1 FG%, 21.0 Pts, 10.3 Reb, 3.5 Blk
32) Bob Pettit, Milwaukee Hawks
Rookie of the Year
Year: 1955
Position: Power Forward/Center
Rookie Year Highlights: 72 Games, 20.4 Pts, 13.8 Reb, 3.2 Ast
31) Maurice Stokes, Rochester Royals
Rookie of the Year
Year: 1956
Position: Power Forward/Center
Rookie Year Highlights: 67 Games, 16.8 Pts, 16.3 Reb, 4.9 Ast
30) Grant Hill, Detroit Pistons
Rookie of the Year
Year: 1995
Position: Shooting Guard/Small Forward
Rookie Year Highlights: 70 Games, 19.9 Pts, 6.4 Reb, 5.0 Ast, 1.8 Stl, 0.9 Blk
29) Willis Reed, New York Knicks
Rookie of the Year
Year: 1965
Position: Power Forward/Center
Rookie Year Highlights: 80 Games, 19.5 Pts, 14.7 Reb, 1.7 Ast
28) George Mikan, Minneapolis Lakers
Year: 1949
Position: Center
Rookie Year Highlights: 60 Games, 28.3 Pts, 3.6 Ast
27) Karl-Anthony Towns, Minnesota T'Wolves
Rookie of the Year
Year: 2016
Position: Center
Rookie Year Highlights: 82 Games, 54.2 FG%, 18.3 Pts, 10.5 Reb, 2.0 Ast, 1.7 Blk
26) Ben Simmons, Philadelphia 76ers
Year: 2018
Position: Guard/Forward
Rookie Year Highlights: 81 Games, 54.5 FG%, 15.8 Pts, 8.1 Reb, 8.2 Ast, 1.7 Stl, 0.9 Blk
25) Rick Barry, San Francisco Warriors
Rookie of the Year
Year: 1966
Position: Small Forward
Rookie Year Highlights: 80 Games, 25.7 Pts, 10.6 Reb, 2.2 Ast
24) Damon Stoudamire, Toronto Raptors
Rookie of the Year
Year: 1996
Position: Point Guard
Rookie Year Highlights: 70 Games, 19.0 Pts, 9.3 Ast, 4.0 Reb, 1.4 Stl
23) Larry Johnson, Charlotte Hornets
Rookie of the Year
Year: 1992
Position: Power Forward
Rookie Year Highlights: 82 Games, 19.2 Pts, 11.0 Reb, 3.6 Ast, 1.0 Stl
22) Marques Johnson, Milwaukee Bucks
Year: 1978
Position: Shooting Guard/Small Forward
Rookie Year Highlights: 80 Games, 52.2 FG%, 19.5 Pts, 10.6 Reb, 2.4 Ast, 1.3 Blk, 1.2 Stl
21) Ralph Sampson, Houston Rockets
Rookie of the Year
Year: 1984
Position: Power Forward/Center
Rookie Year Highlights: 82 Games, 52.3 FG%, 21.0 Pts, 11.1 Reb, 2.4 Blk, 2.0 Ast
20) Allen Iverson, Philadelphia 76ers
Rookie of the Year
Year: 1997
Position: Point Guard
Rookie Year Highlights: 76 Games, 23.5 Pts, 7.5 Ast, 4.1 Reb, 2.1 Stl
19) Tim Duncan, San Antonio Spurs
Rookie of the Year
Year: 1998
Position: Power Forward
Rookie Year Highlights: 82 Games, 54.9 FG%, 21.1 Pts, 11.9 Reb, 2.7 Ast, 2.5 Blk
18) Walter Davis, Phoenix Suns
Rookie of the Year
Year: 1978
Position: Shooting Guard/Small Forward
Rookie Year Highlights: 81 Games, 52.6 FG%, 24.2 Pts, 6.0 Reb, 3.4 Ast, 1.4 Stl
17) Magic Johnson, Los Angeles Lakers
Year: 1980
Position: Point Guard
Rookie Year Highlights: 77 Games, 53.0 FG%, 18.0 Pts, 7.7 Reb, 7.3 Ast, 2.4 Stl
16) Chris Webber, Golden State Warriors
Rookie of the Year
Year: 1994
Position: Power Forward
Rookie Year Highlights: 76 Games, 55.2 FG%, 17.5 Pts, 9.1 Reb, 3.6 Ast, 2.2 Blk, 1.2 Stl
15) Jerry Lucas, Cincinnati Royals
Rookie of the Year
Year: 1964
Position: Power Forward/Center
Rookie Year Highlights: 79 Games, 52.7 FG%, 17.7 Pts, 17.4 Reb, 2.6 Ast
14) Terry Cummings, San Diego Clippers
Rookie of the Year
Year: 1983
Position: Forward
Rookie Year Highlights: 70 Games, 52.3 FG%, 23.7 Pts, 10.6 Reb, 2.5 Ast, 1.8 Stl, 0.9 Blk
13) Shaquille O'Neal, Orlando Magic
Rookie of the Year
Year: 1993
Position: Center
Rookie Year Highlights: 81 Games, 56.2 FG%, 23.4 Pts, 13.9 Reb, 3.5 Blk, 1.9 Ast
12) Hakeem Olajuwon, Houston Rockets
Year: 1985
Position: Center
Rookie Year Highlights: 82 Games, 53.8 FG%, 20.6 Pts, 11.9 Reb, 2.7 Blk, 1.4 Ast, 1.2 Stl
11) Mark Jackson, New York Knicks
Rookie of the Year
Year: 1988
Position: Point Guard
Rookie Year Highlights: 82 Games, 13.6 Pts, 10.6 Ast (Rookie Record), 4.8 Reb, 2.5 Stl
10) Elgin Baylor, Minneapolis Lakers
Rookie of the Year
Year: 1959
Position: Small Forward
Rookie Year Highlights: 70 Games, 24.9 Pts, 15.0 Reb, 4.1 Ast
9) Larry Bird, Boston Celtics
Rookie of the Year
Year: 1980
Position: Small Forward
Rookie Year Highlights: 82 Games, 21.3 Pts, 10.4 Reb, 4.5 Ast, 1.7 Stl, 0.6 Blk
8) Wes Unseld, Baltimore Bullets
Rookie of the Year
Year: 1969
Position: Center
Rookie Year Highlights: 82 Games, 13.8 Pts, 18.2 Reb, 2.6 Ast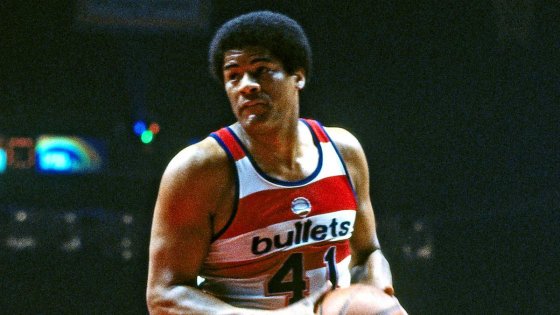 7) Kareem Abdul-Jabbar, Milwaukee Bucks
Rookie of the Year
Year: 1970
Position: Center
Rookie Year Highlights: 82 Games, 51.8 FG%, 28.8 Pts, 14.5 Reb, 4.1 Ast
6) David Robinson, San Antonio Spurs
Rookie of the Year
Year: 1990
Position: Center
Rookie Year Highlights: 82 Games, 53.1 FG%, 24.3 Pts, 12.0 Reb, 3.9 Blk, 1.7 Stl
5) Oscar Robertson, Cincinnati Royals
Rookie of the Year
Year: 1961
Position: Point Guard
Rookie Year Highlights: 71 Games, 30.5 Pts, 10.1 Reb, 9.7 Ast
4) Elvin Hayes, San Diego Rockets
Year: 1969
Position: Power Forward/Center
Rookie Year Highlights: 82 Games, 28.4 Pts, 17.1 Reb, 1.4 Ast
3) Michael Jordan, Chicago Bulls
Rookie of the Year
Year: 1985
Position: Shooting Guard
Rookie Year Highlights: 82 Games, 51.5 FG%, 28.2 Pts, 6.5 Reb, 5.9 Ast, 2.4 Stl
2) Walt Bellamy, Chicago Packers
Rookie of the Year
Year: 1962
Position: Center
Rookie Year Highlights: 79 Games, 51.9 FG%, 31.6 Pts, 19.0 Reb, 2.7 Ast
1) Wilt Chamberlain, Philadelphia Warriors
Rookie of the Year
Year: 1960
Position: Center
Rookie Year Highlights: 72 Games, 46.1 FG%, 37.6 Pts (Rookie Record), 27.0 Reb (Rookie Record), 2.3 Ast