Grilling With Beer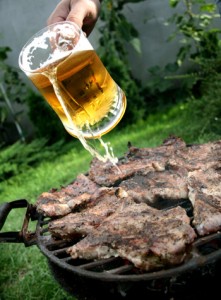 As it is Memorial Day Weekend, often considered the unofficial Opening of Summer, I figured it was high time we talked about grilling. With beer. Ah but wait… anyone can grill while consuming beer (technically this is 'with' beer), but this is not what I'm talking about. Well, half of what I'm not talking about. You're still gonna want a nice supply standing by while you man the 'Q!
First off, this is a process I would recommend starting either the night before or, at the very least, early morning the day you intend to do your grilling. A second and equally as important part of the process is which beer to choose. Well, I'm glad you asked. Or assumed. Whichever.
Before I get into the three beers I have been recently grilling with, let me add an addendum. Beers that I have tried that tend to not add a really noticeable flavor enhancement to your grill-ables are the Lagers. For some reason, all you seem to get is a nice moistness (still a plus) but nothing in the way of discernible taste. No, I have taken to using an odd assortment of brews that one might not tend to purchase on hotter, Summer days.
1) Guinness Extra Stout
Largely touted as a cooler weather brew for its thickness and heavier body, Guinness offers up one major plus that gives nicely especially to red meat: it tastes a bit like meat anyway. Seriously, this is one of Guinness' major flavor traits especially when served just south of fridge-cold. It has a nice meaty mouth-feel and a deliciously tangy flavor. I have used this on everything from chicken thighs to rib eyes.
2) Bell's Batch 9000
Now I am well aware that many of you (specifically west of the Mississippi) have yet to experience Bell's, it has become far easier to acquire of late in the Ohio valley all the way down to Florida and much of the East coast. So, if you can get a six-pack of this commemorative batch, consider yourself lucky. This is a very special brew that, much like a stout, is full-on dark, oaky, slightly bitter, and completely emblazoned with molasses. This beer is perfect on shishkebabs and a great marinade for flank and skirt steaks to be used on fajitas!
3) Dragon's Milk Bourbon Barrel Stout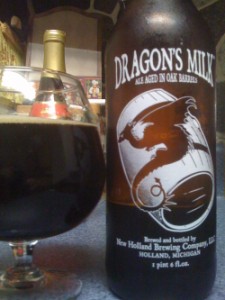 This is one of those beers that people either love or hate, very infrequently an in-between. Dragon's Milk Bourbon Barrel Stout from New Holland Brewing Company is aged in Bourbon barrels and absolutely takes on the woody, peppery sensibilities. It has a mild bite at the end, but is smooth and slightly sweet at the onset with flavors of dark cherries, mocha, and a fine port. It is technically a beer that you need to spend some time with, but it goes surprisingly well with lamb and fowl.
Let's Grill!
Okay, so now that we've discovered three of the nicer beers with which to grill, let's explore how to go about it.
First of all, using your beer as the initial marinade is very important. And the best part is you need not do any more than just stick your meat meant for grilling into a zip-top bag and pour in either a full 12 once bottle or roughly half of a 22. Sure, any other flavor accompaniments are always welcome and I often choose simply from salt and pepper, maybe a little lemon juice, and a couple of cloves of garlic, smashed. And that is step one. Just refrigerate and give it a few hours to rest.
Now, this is the most crucial part since the marinade itself is really only going to penetrate a little into the meat (and no, contrary to popular myth, it's not gong to tenderize it) and impart a good bit of flavor. Put a pot on the stove and pour another 12 ounce into it -or the other half of your 22- and set over medium-low heat. This is the part where each of the beers gives up a ton of their collective flavors like syrupy sweetness, caramel notes, smoky flavors, and all the goodness that comes with that. Each is a bit different, but the end result will yield the same.
As you slowly simmer your beer feel free to once again add flavors. Citrus, thyme, salt and pepper, red pepper flakes, whatever you like. Simmer this until you've reduced by half and your kitchen smells like the best brewery ever. Set aside and cool until grill time and you will be rewarded with the greatest grill sauce -thick but not so thick- all syrupy and delicious and all you have to do is apply while grilling. Awesome. Enjoy!