Grown Ups Puke in Parking Lots – Masters of None – Episode 4.9

[podcast]http://www.podtrac.com/pts/redirect.mp3/media.libsyn.com/media/mastersofnone/MON_4_9.mp3[/podcast]
Masters of None #4.9 – Grown Ups Puke in Parking Lots
Download the Episode Here!
It's a freestyle show that we did to replace the new lost 'crayons' episode that was only heard by the live listeners that fateful night.  We introduce a new segment called Media Math featuring Alice Vs. The Goat, Dante Vs. Predator Vs. Alien, and Rescue Me Vs. Mad Men, new TV shows we're watching, the Baby Name Bribe, the invention of Minus Footage, the Worst Beer episode aftermath, and Mike's Sexy Talk.
Come join us at the Blue Point Cask Ale Festival on Saturday, April 17th in Patchogue, NY.  We'll be recording a live show and drinking amazing beer thanks to the crew at Blue Point Brewing Company.  Don't want to drive?  Ride the party van with Mike & Art from NJ, more details to come or just e-mail us at [email protected]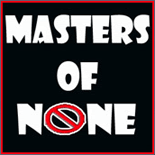 Gunaxin is proud to be partnering with Masters of None, and featuring their content here on our site. Masters of None are former radio guys Mike, Art & Jay, who debate and answer mankind's most important questions each week. Along the way you'll encounter unsustainable amounts of movie quotes, horribly tasteless jokes, TV references, offensive comments, old radio bits, biting insults, tall tales, unsportsmanlike conduct, raping and pillaging of all things pop culture. It's a comedy podcast that doesn't suck.
---