2011-12 College Basketball Preview
Now that it's looking more and more likely that pro basketball will be limited to the D-League and overseas action this year, what better time to enjoy the future of the sport by watching what is, let's face it, a lot more entertaining product in the form of NCAA basketball? Sure, the NBA has piped in music and grossly overpaid athletes, but college hoops players are out there for the love of the game. And the paychecks. Mostly the paychecks. Anyway, with the season opening this week, it seems like the best possible time to give you a little overview of what to look for this season.
Top National Title Contenders
Let's get things started with the most important thing you need to know: which team has the best chance at winning the national title. I've included the current Vegas odds (according to Sportsbook.com) not because we endorse gambling (because gambling is illegal at Bushwood, and I never slice! I'm sorry, that's a lie. I slice frequently.), but because we want you to be aware of who the current favorites truly are. And if you happen to take those odds and make a little money, well, I do have PayPal.
North Carolina (7-to-2)
One of the most loaded teams in the country got even better with the addition of James McAdoo, nephew of legendary NBA player Bob McAdoo and a McDonald's All-American last year. That gives Deputy Dog Roy Williams one of the best teams he's had in years, led by Harrison Barnes, who surprised many by for his sophomore season despite being a projected lottery pick in something called the "NBA", though maybe it's a good idea he chose to do so since, at this point, nothing with that name seems to exist. He and McAdoo are joined by Kendall Marshall, who stepped in at point guard after Larry Drew was dismissed last year, along with Tyler Zeller, who fills out the big, pasty whiteboy quota that North Carolina seems to have every year dating back to Eric Montross.
Kentucky (7-to-2)
Once again, John Calipari has brought in an incredible recruiting class. Quick question regarding that, though: does the NBA lockout have any impact on this year's Wildcats? I mean, the owners have to be protesting the amount of cash those guys are getting, right? Oh, you've got to love cheap shots at Calipari being a cheater. In fairness, he's cheated everywhere he's been, so he's really brought it on himself (annnnd cue the onslaught of hate from UK fans). That said, this team is absolutely loaded. Terrance Jones is poised to have a breakout season, and Anthony Davis is absolutely the real deal. He may be the best freshman phenom at his position since Kevin Durant. The question remains, however: can a team whose best player (Davis) has a world-class unibrow ever really be taken seriously?
Syracuse (10-to-1)
Now, full disclosure here: I'm a lifelong Syracuse fan, and I'm also an alum. To put it in perspective, as a child when other people associated the name "Washington" with "George," I automatically thought "Pearl." I'm not even kidding. My senior year was the year we won the national title with Carmelo, and to this day I have an unhealthy obsession with Syracuse athletics. With that said, I can honestly say that this is the deepest team Syracuse has had in 20 years. The season depends on a few things: can Fab Melo overcome what was a huge disappointment of a first year (he's lost at least 30 pounds and looks like a completely different player in exhibitions and practice, so that's a start)? Can someone (Kris Joseph, Brandon Triche) step up to become a star, or will this team be simply a squad full of good players without a superstar who can carry the team come March? And how many times per game will Jim Boeheim be caught on TV with his finger in his nose?
Ohio State (12-to-1)
This is probably the best Ohio State team since the Buckeyes boasted the likes of Mike Conley, Greg Oden and Greg Oden's massive dong, and with the likes of Jared Sullinger, William Buford and Aaron Craft returning, joined by McDonald's All-American Shannon Scott, they're only a big penis accidentally posted on Twitter away from being even better than that team. Okay, that's way too much dick talk, so let's move right along. Ohio State boasts one of the most difficult schedules in the nation, which should help shape this fairly young team into a formidable challenger come tournament time. The Bucks need to get something going this year, too, since chances are pretty damn high that Sullinger won't be back next season, assuming he has a professional league to jump to.
Connecticut (12-to-1)
Okay, so the Huskies lost Kemba Walker, who pulled a (much smaller version of) Danny Manning and carried a team that finished 9th in the Big East during the regular season to not only a Big East title, but also the national title. The end of year run by Jim Calhoun's has to be one of the most impressive in recent college hoops memory. Of course, now Walker is gone, so the burden of scoring and leadership falls primarily to sophomore swingman Jeremy Lamb, who looks like Wallace from The Wire but is a smooth wing player and, as far as we can tell, has never been gunned down on Avon Barksdale's orders. The Huskies got a huge boost when top prospect Andre Drummond, who will likely be the number one pick in next year's draft, reclassified (which means he graduated this past year, rather than next year, as was expected) and joined UConn, giving them what's expected to be one of the most dominant post games in the nation.
Darkhorse Picks: Baylor (25-1), Kansas (40-1), Wisconsin (60-1)
All three teams have talent, but when the NCAA Tournament rolls around, there's not much more important than great coaching. Baylor, Kansas and Wisconsin are three of the best coached programs in America. Combine strong talent with even stronger coaching, and that's a recipe for a deep run in the NCAA Tournament. Sidenote – it's weird to think of Kansas and Wisconsin as darkhorses, considering each are perennial threats to reach the Final Four. But, come on, look at the odds they're getting!
Stay Away From: Vanderbilt (20-1)
Look, Vanderbilt has some nice players to go along with one of the weirdest court set ups I've ever seen (the team benches are on the baseline…what kind of madness is that!?). But if anyone is going to come out of the SEC and win a national title, it's going to be Kentucky. The SEC is not a particularly good or deep league, so it's easy for Vandy to look a little better than they actually are. Are they going to make the tournament? Of course. Are they going to advance past the Sweet 16? I'd bet your left nut against it.
Players You Need to Know
Full disclaimer here, I'm going to make the assumption that if you're reading this article, you're a fan of college basketball, so you know guys like Jared Sullinger, Harrison Barnes and Jeremy Lamb. Because of that, I'm going to highlight a few freshmen who are destined to be stars as well as a couple returning players who don't get nearly as much national publicity as they probably should. So, without further adieu, here are five players you really need to know heading into the 2011-2012 season…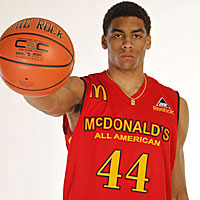 James McAdoo – PF, North Carolina

The nephew of former NBA great Bob McAdoo, James McAdoo may be overshadowed this year by more well-known teammates Harrison Barnes and John Henson, but the kid is absolutely legit. A good athlete with great strength for his age, he's got an inside outside game and he's explosive around the rim. He's got "star" written all over him. You'd think he'd try for a little more variety with his tattoos, eh? (Someone get this man a rimshot!)
John Jenkins – SG, Vanderbilt
Yes, Vanderbilt has a basketball team, and believe it or not, they're actually pretty damn good. A 6-4, 220 guard, Jenkins was a 1st Team All-SEC selection as a sophomore last year after averaging 19.5 points per game. He's a kid who can score from anywhere on the floor, knocking down over 100 threes last year and shooting 90.8% from the free throw line. Now if only people realized the Commodores exist, he could be in business.
Andre Drummond – C, UConn
A 6-10, 275 pound big man from Middletown, Connecticut, Andre Drummond was one of the most highly sought after players in the nation…for next year's class. However, he was able to reclassify to become eligible to enroll at UConn this year, giving the Huskies the top rated recruit in the nation in any high school class. Not only is he big and strong, but he's a good athlete with an above average basketball IQ and ballhandling abilities for a young kid his size. As mentioned earlier, he'll be the number one pick in the NBA draft next year barring something unforeseen.
Jordan Taylor – PG, Wisconsin

Jordan Taylor is a kid you should already know about. If you follow college basketball more than just casually, you're probably already familiar with him, though you may not have ever actually seen him play considering he plays for Wisconsin. He averaged over 18 a game last year and had a 4-to-1 assist to turnover ratio, which is pretty freaking good, if you weren't aware.
Anthony Davis – SF/PF, Kentucky

I already mentioned Davis as the best player on Kentucky's team this year, which is saying something considering Terrance Jones returns to lead a team full of future NBA players. The fact is, Davis can shoot, he can rebound, he can soar for some rim rocking dunks, and because of a late growth spurt, he's a 6-9 kid with a point guard's handle. And did we mention that unibrow? That thing is glorious.
Ten Great Non-Conference Games You've Gotta Watch
November 11, 2011 – Michigan State vs. North Carolina (Carrier Classic – yes, played on an aircraft carrier)
November 15, 2011 – Kansas at Kentucky
November 28, 2011 – Xavier at Vanderbilt
November 29, 2011 – Duke at Ohio State
November 30, 2011 – Wisconsin at North Carolina
December 2, 2011 – Florida at Syracuse
December 3, 2011 – North Carolina at Kentucky
December 3, 2011 – Marquette at Wisconsin
December 12, 2011 – Ohio State at Kansas
December 31, 2011 – Louisville at Kentucky
Any number of these games could be a Final Four preview, and we're not even getting into the madness that is the conference season, where you'll have matchups like Ohio State versus Wisconsin, Syracuse versus Connecticut, Duke versus North Carolina and Kentucky versus Vanderbilt. Just looking at all of those incredible games, and thinking about how insane the conference season will no doubt be, should really just make us all appreciate how awesome the upcoming season is going to be. As far as I'm concerned, the NBA can keep their asses locked out for the duration.