Drinking Guide to College Football's Opening Weekend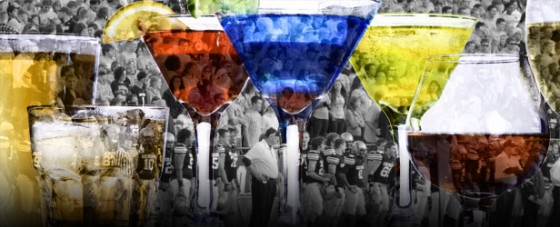 The start of the 2012 college football season is almost upon us, and we here at Gunaxin couldn't be more excited. To celebrate we decided to provide our readers with our picks for ten of the biggest games on opening weekend. While other sites might provide you with more analysis of the X's and O's, we know what really matters to college football fans, and provided our drink recommendations for each of the games from Thursday until Monday. And because we care about our readers, we have provided the recipe for each of the drinks.
South Carolina at Vanderbilt, Thursday, 7PM

The Game: The extended football weekend kicks off with an SEC match-up between the host Vanderbilt and 9th ranked South Carolina. S.C. comes in as a touchdown favorite, but we think the home team pulls off the first upset of the year. Coach James Franklin has Vandy on an upward trajectory and catches star SC back Marcus Lattimore still shaking off the rust from a 2011 knee injury.

The Drink: This game being in Tennessee makes a glass of Jack Daniels on the rocks an obvious choice, but it's too boring to kick off the 2012 football season. Instead, we recommend the Vanderbilt Cocktail in honor of the home team.

Ingredients:

1.5 oz cognac
1 oz cherry brandy
1 tsp sugar syrup
1 dash bitters

Instructions:

Mix all ingredients in a shaker with ice. Shake well and strain into a chilled glass. Garnish with a lemon or cherry.

Tennessee vs. NC State, Friday, 7:30

The Game: Friday night kicks off with the Volunteers and Wolfpack meeting in Atlanta. Tennessee QB Tyler Bray looks to kick off his Heisman campaign against a stingy pass defense led by CB David Amerson. Tennessee opened as a seven point favorite, but the line is down to three following the suspension and impending transfer of star receiver Da'Rick Rogers. Even without Rogers we predict the Vols hold on to win.

The Drink: Tennessee is the pick and Atlanta is the host, we suggest borrowing from both locales and starting the weekend with a Jack and Coke. 

Ingredients:

3 oz Jack Daniels Whiskey
9 oz Coke

Instructions: Pour the whiskey over ice. Add the soda and stir lightly. Garnish with a lemon if desired.

Boise St. at Michigan St., Friday, 8PM

The Game: Our second premier match-up on Friday night features 24th ranked Boise St. heading to East Lansing (we assume voluntarily) to take on the 13th ranked Spartans. Both teams are replacing veteran QBs, with Kellen Moore and Kurt Cousins both moving on to the NFL. Michigan State comes in as a touchdown favorite and with their eyes on a Big Ten title while Boise State looks to be rebuilding in their final season in the Mountain West. We call this one for the home team by a couple of scores. 

The Drink: Late August in Michigan still features almost-summer weather, so we recommend an almost-summer cocktail, the Pimm's Cup. And just to make sure it's appropriate we are going to make it with Michigan's own Vernor's Ginger Ale.

Ingredients:

2 oz. Pimm's No. 1
.25 oz. fresh lemon juice
1 can Vernor's Ginger Ale

Instructions: Pour the Pimm's and juice over ice. Fill the glass with Vernor's Ginger Ale and garnish with a lemon and cucumber wedge.

Notre Dame vs. Navy, Saturday, 9AM

The Game: A rare morning opener for folks on the East Coast sees one of football's oldest non conference rivalry take their act to Ireland. Notre Dame (-14) is the overwhelming favorite, but that hasn't helped them in recent year against the Naval Academy. Both teams had to leave players at home, with Irish starting running back Cierre Wood being the headliner and biggest loss. Even without Wood Notre Dame should handle Navy easily under sophomore QB Everett Golson.

The Drink: A morning game in Ireland kicks off a long day off college football, so you are going to want a jolt to get you going early. The clear choice is an Irish Cream Coffee

Ingredients:

1 oz Irish Cream
1 oz Irish Whiskey
Hot Coffee
Whipped Cream

Instructions: Add the Irish cream and Irish Whiskey to an empty coffee mug.  Slowly pour in hot coffee to your desired potency. Top with Whipped Cream.

Marshall at West Virginia, Saturday, Noon

The Game: Our first in-state rivalry game of the season matches up big brother West Virginia with smaller neighbor Marshall in Morgantown. West Virginia comes in as a three touchdown favorite and should win handily.  In fact, the only reason this game ranks mentioning is our love for head coach Dana Holgorsen.

The Drink: We're recommending a drink we learned to make in Morgantown itself, a Cherry Limeade Moonshine.

Ingredients:

One jar Cherry Moonshine (the legal variety)
One carton Tropicana Cherry Limeade

Instructions: Pour the moonshine and Cherry Limeade in a large punch bowl, mix and serve over ice. (It's West Virginia, we can't complicate things)

Southern Miss at Nebraska, Saturday, 3:30PM

The Game: Nebraska (-20) starts their second season in the Big Ten hoping to improve on a 9-4 showing in 2011.  Meanwhile Southern Mississippi is looking to rebuild under new coach Ellis Johnson after a 12-2 season and Conference USA championship last season. While Southern Miss might have some let up from last year's dynamic offense we think they will still have enough to upset the favored Cornhuskers.

The Drink: With Isaac bearing down on the Gulf Coast we couldn't think of a better salute than the Hurricane.

Ingredients:

2 oz light rum
2 oz dark rum
2 oz passion fruit juice
1 oz orange juice
.5 oz lime juice
1 Tbsp simple syrup
1 Tbsp grenadine

Instructions:Pour all the ingredient in a cocktail shaker.  Mix well and strain in a tall glass over ice.  Garnish with orange and cherry.

Clemson vs. Auburn, Saturday, 7PM

The Game: The second half of the Chick-Fil-A Kickoff weekend features a pair of Tigers matching up in Atlanta.  Clemson Coach Dabo Sweeney (another of our favorites) made headlines last year for his boisterous celebration after they beat Auburn and looks to repeat the feat this weekend.  Auburn is coming off a chaotic offseason which saw them turn over most of their coaching staff and lose their top RB to suspension.  Clemson is favored by a field goal, though we don't expect Auburn to keep it that close.

The Drink: At this point you've been drinking and watching football for nearly twelve hours, and have six or seven hours to go, so we are going to go with something light.  Sweet tea is a southern staple, so we are going to spike a pitcher of it for this game.  We're going with Emeril's Lemony Spiked Sweet Tea

Ingredients:

7 cups water
6 orange pekoe tea bags
1 1/2 cups sugar
1 1/3 cups freshly squeezed lemon juice
1 cup high proof or any regular golden rum (recommended: Bacardi 151 or Bacardi)
Fresh mint sprigs, for garnish

Instructions:

In a medium saucepan bring 4 cups of the water to a boil and add the tea bags. Remove from the heat, cover the pan, and allow tea bags to steep for 5 minutes.

Remove the tea bags and discard. Add the sugar to the saucepan and stir until melted. Add the remaining 3 cups of water and stir to combine. Transfer to a pitcher and add the lemon juice and rum. Chill thoroughly before serving.

Serve in tall glasses over ice and garnish with mint sprigs.

Michigan vs. Alabama, Saturday, 8PM

The Game: The weekend's headliner takes place in the House that Jerry Jones Built in Dallas, as top ten team Michigan faces off with defending champion Alabama.  The Crimson Tide are facing a serious talent drain, having had five players drafted in the first 35 picks in last spring's NFL Draft.  Meanwhile Michigan QB Denard Robinson hopes to overcome a lack of talent in his huddle against a still-formidable Alabama defense.  While we think the game will be closer than the current 14 point line we predict the favored Tide will emerge victorious.

The Drink: It's Alabama, so we are going with the eponymously named Alabama Slammer.

Ingredients:

.5 oz Amaretto Almond Liqueur
1 oz Southern Comfort
.5 oz Sloe gin
1 splash of Orange Juice
1 splash sour mix

Instructions: Shake in a chilled mixer, strain, pour over ice and garnish with an orange wedge.

Kentucky at Louisville, Sunday, 3:30PM

The Game: The NCAA takes advantage of the last NFL free weekend and gives us another in-state rivalry game on Sunday afternoon, as Kentucky heads just down the road to take on host Louisville(-10). The Wildcats are expected to be one of the worst teams in the SEC while Louisville is a heavy favorite in the Big East, which should make this is an even match.  The Cardinals Teddy Bridgewater might be the nation's best sophomore signal caller, which should prove more than Kentucky can handle.  We expect Louisville to win in a laugher. 

The Drink: It's a battle of Kentucky schools, is there any doubt we would recommend a glass of Bourbon.  Regular readers know our love for Bulleit, so pick up a bottle and glass. 

Ingredients:

4 oz bourbon
1 large ice cube

Instructions: Place one large ice cube in the bottom of your glass. Pour the bourbon over it. Enjoy.

Georgia Tech at Virginia Tech, Monday, 8PM

The Game: The 16th ranked Hokies welcome Georgia Tech to Blacksburg in the final game of the weekend. Virginia Tech is a seven point favorite but has given up nearly 300 yards a game versus Georgia Tech coach Paul Johnson's triple option offense. Fortunately for the home team Georgia Tech is unlikely to be able to take advantage of their problems in the secondary. If Virginia Tech can slow down the Yellow Jacket's running game they should win convincingly, and we predict that will happen.

The Drink: At this point you are five days and a significant amount of booze into the college football season. With Labor Day cookouts all day you should have plenty of cold beer on hand, and we can't think of a better way to end the first weekend than with a craft beer of your choice.

The Ingredients:

Instructions: Drink beer, look forward to next weekend, it's going to be a great season.