The Gunaxin NFL Awards
Another NFL season is in the books, and it's time for the hardware to get handed out. While there are fun battles for MVP, Rookie of the Year and the rest, we couldn't ignore some of the NFL's most overlooked honors during this awards season. We've honored ten players, plays, terms and officials for their contributions to the NFL experience this season
Best Name as a Verb
You know a player is something special when they see their name turned into a verb by fans and analysts. This honor was the closest fight on our board as Tony Romo and Mark Sanchez both saw their names used in pretty unflattering ways this season. While it came down to the wire, Romo won it with his comeback-killing interception against the Redskins Sunday. While he was an above average QB all season, with 306 passing yards/game and a completion percentage of 65.6%, his proclivity for throwing picks in big moments earn the Cowboys signal caller this award. When his final pick was brought in by the 'Skins defense Twitter exploded with fans and pundits merely describing him as having "Romo'd" that play.
Most Embarrassing Play by a Hall of Famer
This one goes to Ravens' Safety Ed Reed, for getting hurdled by Eagles Tight End Brent Celek in the open field. Runner up for this award is amazingly Ed Reed as well, for getting hurdled by Broncos Running Back Knowshown Moreno.
The "We Could've had Russell Wilson" Award
This award goes to the team that made the worst commitment at QB in recent years, when they could have taken rookie Russell Wilson in the middle of the 2012 draft. There are a lot of contenders for this one, including the Chiefs, Cardinals and Raiders, who all made recent deals for backup passers that have failed to live up to their cost, and teams like the Bills and Jets with no long-term options under center. Even with that in mind, we had to give this award to the Pittsburgh Steelers, missed the playoffs after trotting out backups Charlie Batch and Byron Leftwich (along with injured QB Ben Roethlisberger), this season.
It is inexcusable that the Steelers, with a starter is Roethlisberger, who has never been shy about running toward contact, has done little to address their backup QB over the last few years. The Steelers have gone with greybeards like Batch and Leftwich, and have ignored the position in the draft outside of fifth rounders Omar Jacobs and Dennis Dixon.
Best Failed 3rd Down Conversion
When Russell Wilson left the pocket on 3rd and long against the best defense in the league he pulled off a scramble that would make Benny Hill proud. Wilson ran with the ball for over 15 second on his way to a six yard gain, beating Aldon Smith and Ahmad Brooks twice each before he was brought down short of the first down.
Best Successful 4th Down Conversion
At the time the play was impressive, with Ray Rice taking a dump off pass to the sticks late in a November game against the Chargers. In retrospect, it likely save the Ravens' season, as Baltimore went on to lose their next four games and five of six to limp into the playoffs as the AFC North champs.
Worst GM of the Year
There is little doubt that Jets GM Mike Tannenbaum earned this award this season. Besides butchering the QB position by adding Tim Tebow and extending Mark Sanchez, Tannenbaum managed to leave his successor a team that is lacking starting talent at nearly every position. A preseason trade with the Rams turned mediocre 2011 starter Wayne Hunter into bench player Jason Smith, and the 2012 draft netted only 13 total starts for a bad team.
 Best Matrix Impersonation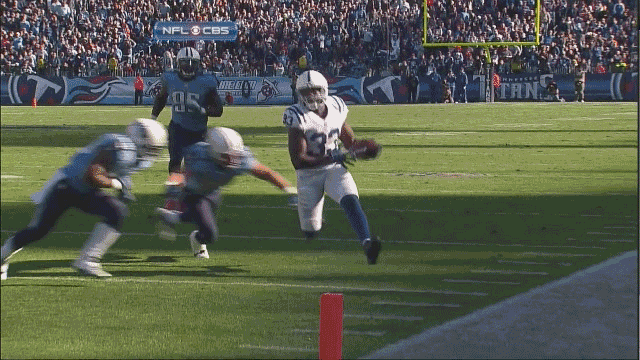 No question that this award goes to Colts RB Vick Ballard, whose spinning, stretching, leaping TD run in overtime helped lead Indianapolis to the playoffs.
[gif via Deadspin]
"They Were Really 4-0?" Award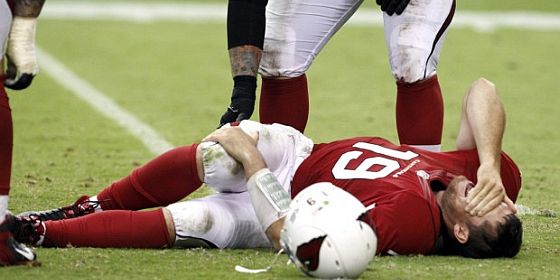 This award goes to the Arizona Cardinals, who took a hot 4-0 start and sucked their way to a 5-11 finish. Arizona came out of the gates hot, beating playoff-bound Seattle and New England on their way to that 4-0 record. Going into week five the Cardinals looked to be on their way to the playoffs, with winnable games against St. Louis and Buffalo before getting into the meat of their schedule. Injuries to starting QB Kevin Kolb, along with their entire backfield, doomed the Cardinals to another miserable finish. The Cardinals, who had scored 20+ points each of their first four games, failed to hit the 20 point mark on offense in 11 of the final 12 games of the season, and finished 0-11 in those games.
Best New Word
Announcers, coaches and fans love creating words or phrases to describe things happening on the field. Some past winners of this award include "Wildcat Offense" and "Trickeration". This year's winner is "Butt fumble", which is the act of losing the ball by running into your own teammate's ass, demonstrated perfectly above by Jet QB Mark Sanchez.
Andy Reid Memorial Award
The Andy Reid Award usually goes to the coach who inexplicably kept his job after a miserable season of bad challenges and awful play calling. This year we had to make a rule change, as Reid himself finally was shown the door by the Eagles. The fact that he lasted the full season is incredible enough, but to think that he made it 14 years as the Philadelphia coach without any sense of how to use the running game or how timeouts work is stupefying.