Gunaxin's Favorite Things : Gadgets
Since Oprah is off the air now, she is no longer running her yearly Holiday Gift Guide and Giveaway known as Oprah's Favorite Things. So we thought, hell, we can fill that void, and maybe man it up a bit. While we don't have everything for every person in our audience (and no Cars, sorry), we do have one of each item you see below in order to give out to some lucky winners!
Today is Day 2 of Gunaxin's Favorite Things, and today we're featuring 11 of our Favorite Gadgets for this Holiday Season.
In all we have about 40 items on our Favorite Things List, so start by checking out this great list, and see how you can enter to win at the bottom of the article :
DVR for HD Cable and Satellite TV
Watch, record, edit and enjoy cable and satellite television in high-definition with EyeTV HD, a full-featured DVR for your Mac. EyeTV HD is the only solution that gives you full access to all your premium content by connecting your Mac directly to your cable or satellite receiver. EyeTV HD comes with an infrared remote and channel changer cable ("IR blaster") for automatic control of the receiver.
EyeTV HD features a unique dual-format capture mode which can record in iPad and iPhone formats at the same time. This enables super-fast exports to iTunes from EyeTV. EyeTV app enables streaming of live & recorded TV on iPhone and iPad.
www.Elgato.com – $199.99
Dual Alarm Clock with Detachable Speaker for iPod and iPhone
XtremeMac's Luna SST is more than just an alarm clock, it's a home audio system that allows you to create the ideal sleeping and waking environments. It features a detachable speaker for placement on an opposite nightstand for a companion alarm and full stereo sound.  Each alarm can be set independently of the other for true dual sound. Luna SST has an easy to read LED with brightness control so you can set it as bright or dim as you prefer. It also includes a free XtremeMac alarm clock app from that fully integrates with the product to enhance and personalize alarm clock functionality.
www.XtremeMac.com – $129.99
Pro Hi-Definition On-Ear Headphones
Expression, Passion and Superior Sound are at the core of the SOUL by Ludacris experience. There are plenty of cool looking personal audio options available, but so few are able to provide true studio level sound quality without distorted, out of whack sound balance. On the flipside, most offerings that do provide a more professional audio experience neglect to infuse any style or personality into the look. But style and sound quality can coexist. SOUL by Ludacris is here to change the game.
Ready to take you from the DJ booth to the skyways with high performance sound, the SL150 is a sleek and comfortable option for any professional or avid music lover looking for a powerful and precise audio mix experience on the go.
www.SoulByLudacris.com – $199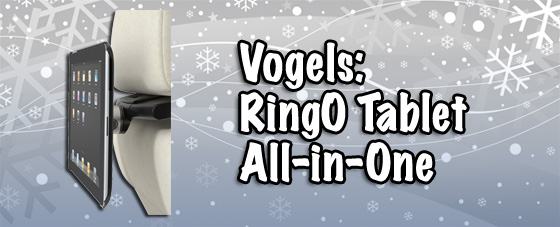 Holder for iPad 2 + Car Mount
RingO®, the Universal Tablet Mounting System from Vogel's®, lets you mount your tablet, such as an iPad or Galaxy Tab where you want it. RingO® gives you more opportunities to enjoy your tablet wherever, for whatever. Unlock the full power of your device – in one click enjoy movies in the car, show presentations on the wall, instructional videos while cooking or holiday photographs on the coffee table. The precision-engineered aluminum ring clips snugly onto the tablet mount, and stays there.
www.Vogels.com – $119.99
The Arcade Cabinet for iPad from ThinkGeek
Knowing that many of our loyal geeky customers would eventually get their retractable claws on an iPad at some point, at ThinkGeek we knew we needed to take it to the next level. What cool things could we do with the iPad that you, our lovely geek customers, would squee over? A few brainstorming sessions later, the idea of a MAME cabinet came up and we knew we'd struck gold. How cool would it be to slide your iPad into a desktop-sized arcade cabinet and rock it old school with some Battlezone or Tempest?
Enter the iCADE iPad Arcade Cabinet! To use the iCade, gently slide the iPad into the cradle. The iCADE uses Bluetooth to connect to the iPad so there's nothing else you need to do. You're ready to "insert coin" and game on! To bring the iCADE to life, ThinkGeek has partnered with ION. Atari, the first name in classic arcade games, also signed up to bring a huge suite of classic arcade titles including Asteroids to market with iCADE support built right in.
www.ThinkGeek.com – $79.99
USB Studio Microphone
Meteor Mic is the universal solution for recording music on your computer. Perfect for your home studio, Meteor Mic is also ideal for Skype, iChat or voice recognition software. With Meteor Mic, you can make incredible recordings that are out of this world.
Producing rich audio recording for any application, Meteor Mic has one of the largest condenser diaphragms (25mm) of any USB mic available. Its cardioid pickup pattern, smooth frequency response and 16-bit, 44.1/48kHz resolution give you professional audio results no matter what you're recording.
www.SamsonTech.com – $99.99
iPad Docking Speaker System
This brand new speaker system allows you to watch movies or listen to music while also charging your iPad. With its powerful 4 watt (RMS) speakers and deep bass, now your iPad can be your home theater system.
The rotating base for either landscape or portrait view and remote control with full capabilities means comfort and flexibility while viewing movies or listening to music. The SP-i600 iPad Docking Speaker System is also compatible to Apple's full range of mobile devices including the iPod Touch/Classic/Nano and iPhone.
www.GeniusNetUSA.com – $119.99
On-Ear Noise Isolating Metal Headphones
Authentically tuned by a legion of legendary musicians, Grammy-Award winning producers and DJs, Crossfade M-80 packs unique materials, professional acoustics, natural noise isolation, ultimate ergonomics and military-level ruggedness into a design 53% smaller than its now legendary, over-ear sibling. Refusing to conform to the sound-age of over-processed digital compression and disposable products, M-80 is a salute to the true masters of music, machines and materials. Half the size of the rock solid leading Crossfade LP, M-80 fuses Pure Noise Isolating Sound, Military-Level Durability and Timeless Materials.
www.v-moda.com – $229
Audio Alarm Dock for iPod, iPhone and iPad
Charge and play your Apple devices – even connect and control your bedside lamp. Simply connect your bedside lamp to Time Command's unique power supply and control the lamp with the touch of a button. Download theStem:Connect App and enable additional features such as dimming for incandescent bulbs and Wake-by-Light, which allows Time Command to automatically switch the lamp off when you go to sleep or activate the lamp when an alarm sounds.
Time Command delivers superior ambient room audio with our digital signal processing technology – Sonic iQ – Making Sound. Smarter. Download the Stem:Connect App and optimize your listening experience with a 5-band graphic equalizer with presets, loudness and bass enhancer, and Internet radio playback.
www.StemInnovation.com – $99.95
Wireless Thumb Cursor Controller
Let yourself experience the most innovative 2.4GHz remote controller–the Ring Mouse wireless thumb cursor controller from Genius. This device brings you total control over many different applications in Windows 7, Vista, and XP. As easy as moving your thumb tip, you can lean back and enjoy its total controlling capability for web browsing, presentations, or other entertainment like music, movies, photos, and ebooks. Ring Mouse uses Genius' patented Touch Control technology to enable its sensitivity up to 1000 dpi, creating a smooth, handy control and low-friction working comfort.
www.GeniusNetUSA.com – $69.99
Portfolio with Removable Bluetooth Keyboard for iPad 2
The Qmadix Portfolio with Removable Bluetooth Keyboard is the ultimate companion for your iPad™ 2.  The portfolio features a removable Bluetooth keyboard that seamlessly connects with your iPad 2 for quicker, more comfortable typing.
The Portfolio offers a unique design element that allows you to position the iPad 2 in an ideal viewing position while using the Bluetooth keyboard. Designed for the professional on the go, the Qmadix Portfolio offers stylish protection as well as an increased level of functionality that other carry solutions simply don't provide.
www.Qmadrix.com – $149.99
So there you have it, Eleven of our Favorite Things in Gadgets this Holiday Season. Obviously we have a bit of a fetish for iPhone and iPad accessories this year. Any of them would make an excellent gift, but we're sure you have a favorite from the list. If you'd like to win something you see above, just respond in the comments below (and check that box to Post to Facebook Profile) and let us know which of our Favorite Things are your favorites. We'll select some winners, and ship the product to you as our gift, just in time for Christmas!