Five Easy Trick-or-Treat Safety Tips
By the old watch on my wrist it looks like this weekend is Halloween, which means you can legally go out for one night and beg door-to-door! Halloween means Trick-or-Treating, which in turns means CANDY! Because you can't just buy that stuff at the store, ya know. Anyway, while you are out prancing through the neighborhood dressed as a witch or a segment from the human centipede, you might want to keep a few things in mind for the sake of safety because we'd all like to get back home eventually with the same number of limbs we left the house with. Follow these rules and you, too, can have a fun Halloween without murder or needing to find an excuse to bury a corpse. Enjoy!
1) Eat Carefully During Your Walk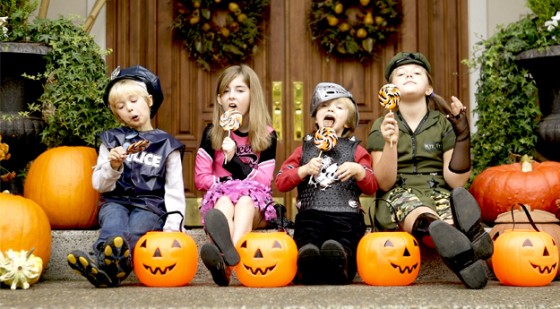 As the evening progresses, you will acquire more and more of the sweet, sweet swag known as candy. Your chosen receptacle will grow heavy on the pounds and pounds of the very riches you have sought out in the first place. But please, do yourself a favor and nosh wisely, for if you indulge too often you will grow slow and groggy, thereby lagging behind and falling out of step with your gang and quickly becoming werewolf fodder and bait for evil spirits who roam freely. So eat slowly, choose smartly, and you will keep up your strength and stay closely knit to your crew. No one wants to be eaten by monsters, kids. I was eaten by a monster once.
2) Wear a Costume With Decent Eye Holes
It is recommended that on your merry jaunt through the town, you should be able to see properly. Having a mask is all well and good until it becomes apparent that the eyes holes are either too small or no where near your actual eyes. You need to look sharp, because there are Vampires, Chainsaw Maniacs, and freaks who look suspiciously like Bruce Jenner in a tennis skirt who want to snatch you up and make you either dinner or sex slaves. Sometimes both. Also there are cars strewn about, driving hither and yon not caring a wink for us candy gatherers. So open those holes, kids! Spread them wide! Be safe and have gaping holes.
3) Don't Forget It's Dark Out! Have a Light!
Look, I understand that it's cool to wear all black and dress like Dracula, a ninja, someone's shadow, or Al Jolsen, but it's also cool to not get hurt on Halloween! So it might be a better idea to dress in something brighter with lots of lights attached like maybe Rainbow Bright, a Christmas Tree, a Gay Pride Parade Float, or the Las Vegas Strip. Any or all of these are perfect and just right for last-minute costume ideas so you, too, don't get lost in the night time shuffle and probably shoved into some weirdo's trunk.
4) Don't Be a Halloween Asshole
Halloween and Trick or Treat is for kids, let's not forget that, huh? Kids are going to be out there looking good in their cute Minion costumes and their spiffy Flash outfits and their nifty CSI Corpse get-ups, so let's not ruin it for them. Let's not hurl flaming baggies of dog shit at unsuspecting garages. Let's not chuck eggs at children leaving porches with their candy. Let's not spray paint vulgarities across parents' faces as they walk their kids about the towns. Let's not shove potatoes into exhaust pipes while the car owners are prancing around their children. And please don't set anyone's wigs on fire. That's not fun for anyone, unless your costume is Captain Hair A-Fire. In which case, go ahead.
5) Check Your Candy Collection
If you recall, a few years ago there was a threat on Halloween where certain houses were handing out delicious full-sized candy bars loaded with syringes and razor blades. These were not very good candies since you had a one-in-ten chance of winning either syphilis or a severed trachea. Neither one sounds good. Also, many years ago, shitty people would stick broken glass, knitting needles, teeth, saw blades, and light bulbs into innocuous apples! Why would people do that? Because some people are cruel and just like the idea of watching people suffer. Also, it's probably just an urban myth, but we still recommend you check your candy and fruits and if you find one that has a suspicious sharp object inside, it is okay to burn their house to the foundation. It's a law.
Now armed with these simple guidelines you can rest assured that your Halloween will be a safe one and one filled with fun and frivolity. Check your city's rules and regulations to ensure frivolity is legal in your area.