The Hobbit Made More Festive With Santa Hats
Some fantasy movie with lots of little people opens on Friday. It's called The Hobbit: An Unexpected Journey and it's directed by the same dude who made The Frighteners, which is a totally awesome ghost flick starring Michael J. Fox and the drill sergeant from Full Metal Jacket. Apparently this hobbit fella is pretty popular, because everyone is popping turgid nerd boners at the mere mention of the name Bilbo Baggins. Whatever. All I know is it's Christmas time and movies are better with the addition of Santa hats. So here's The Hobbit made more festive with Santa hats.
Are those skones? Yum.
This horse is stylin'!
F*ck that floppy wizard's hat. Gandalf is Santa.
Which one is Grumpy?
Damn, Saint Nick looks like sh*t.
Fear the hat.
Should've taken the reindeer.
All I want for Christmas is a rabid wolf.
Santa's elves are really overworked.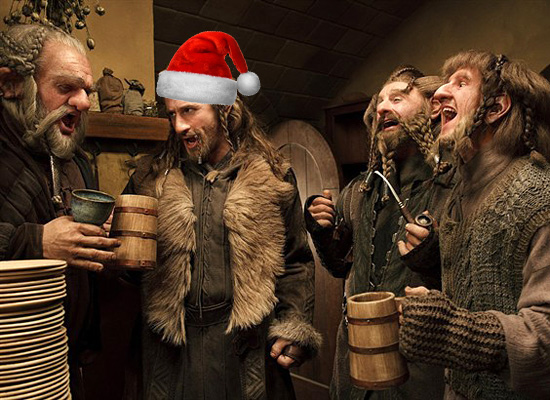 A drunk Santa is a happy Santa.