Hockey's Mascots Face Unemployment
These are difficult days for hockey fans. NHL owners continue their lockout of the players, and last week the league announced they were cancelling the first two weeks of the regular season. With hockey's second work stoppage in a decade showing no signs of ending any time soon, teams have begun to take harsh steps to survive financial. That means that employees of NHL teams, from ticket salespeople to ushers and maintenance people, are finding themselves laid off pending the resolution of the lockout.
While these moves don't come as a surprise, one batch of layoffs did. As reported by Greg Wyshynski of Yahoo's Puck Daddy blog, Florida mascot Stanley C. Panther was the first mascot casualty of the labor dispute, finding himself out on the street with nothing but a t-shirt cannon and a stack of glossy photographs. Sadly, he wasn't the only mascot let go, and with few marketable skills in a tough job market Stanley and his counterparts around the league have been forced to look for work outside of their current field.
Some have had luck catching on with real jobs, or taking advantage of past experience, while the yearning for attention and applause has driven others into far darker professions. We were able to catch up with a number of those brave, furry fellows, and wish to share their plight with you today:
Carlton The Bear, the Maple Leafs' mascot, took that most Canadian of jobs, working behind the counter at the local Tim Horton's. He is reportedly happy, though the store manager has noticed a significant increase in missing donuts.
The Senators' Spartacat joined Carlton in the food service industry, landing a sous chef position with popular Ottawa restaurant Castlegarth. He has won praise for his braised pork roast, though customers have complained about finding two foot long orange hairs in the corn chowder.
Minnesota mascot Nordy has taken advantage of his severance package to go back to school. Most fans don't know it, but Nordy was in his final year of residency at the Mayo Clinic in nearby Rochester when the Wild picked him to be their new mascot in 2008. Nordy recently returned to his surgical rotation, and is reportedly considering going back to medicine full time if the lockout isn't resolved soon.
Missing the buzz of fame that went with being an NHL mascot, the Islanders' Sparky found himself trying out for half a dozen reality shows. After being turned down for The Bachelor and being told that his flaming breath was an unfair advantage on Survivor, Sparky found himself a spot on A&E's Storage Wars. As he told the producers, if anyone is experienced at overpaying for someone else's garbage it is a former Islanders employee.
While Canuck mascot Fin The Whale had hoped to follow Sparky to reality star fame, the producers of Ice Road Truckers told him he wasn't nearly bombastic enough to make their cast. Fin still holds out hope of changing their minds, however, and is driving a semi on the famed ice road until they take notice.
No one really knows what N.J. Devil is doing to make ends meet these days, but he has been seen trailing behind Jets' backup QB Tim Tebow on the New York sideline recently. There are reports that he recently cashed a check from a M. Sanchez of New York, but that hasn't been confirmed.
There sadly is little question about what Youppi! is up to these days. The former Expos and current Canadiens mascot was handling the layoff well until he saw his former employer, the Washington Nationals, celebrating their first appearance in MLB's postseason. Enraged over the way he was cast aside, and bitter over the franchise new found success, Youppi! attacked Nationals' pitcher Gio Gonzalez prior to his playoff debut.
Buoyed by the fact that it's possible for literally anyone to become an elected official in California, Bailey of the Kings, and S.J. Sharkie (of the Sharks, duh) have decided to toss their hockey helmets into this ring this election season. They were recently spotted at a debate that looked a bit more like a pep rally.
Mick E. Moose barely had time to settle in as the Winnipeg mascot before the axe fell. Mick took it hard and started drinking. After an ugly incident at a Winnipeg area casino involving a waitress and a roll of quarters, Mick found himself locked up. His lawyers assure us that he can be out in time for the 2013-2014 season, with good behavior.
Another mascot unable to resist the lure of attention and a quick buck was Chicago's Tommyhawk. Acrobatics honed over years of thrilling children are now being put to use four nights a week working the pole at Sal's semi-nude strip club outside of Chicago. We have heard reports that the Blackhawks' former mascot is considering moving across the Wisconsin border to the more lucrative fully nude clubs.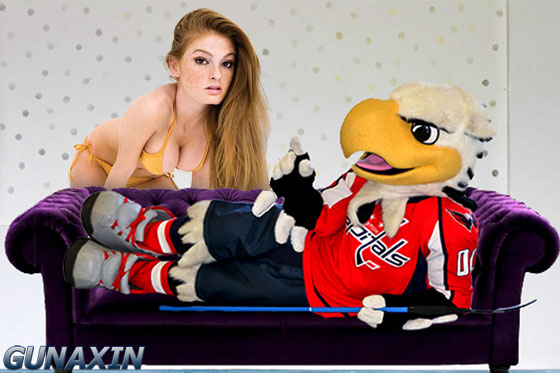 Slapshot showed no hesitation or qualms about skipping over stripping and going straight to porn. Before the Caps could even give him his pink slip Slapshot had already relocated to Orange County, California to start a career in high definition porn. The cocky mascot claims he will be the biggest thing in adult entertainment since Ron Jeremy. (We didn't ask what he was planning to do with the stick.)
And then we have Stanley. Caught off guard by the layoff Stanley found himself desperate for money and with few options. His first attempt at a career came with a call to his old friend Drew Carey as he tried out to be the first male model on The Price is Right, but even with his prior experience on the show he couldn't earn a job.
We are happy to report that when we last heard from Stanley he found himself a new career. One that he assures us couldn't be more stable. He's selling real estate in Florida, and when did that market ever collapse?