Five Hot Horror Toys For the Holidays
Christmas is quickly approaching and chances are you have, maybe, a discerning member of your inner circle who just happens to be one of those weirdos who loves horror movies and all the cool stuff that goes with that. Or, maybe you're me. If you're me, then you already know what I like and also please stay away from my wife and underwear.
I like horror (duh) and I just happen to also like horror collectibles. But let's be straight here: I don't like all that big, over-the-top movie memorabilia stuff. I just don't have room for any of that in my meager homestead. Someday… Anyway, what I do like are fun little action figures and the like that I can keep on a shelf in my little shrine. These also happen to make really cool Stocking Stuffers, and that, kids, is how you bring it all back around.
So check out these cool things I've collected over the years, any and all of which can be found on Amazon or eBay (the internet garage sale from which I procured much of this stuff) and make that odd, but special someone on your Christmas list a happy horror camper.
1) FUNKO POP!
If you've seen a movie, a TV show, or read a book ever in your life, chances are pretty good Funko POP! has made the property into one of its giant-headed vinyl dolls. Everything from Disney, to Breaking Bad, to American Horror Story, to The Big Bang Theory, to Doctor Who, to The X-Men and literally just about everything in between has turned into one of these cute little plastic figures. Granted they aren't much on poseability, but what they lack in that they more than make up for in beautifully rendered accuracy. I have a few of these, and the ones I prefer are, no surprise, the classic 80's Horror Movie Icons. So far I have Freddy, Jason, Leatherface, and Michael Myers. These are readily available and I suggest snapping them up for their relatively low prices of anywhere from 10 to 20 bucks.
2) Minimates
Though oddly not into the 80's Slasher genre of filmdom just yet, the little LEGO-like Minimate action figures do offer the Universal Movie Monster line as well as a ton of The Walking Dead, based both on the comic and the show. These little figures are super poseable, come with removeable weapons and attachments and stuff, and bare amazing likenesses to their media counterparts while still looking like LEGO mini-figs. I have a few of these as well, including a few Walking Dead sets, Frankenstein with the monster and the doctor, and also a really cool Ghostbusters crew with the main characters, a few monsters, and the Marshmallow Man. You can also find these on eBay, though they are a bit more difficult considering their collectability, especially the Ghostbusters line.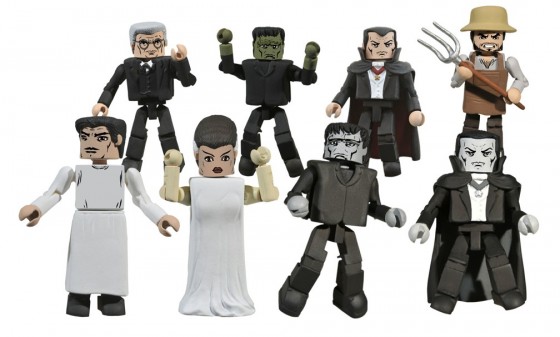 3) Reaction Figures
Remember the amazing carded Star Wars and G.I. Joe figures from our childhoods? Well if you're my age (40 something) then you certainly should. Well that nostalgia is back and the company, Reaction (not surprisingly a subsidiary of Funko) has taken the 80's action figure idea and ran with it. Covering movies and TV from Alien to Arrow, they've done an amazing job of bringing back the old days. In terms of playability –not something I'm inclined to do- they move just like the Kenner toys we all love. That is to say, not very much. Of these I have Freddy, Jason, Michael Myers, and Leatherface. These, too, are pretty easily found on eBay and each has a variation on their card design. Leatherface is a bit tough to find and these can run anywhere from 20 to 40 bucks or so.
4) Horror Classics Mystery Minis (Funko)
Hey look! More fun from Funko! These cats know what they're doing. And in this case, unlike their far bigger counterparts, these are about three times smaller and feature pupil-less expressions on some fantastically rendered features! Running the media gamut from Game of Thrones to Marvel with a lot of different choices in between. They are all molded and painted perfectly according to the source material and, much like the bigger Pop! Toys, they are pretty adorable over all and kind of take the otherwise fright factor and make it more… palatable. Though you can find these just about everywhere (Toys R Us, Barnes and Noble), the excitement factor lies in the fact that they are packaged in blind boxes so you're never really sure what you're gonna get. It took a bit, but I have Jason, Freddy, Michael Myers, Leatherface, Ash, and Chucky. These, too, are quite easily acquirable on eBay but, Ash for instance, is very hard to find and can cost upwards of 40 bucks.
5) Mezco Me-Zits Cinema of Fear
These little toys are really cool. They are a little bit LEGO and a little bit Mini-Mates mixed with the design likenesses of Funko. That's right; the best of all worlds. You can pull them apart and mix the limbs and what not with other ones because it's fun! Imagine Ripley from Alien with Freddy Krueger's gloved hand! Now we're talking! Anyway, these guys come in three-packs with little placards and stands that feature something from their respective films. The Friday the 13th Jasons are both the bag head from Part 2 and the masked alternative from every other movie. Freddy comes as the normal version, and the style from New Nightmare. Leatherface comes in Texas Chainsaw Massacre 1 and 2 styles. I have all of those as well as the Alien pack that has Ripley, Ash, and an Alien, and the Evil Dead pack featuring Ash, Evil Ash, and a Deadite. Very cool and yes, available on eBay.